Whether it's a one-man narrowboat odyssey along hundreds of miles of England's canals (The Water Road by Paul Gogarty), a slightly anoraky adventure by bus through parts of the country most people ignore (Great British Bus Journeys by David McKie), a single-minded hike down a line longitude (Two Degrees West by Nicholas Crane), a trip around Middle England (Adventures on the High Teas by Stuart Maconie), or even a madcap escapade round the places mentioned in the game of Monopoly (Do Not Pass Go by Tim Moore), there have been an awful lot of travel books about Britain of late.
And these are just the tip of the iceberg. When you think of the descriptions of long-distance pub crawls, leg-numbing bike rides, quirky hitch-hiking adventures, and the offbeat jaunts like Ian Sinclair's London Orbital journey round the M25, it's clear that we have an ongoing love of reading about travels round our isles.
It's a fascination that goes back many years. There is no "grandfather" of the UK travel-writing genre but if anyone set the ball rolling it was perhaps the prolific, quick-witted journalist H. V. Morton with In Search of England in 1927. Morton headed off in a two-seater Morris in search of the "soul of England" meeting lots of characters and visiting famous sights along the way. "I have gone round England like a magpie," he wrote on his return from his jolly, "picking up the bright things that pleased me."
This to a greater or lesser degree this has been the approach ever since. Not long after Morton, in 1932, the popular broadcaster S. P. B Mais, another British travel writing pioneer, came out with This Unknown Island, a description of a tour round little-visited (at the time) tourist sights such as Hardy Country in Dorset, Glastonbury and the Norfolk Broads. It went down incredibly well and he soon became a household name, famous for both his writing and his BBC reports. "That man Mais makes me feel very tired," Winston Churchill once remarked.
With so many writers from which to choose since Morton and Mais – and with them to consider as well – it was not easy whittling down to three a selection of great British travel books. I might have picked Paul Theroux's The Kingdom by the Sea, the sharp-witted American's tale of travelling round the coast of the country in the early 1980s (his pointed pen often upsetting people along the way). And I was tempted to include George Orwell's Road to Wigan Pier (1937), another travel book of sorts, but one obviously with much more scope in terms of social commentary than a mere jaunt around tourist sights.
In the end I selected J. B. Priestley's English Journey, a wonderful 1933 trip round the country that manages to combine comment about the state of the nation with witty observations. My second choice was the hugely popular and amusing Notes from a Small Island by Bill Bryson, the best-selling UK travel book ever. And my third was the off-beat Coasting by Jonathan Raban, a description of sailing around the coast – just because it is so thought-provoking and different. In each the author goes, as did Morton, in search of Britain. But their approaches are, I think, intriguingly different.
English Journey by J. B. Priestley
In this charming, eclectic and occasionally grumpy (but not outright angry) travel book, the novelist J. B. Priestley sets off from Southampton in the autumn of 1933 with his portable typewriter and his "usual paraphernalia of pipes" to take the temperature of England. By the end of the trip, which carries him through Bristol, the Cotswolds, Coventry and the Black Country, on to the Potteries, Tyne, Lincoln and Norfolk, he has come to the conclusion that "new England is lacking in character, in zest, gusto, flavour, bite, drive, originality, and that this is a serious weakness". He also believes that "if the Germans had been threatening these towns instead of Want, Disease, Hopelessness, Misery, something would have been done quickly enough".
You may think that this sounds pretty angry, but the genius of Priestley's English Journey, taken mainly on "motor coaches… I had never realised before how organised this road travel is", is that he manages to combine his sharp critical eye with a lightness of touch that I do not believe any travel writer covering the UK has since matched. From very early on, you get the sense that he is a down-to-earth fellow with his pipes and his distaste for personal discomfort – his rants about "beastly" hotels are very funny (as we've all been there) – and so he gets the reader on side. He manages to establish the persona of an average chap, albeit a very literate and eagle-eyed average chap, who is having to put up with dismal bars, "inhuman little box-rooms", and stiff prices for "poorish dinners". Quite often he is so upset by his lodgings and food that he resorts to grumpily "smoking a pipe or two" in sheer frustration; and you can't help smiling at imagining him huffily skulking round the block to cool down. The non pipe-smoking Bill Bryson, 60 years later, adopted a similar Everyman approach in his Notes from a Small Island, without quite taking it to the grumbling lengths of his 1930s travel writing predecessor.
But unlike Bryson (whose first instinct is to hold back) Priestley is not afraid to let rip. Even at the start of his wanderings in Southampton, he observes that town planners have failed the port, which is not "worthy of the majestic company" of such wonderful cruise ships. In Coventry he visits a car production plant – not the usual stop-off for a travel writer, but Priestley likes to dig deeper than others – before becoming so depressed by his guest house that he considers "dodging" the town and pretending he had never visited. Birmingham looks "a dirty muddle" on first inspection: "I loathed the whole long array of shops with their nasty bits of meat, their cough mixtures, their Racing Specials, their sticky cheap furniture, their shoddy clothes, their fly-blown pastry, their coupon and sales and lies and dreariness and ugliness." He finds "nothing amusing" in the streets of Leicester, declaring: "It would not be difficult to invent something amusing for them, but I am here to tell the truth." But he takes a fancy to "sound and sensible" Hull and also falls for Norwich, which he believes has the most Dickensian atmosphere of any city in the UK, with a rich history and proud local industries. "Home Rule for East Anglia!" he exalts as he leaves.
This fine blend of honesty, plain talking and (most importantly of all) wit carries you through Midlands factories to streets suffering from unemployment and poverty in Tyneside. In Gateshead, he is appalled by the standard of housing in rundown neighbourhoods: "Insects could do better than this: their habitations are equally monotonous but far more efficiently constructed." The book is full of such well-turned, memorable phrases: "The day was as crisp as a biscuit… a blue budgerigar flashed about the room, like a handful of June sky… I now know the history of the almond whirl" (the latter learnt on a visit to Bournville). Priestley, who is from Bradford and is in his late 30s during this journey, detests the idea of mass air travel. He presciently writes: "By the time we can travel at four hundred miles an hour, we shall probably move over a dead uniformity, so that the bit of reality we left at one end of a journey is twin to the bit of reality we step into at the other end." He is a joy to read, and we will surely continue to do so for many years to come.
Notes from a Small Island by Bill Bryson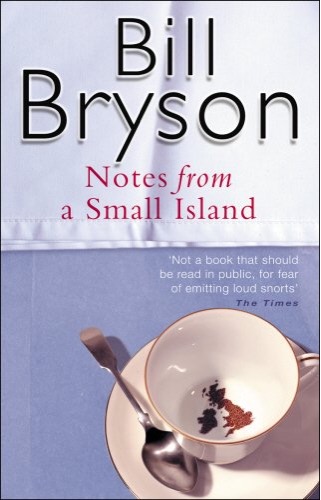 Bill Bryson's brilliantly dry sense of humour combines with his bumbling outsider style to make Notes from a Small Island, the bestseller published in 1995, work so well. As an American, famously born in Des Moines, Iowa ("I come from Des Moines. Somebody had to" was how he began his earlier travel book about small town USA), he is able to unlock the inherent comedy of much of British life, commenting on what he finds as though the Brits are all quite a peculiar lot really. He is astonished (initially) when tea-room ladies call customers "love". He is amazed by the incredible fussiness of landladies at the many poky guesthouses he visits. He is nonplussed on one occasion by a stranger in the street who suggests trying out a transport caff: "'transport calf'? I replied uncertainly". He is flabbergasted by the British love of giving terribly convoluted directions involving A roads. He is tickled by endless recommendations of "nice little pubs [serving] decent pints of Old Toejam".
Bryson, born in 1951, first came to Britain in 1973, marrying a native, settling down in the Yorkshire Dales, and for a short while working as a sub-editor on the business desk of this paper. So he is not the total outsider he sometimes makes himself out to be. But that is nit-picking. As he begins the book he is about to return to the United States after 20 years in the UK. But before he does, he embarks on this swansong journey beginning in Dover, travelling though Exeter, Oxford, Leeds, Liverpool, Edinburgh, Aberdeen, John O'Groats, and onwards to his home in North Yorkshire. He is soon grumbling light-heartedly about dangerous coach drivers, motorway service stations selling £4.20 pots of coffee, roaring traffic, "second-hand car lots, Kwik-Fit centres and other dispiriting blights". This strikes a chord and you can't help chuckling about everyday grievances and British quirks, as seen through Bryson's mild-mannered eyes.
Quips come thick and fast. In Windsor, he ponders, a little cruelly perhaps, Edward VIII's abdication over "that sour-faced Simpson woman, who, with the best will in the world and bearing in mind my patriotic obligations to a fellow American, has always struck me as a frankly unlikely shag". In Salisbury, after marvelling at the cathedral and Britain's rich heritage in general, he remarks: "Do you know that in my Yorkshire village there are more seventeenth-century buildings than in the whole of North America?" Of Milton Keynes, he comments wryly: "I didn't hate Milton Keynes immediately, which I suppose is as much as you can hope for the place." He does not like Bradford much either: "I stood by a bronze statue of J. B. Priestley (posed with coattails flying, which makes him look oddly as if he has had a very bad case of wind) and stared at the bleak, hopeless city before me and thought: Yes, I am ready to go home." This moment in the book feels as though it is an unspoken, slightly cheeky, homage to the man who I believe set the standards in UK travel writing: the flying coattails being a typical Bryson touch.
Although Bryson is not afraid to attack the likes of Milton Keynes and town planners who have allowed old buildings make way for identikit shops, for the most part he enjoys what he finds along the way. He is particularly moved during a visit to Winston Churchill's grave at the churchyard in Bladon, and finds pause for thought in the Oxfordshire village: "Coming from a country where even the most obscure presidents gets a huge memorial library when they pop their clogs… it was remarkable to think that Britain's greatest twentieth-century statesman was commemorated with nothing more than a modest statue in Parliament Square and this simple grave."
Bryson, who once cheerfully admitted to me in an interview that he sometimes exaggerates characters for comic effect, has a clever technique of seemingly bumping into people, and making the most of these encounters. His skill is to capture moments of dialogue in cafes, pubs, country lanes and even McDonald's – on one humorous occasion spending the best part of a page discussing apple turnovers and Egg McMuffins with a spotty McDonald's assistant. This slightly chaotic approach, which feels less planned than that of Priestley (who fixes appointments and considers more serious social issues), has the common touch. As does his straightforwardness. He ends the book declaring "I like it here" and that he will be back. He was true to his word: he now lives just outside Norwich.
Coasting by Jonathan Raban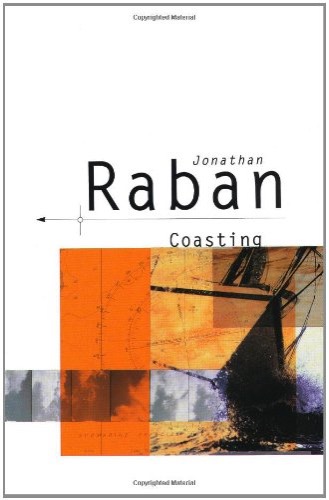 This description of a journey round Britain is literally that: a journey in a boat round the coast of Britain. This might sound a bit salty and seadoggy, as though it will involve lots of nautical language and high jinks on the high seas. Yes, there is an element of that. But in the hands of Jonathan Raban, who begins the trip in 1982 as he is approaching the age of 40, the journey also turns into an erudite unravelling of literary connections with the shores of Britain, what it means to be British (particularly the insularity that comes from living on an island), and what we understand by "home". He pulls it off with aplomb, somehow managing to be thought-provoking without being pretentious, while framing everything in the context of his life as he approaches middle age. He explains early on that coasting "makes a happy metaphor for life on the fringe. For years I coasted, from job to job, place to place, person to person. At the first hint of adverse weather I hauled up anchor and moved on with the tide, letting the reigning winds take care of the direction of the voyage".
He begins in Fowey in Cornwall after buying his boat, the Gosfield Maid, and heads up the Irish Sea towards the Isle of Man, where he is buzzed on his approach by an RAF Nimrod. The pilot does not wave back at him, and Raban feels that "the self-contained peace of the boat on the water had been shattered like an expensive vase, and I mourned its loss". This description is typical of his colourful, original style and also gets across, early on, the sense of one man and his boat out on the sea. Raban is trying to find answers on the quiet fringes of Britain and does want the noise of mainland life intruding too much.
But he is not a recluse by any means, and he goes out of his way to talk to people along the way. On the Isle of Man he meets a fast-talking tax dodger wearing a Playboy tie who invites him to go to a casino, and discusses the Falklands War with the landlord of his hotel, who announces: "If Mrs Thatcher came to the island, she'd be thought too ruddy left-wing by half." Down in Plymouth, he listens to locals in yacht clubs pontificating about the Falklands too. They say they are proud that British islands are being defended, even though they are many thousands of miles away. This islander pride is important to understanding the nature of the British, Raban believes.
He makes friends with fishermen in Lyme Regis, where he enjoys going crabbing. He meets up with his parents in Southampton, where his father notes: "You've gone a bit thin on top." He feels land sick in Brighton, where he finds himself "clinging to the railing and planting my feet in a clumsy waltz step", before meeting fellow travel writer Paul Theroux, who is researching his own book about Britain, The Kingdom by the Sea. Theroux decides that Raban's boat looks "tubby and bookish", and they eat fish and chips together, cagily discussing how well their research is going. He stops in Rye, and then continues to London, where he is bemused to find that there is "no weather". He comments: "You couldn't tell which direction the wind was coming from, or even if there was any wind at all." And then, rather swiftly, he is up in Hull, meeting Philip Larkin, whom he describes as having "a long, pale face, like a fugitive white barn owl caught in unaccustomed daylight". They eat a Lebanese meal together, with the hermit-like Larkin admitting that he rarely gets out and about. Raban was once a student of Larkin's at Hull University, living in the city for five years.
Coasting is not an easy book. Raban does not make cheap gags a la Bryson, nor does he win you over with his pet hates a la Priestley. His style is quite different to theirs, more contemplative, subtle and soul-searching. After visiting Aberdeen, he ends the book on a thoughtful note: "For people who live on islands, especially on small islands, the sea is always the beginning. It is the ferry to the mainland, the escape route from the boredom and narrowness of home." It is a travel book that makes you think about travel, and what it means to be an island people such as the British.