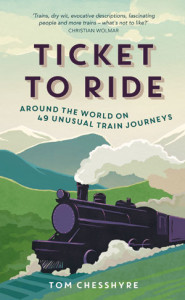 WHY DO people love trains so much? From trainspotters in Crewe to rail enthusiasts in Beijing and heritage loco buffs in Kent, Ticket to Ride describes a (sometimes haywire) series of 49 train journeys around the globe taking in 22 countries and covering more than 22,000 miles . . . meeting many a rail fan along the way.
There seems to be a spectrum of 'train love' from those who enjoy looking out of the window to hardcore enthusiasts with a notepad at the end of platform five; with plenty of people falling somewhere in between.
In an ever-faster moving modern world – with so many complications (wars, terrorist acts, global computer viruses, Ebola and Zika epidemics) and so many gadgets offering seemingly constant emails and 'social media' – the simple pleasure of train travel seems to be enjoying a major revival.
Taking to the rails offers the chance to step off the treadmill – to see the world afresh.
In Ticket to Ride, it also delivers encounters aplenty from a meeting with the Dalai Lama's cardiologist in the foothills of the Himalayas to gold miners in the Australian outback, former freedom fighters in Sri Lanka, Peruvian guinea pig eaters and beady-eyed North Korean secret police.
Ticket to Ride begins in Crewe and twists onwards via China, India and Sri Lanka, with a detour through Turkey and Iran, covering classic journeys such as coast-to-coast USA, trans-continental Australia and, of course, the big one: the Trans-Siberian Railway.
Hop on board . . . I hope you enjoy the ride.
* Publication date: April 14. Available from Summersdale.
PRAISE FOR TICKET TO RIDE:
'Trains, dry wit, evocative descriptions, fascinating people and more trains – what's not to like?' Christian Wolmar
'Funny and illuminating from Crewe to Korea, Ticket to Ride is a hugely
entertaining account of the author's travels on the rails the world over –
chance encounters fly like sparks' Sara Wheeler
'Like mini-odysseys, Chesshyre's railway journeys are by turns gentle and
awesome, and full of surprises' John Gimlette