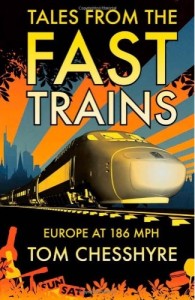 A DOZEN or so weekends and a fast train to catch…
Europe feels as though it's shrinking as high-speed tracks are laid down across the continent, making zipping about easier and easier.
Journeys from London to Spain are now feasible in a day – and it's lovely to watch the world flash by.
As the high-speed train revolution takes over – offering a more civilised (and greener) way to travel than planes – this book describes what it's like seeing Europe from the rails up. It's a sometimes chaotic journey that reflects on the place of railways in our lives, considers their history (from the 1830s and George Stephenson's Rocket onwards), and gazes into the future, when a network of bullet trains might transform the way we look at Europe.
The dozen places visited are described from Rotterdam (with its smoky coffee shops and old docks) to Marseilles (staying in the labyrinthine Arab quarter), Luxembourg (with its Eurocrats), beautiful Bruges, sleepy Dijon (lovely mustard, intriguing history) and finally Girona, with it fabulous cathedral and marvellous journey along the way through the snow-capped Pyrenees.
Plenty of ideas for a weekend break way… just hop on board (and enjoy the ride).
REVIEWS:
'Chesshyre… is an interesting, knowledgeable, discerning tour guide and a most genial companion.' Alexander Frater, author of Tales from the Torrid Zone
'Transforms seemingly unsurprising familiar territory whether the Eurostar terminal at St Pancras or the cities of Frankfurt and Antwerp into the stage for insights and adventures.' Dea Birkett, author of Serpent in Paradise
'If you've 'done' Paris and Bruges and are wondering, 'Where next?', then this may be a quiet revelation' Andrew Marr
'Splendid twenty-first-century railway adventure. At last, this IS the age of the train'
Simon Calder
'Compulsory reading'
Mark Smith, THE MAN IN SEAT 61
'Great fun, and an exhilirating read' Sara Wheeler
'His eye for noteworthy detail and mild appetite for touristic adventure is affably engaging.' The Times
'Keeps you guessing due to the fact you never quite know what s in store for the pair next.' Wanderlust
'… showing how Britons too can enjoy the type of travel best characterised by the Kraftwerk song Trans-Europe Express.' Condé Nast Traveller
'A rare and welcome delight… such an original and compelling premise… a cracking narrative which should hopefully ignite light bulbs in the minds of many a traveller wanting a quick and painless weekend escape.' Trainsonthebrain.com
'Well written and very readable, this is a book that will inspire you to discover convenient destinations that don t usually appear on the holiday list.'  The Good Book Guide
'I found Tales from the Fast Trains to be a great read. I d recommend this book for a wanderluster hoping for some inspiration on choosing a European rail itinerary these destinations can be visited from anywhere in Europe, not just London… If that sounds right up your alley, then grab a copy.' SharingTravelExperiences.com
* Tales from the Fast Trains: Europe at 186mph (Summersdale, £8.99) is available from Amazon
EXTRACT:
WHEN Prince Albert was travelling with Queen Victoria at the height of the 1840s railway mania he used to say: "Not quite so fast, Mr Conductor, if you please." And the message would be passed on to the driver; the royal couple were edgy when the pace picked up, particularly because carriages used then to rattle and jolt.
In these days of faster and faster trains — 186mph on Eurostar, which has orders for new 200mph trains — it seems a quaint notion to want to slow down. High-speed railway tracks are being laid across Europe all the time, opening up parts of the Continent to growing fleets of sleek bullet trains: Europe already has 3,800 miles of high-speed lines, with another 2,200 miles under construction.
Journey times to the likes of Cologne, Frankfurt, Geneva and Madrid are soon to tumble. The Spanish capital will be reached in as little as 8hr from London, down from 17 hours, when new lines are eventually completed — though no one is exactly sure when this will be. Amsterdam will soon be only 4 hours from St Pancras (not 4½), Marseilles and the sunny shores of the Med in 5 hours (instead of 6 hours 40 minutes), and Paris in just under 2 hours (down from 2 hours 15 minutes). There are even rumours of a tunnel through the Alps to open up Italy.
In the UK, of course, we have speedy lines across Kent, and the debate rages over whether tracks should be laid to Birmingham and beyond. Should the project get the nod — despite fierce opposition in the Chilterns and doubts about the £33 billion price tag — the time from London to Birmingham would be reduced to 49 minutes from 90 minutes by 2025.
In the Far East, an 825-mile line is about to open between Beijing and Shanghai, while in America President Obama has announced himself a fan of fast trains.
Trains have always been about speed — that's the whole point of them. George Stephenson opened the world's first proper line, between Liverpool and Manchester, on September 15, 1830. The train's top speed was a mighty 35mph. This may not sound like much but it was pretty quick to people back then, who were used to horses galloping at a top pelt of 25mph. Doctors were consulted to ensure that eyes would not be damaged taking in scenery whizzing along at such a heady rate.
Over the years trains have, obviously, become faster and faster. A great landmark in the high-speed story was the introduction of the bullet train, or Shinkansen, to connect Tokyo and Osaka for the 1964 Olympics at an average speed of 125mph.
All this fascinated me — as did the strong sense that Europe is shrinking as fast tracks are laid across the Continent. So I decided to investigate how easy it is to get about on all these European high-speed trains. It seemed amazing that so many places could be reached so quickly. From London it is now quicker to reach Cologne than Edinburgh.
I headed off to the west of Germany for the weekend. A new track to Figueres in Spain has just been laid: I popped off to the Costa Brava for a couple of days. Places I might never have visited — mysterious Luxembourg, delightful Dijon (and its great wines), Marseilles (through a snow storm in France), Bruges (the most romantic city in Europe?), Lausanne and the gorgeous expanse of Lake Geneva — opened up on a series of high-speed weekends.
In the time, I travelled 10,500 miles (16,900km), about the distance from London to Sydney. It was a fabulous adventure, which I shared with my girlfriend for most of the way, learning to love fast train travel and getting a totally different view of the Continent looking out of carriage windows.
Europe felt smaller and somehow nicer: calmer, closer and linked together. And travelling by train was also greener than flying — not that I was trying to make any particular eco point.
We were simply seeing the Continent in a new way. And, even though the trains were fast, the sensation of travelling felt slower and more civilised. We were getting to places in about the same time as if we had been flying (often quicker, if you allow for early check-in, baggage carousels and transfers to city centres) and we were watching the world go by, feeling as though a new golden age of rail was about to begin.
It was 186mph most of the way, with none of the rattles and bumps that upset grumpy Prince Albert and Queen Victoria all those years ago.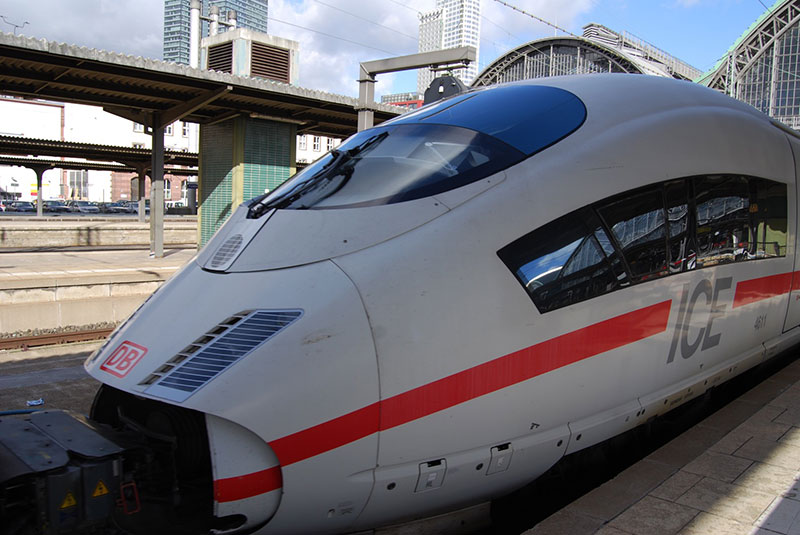 Train at Frankfurt station 
DIJON Journey time: 4hr 40min Cheapest return: £89
Why go?
It has a charming medieval centre, with the palace of the Dukes of Burgundy, an excellent art museum with works by Monet and Rodin, enough mustard to last a lifetime in the Maille mustard shop, and great bars and restaurant in Place Émile Zola. Take a day trip to Beaune, the "wine capital" of Burgundy, and go for one of the free wine tastings. Back in Dijon, go for a swim in Lake Kir, not far from the TGV station.
ANTWERP Journey time: 2hr 53min Cheapest return: £80
Why go?
It's vibrant, fun, full of cosy bars serving punchy beer and jenever (a local gin), and home to Rubenshuis, where Peter Paul Rubens lived. The latter has a gallery and there are more of his works in the Gothic cathedral by a beautiful square with 16th-century guildhalls. The city is also great for shopping in the labyrinthine lanes by the station.
LUXEMBOURG Journey time: 4hr 38min Cheapest return: £148
Why go?
Luxembourg city is perhaps the most underrated European capital. The old town is on a hill, with great fortifications, turrets and spires. There are modern art galleries and restaurants serving judd mat gaardebounen, a superb (and huge) local dish consisting of mountains of pork and potatoes. A visit to Trier, just across the German border, where Karl Marx was born, is a must.
LAUSANNE Journey time: 6hr 42min Cheapest return: £114
Why go?
It is one of Europe's most peaceful spots, on the edge of Lake Geneva. Catch one of the world's s steepest metros, to the Olympic Museum — Lausanne is home to the International Olympic Committee — to see such curiosities as Carl Lewis's old 100 metres trainers and Roger Federer's tennis racket. It's also a short lakeside train ride to the Unesco-protected vineyards and the elegant Château de Chillon.
ROTTERDAM Journey time: 3hr 34min Cheapest return: £115
Why go?
It has some of the finest modern architecture anywhere — and an infectious vibe. Erasmus Bridge, which opened in 1996, arcs gracefully across the New Meuse River. You can take a bike tour led by an architectural guide, who explains the city's rebirth since it was flattened by the Nazis in the Second World War. There are lots of bars with live music, as well as galleries with works by Hieronymus Bosch and Pieter Brueghel the Elder.
MARSEILLES Journey time: 5hr 31min Cheapest return: £119
Why go?
This was one of the longest journeys along the original high-speed track in Europe (completed in 1983). We went in the winter and the city was quiet and beautiful with its hillside cathedrals, North African markets and restaurants serving bouillabaisse with fresh fish, mussels and octopus. The architect Le Corbusier's early tower block, Unité d'Habitation, attracts the design crowd, and nearby L'Estaque, a pretty fishing village that drew the Impressionists, makes a good excursion.
BRUGES Journey time: 3hr 25min Cheapest return: £80
Why go?
It is perhaps the most romantic city at the end of a high-speed line. We visited amid snow flurries, which only seemed to make the medieval squares, churches and bell towers even more charming. Stroll the tiny lanes and take in the early Flemish art in the Groeninge Museum, with its works by Jan van Eyck and Hans Memling. There are tiny tearooms and fabulous little bars. The Victorians "discovered" Bruges, and loved it; we could understand why.
COLOGNE Journey time: 4hr 9min Cheapest return: £96
Why go?
I went here with an old university pal one weekend in search of beer halls … we soon found them. Cologne is known for its distinctive Kölsch beer, served in little glasses that are topped up by waiters so it's always fresh. We visited breweries and climbed the steps of the vast cathedral and visited the Römisch-Germanisches Museum, outlining the city's Roman past.
GIRONA Journey time: 9hr 25min Cheapest return: £191
Why go?
This was the longest journey: a test of how far you can go on fast trains and still enjoy yourself. We did. It was great seeing France flash past and to move on through the Pyrenees. Girona is a picturesque city with a fine 15th-century cathedral and winding lanes. It's worth going to see the Salvador Dalí museums in Figueres, and the quiet fishing village of Cadaqués overlooking the Costa Brava.
TOURS Journey time: 4hr 33min Cheapest return: £89
Why go?
You can see the fabulous châteaux of the Loire Valley. We picked up a hire car and found ourselves at Château de Candé, scene of a major British royal scandal: the marriage of Wallis Simpson and Edward VIII in 1937. It's on a hill overlooking a lovely old railway viaduct (not built for high-speed trains) and close to Château d'Amboise and Château du Clos Lucé, where Leonardo da Vinci lived. We enjoyed chilled local Vouvray wine in Place Plumereau (nicknamed Place Plum) by locals, in the old medieval city centre, close to the Gothic cathedral.
All journey times are "best times" and ticket prices are the cheapest rates, in 2011.
Tales from the Fast Trains: Europe at 186mph by Tom Chesshyre (Summersdale, £8.99).
Available from amazon.co.uk and waterstones.co.uk.