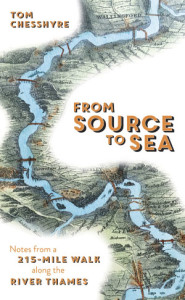 A month after the vote on Brexit, Tom Chesshyre sets forth from a meadow in the Cotswolds heading for the North Sea to fulfil a lifelong ambition: to walk the length of the River Thames. The result – From Source to Sea: Notes from a 215-mile walk along the River Thames – is a colourful account of a journey in which Chesshyre takes the temperature of the nation from the banks of one of England's most treasured natural icons.
Political troubles may swirl in the air, in the UK and in the wider world, but down by the riverside of the upper Thames all is calm as the river slowly grows, passing peaceful, quintessentially English villages and progressing to towns and cities seeped in history – including London, of course (the world's first metropolis).
Along the way Chesshyre meets characters aplenty: fishermen, lock-keepers, boat-builders, lifeboat men, river police, down-and-outs, and a fair few fellow walkers too. He is a guest at a Hindu water ceremony, enjoys Kurdistani riverbank barbecues, sleeps in a shepherd's hut, gets lost in a marsh (or two), drinks wine at impromptu houseboat parties by Tower Bridge, and visits many a jolly hostelry – joined from time to time by friends and family as the river meanders east.
With questions about whether the pound will collapse, whether Scotland will leave the UK and whether hate crime is about to soar dominating the headlines, Chesshyre tramps onwards revelling in the sights, sounds and smells of a long river walk, while delving into the river's past: the crossing of the river by Julius Caesar, the signing of the Magna Carta by its banks, the conversion of Saxon kings to Christianity in its waters (among much else).
From Source to Sea is a love letter to England's greatest river – a river that has seen everything, inspired countless writers and artists, and continues steadily on its way, minding its own business as it swirls onwards to the sea.
*Available from amazon.co.uk
PRAISE FOR FROM SOURCE TO SEA: NOTES FROM A 215-MILE WALK ALONG THE RIVER THAMES
'Chesshyre cuts an engaging figure… He has a true journalist's instinct for conversational encounters – Kurdistani picnickers in the river meadows upstream of London, pub thugs in the badlands of the lower Thames, other Thames Path pilgrims he rubs up against along the way. He also demonstrates a nose for a juicy tale, from a pre-Raphaelite ménage-à trois at Kelmscott Manor to the discreet nookie column in the Marlow Free Press. Chesshyre's journey is rich in history and thick with characters, fables and happenstance – a highly readable and entertaining saunter along England's iconic river.'
(Christopher Somerville, author of Britain's Best Walks)
'Chesshyre's book stands out from other accounts of walking the Thames Path in its contemporary (post-Brexit, pre-Trump) immediacy. A portrait of England and the English in our time, it is peppered with fascinating historical and literary markers. It's also a usefully opinionated guide to watering-holes and B&Bs from the sleepy Cotswold villages to the dystopian edgelands of the estuary.'
(Christina Hardyment, author of Writing the Thames)
'Beautifully written and exquisite in observation, Tom Chesshyre's latest book, From Source to Sea is a fitting tribute to the mighty Thames that flows like a golden thread through the history of Britain.'
(Harry Bucknall, author of Like a Tramp, Like a Pilgrim)