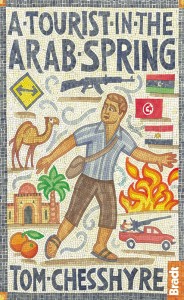 EXACTLY a year after the revolutions began in Tunisia, spreading quickly to Egypt and Libya, I packed my bag and headed for Sidi Bouzid, a dusty town in the Tunisian interior that's rarely visited by tourists. At the time, the Arab Spring seemed to promise so much. Dictators were tumbling and it might – on the surface at least – have appeared as though the politics of the Middle East, which have affected us all so much in recent years, was becoming less complicated and more relaxed.
Well those were the hopes of many, but it hasn't quite worked out like that. I visited at a time when some on the ground were still hopeful that these revolutions – fuelled to greater and lesser degrees by the spreading of the word on social media – might have a largely positive outcome. There were major concerns, but the question of whether the revolutions would "work" still hung in the balance. From arriving in Tunisia – of which there is a brief description below – I continued into Libya and on to Egypt, reaching as far as the border with Israel – crossing in to take a look and to spend an afternoon in Jordan (three countries in one day).
I do not profess to be an expert on the Middle East but I wanted to see what was happening with my own eyes. What was an Arab Spring really like, away from the bluster of news reports….
REVIEWS:
'This witty, perceptive book provides a fascinating read for lovers of thoughtful, imaginative and well-written travel literature.' Mail on Sunday
'A fascinating, often humurous, insight into a world in the midst of revolution.' Food & Travel
'With no brief other than curiosity, and equipped with nothing more than courage and compassion, he discovered that word of mouth was his best entry visa into the confidence of people whose lives had been so disrupted.' The Times
'A good read about not quite 'wish you were here' territory… yet.' Wanderlust
'Chesshyre talks to ordinary people struggling to get by as well as revolutionaries, preachers and smugglers. The result is the fascinating, street-level tale of a lay traveller's journey through lands fresh from revolution. The author was inspired by those who gave so much for a future that hangs in the balance and his book is dedicated to their bravery.' The Tripoli Post
'A charming travel companion, entertaining and engaging'. Times Literary Supplement
'Account of a trip through freshly revolutionised parts of Egypt, Libya and Tunisia paints the region as one of the most fascinating on Earth.' Time Out
'A compelling account of travels through terrain strewn with the relics of ancient civilizations, but set within the thoroughly modern context of burgeoning young democracies at a turbulent stage of their growth… a valuable alternative take on momentous events in a fascinating part of the world.' Richmond Magazine
* A Tourist in the Arab Spring (Bradt, £9.99) is available from Bradt, Amazon, Waterstones and WH Smith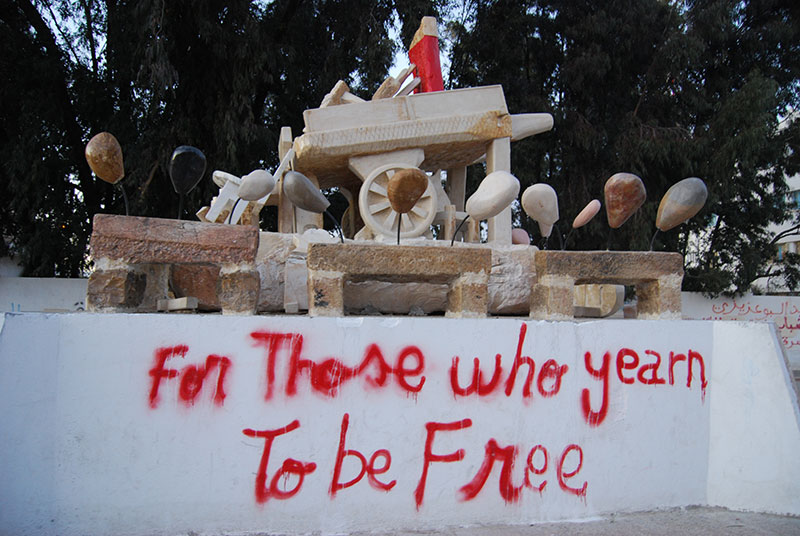 Monument in memory of Mohamed Bouazizi, the fruit seller who set himself on fire and began the Arab Spring, in Sidi Bouzid (more pictures at end of article)
EXTRACT: Arriving in Tunisia…
IN THE centre of Sidi Bouzid a slightly makeshift memorial stands in honour of the man who began the Arab Spring. It consists of a plinth made of rough stone slabs with a fruit seller's cart carved on top. In red spray-painted lettering a message reads: "For those who yearn to be free."
There are no other tourists during my visit, just a handful of locals heading towards a quiet neighbourhood of cafés serving delicious, thick black coffee. Graffiti on a wall declares: "Revolution of freedom and dignity!", "Gloire aux martyrs!"
Behind the memorial, on the façade of La Poste, a giant picture shows the smiling features of Tunisia's most famous martyr: Mohamed Bouazizi. For it was his act of self-immolation on December 17, 2010 — caught on film and watched widely on Facebook — that was the catalyst for Tunisia's uprising that saw the country's dictator, President Ben Ali, flee a month later.
So began a domino effect; regimes soon tumbled in Egypt and Libya. Ben Ali, Mubarak and Gaddafi were gone. The Arab Spring had sprung and the face of North Africa had altered for ever.
Sidi Bouzid may be a far cry from the seaside resorts of Hammamet and Sousse offered by package tour operators, but the sleepy town makes a great starting point for an easily do-able week's tour of postrevolution Tunisia taking in sights such as Carthage, the Roman amphitheatre at El Djem and the medina in Tunis.
For me it was the beginning of a longer adventure leading to Libya and Egypt, while along the way taking the temperature of North Africa after the uprisings and seeing the tourist sights too for my travel book A Tourist in the Arab Spring. I had been inspired by the revolutions, which felt to me like a moment akin to the fall of the Berlin Wall. History was happening.
Sidi Bouzid was the beginning, about a four-hour drive south from Tunis in a hire car, including a stop for a tasty barbecue kebab at a smoky roadside stall where the carcasses of sheep heading for the grill hang (rather grimly) from old posts. The inland town has one small main hotel, the Ksar Dhiafa, where a friendly cousin of Bouazizi works in the restaurant. It's set within rolling landscape covered in symmetrical olive groves. There's a cacophonous market, a zaouia (a religious school that will allow you to enter on request to see its mesmerising geometric decorations) and café after café filled with the slapping sound of folk playing cards.
I talk to fruit sellers in the market who fondly remember Bouazizi as they sell bananas, apples, artichokes, runner beans and oranges on rickety carts. I go to the little zaouia as a muezzin in a nearby mosque begins an echoing call to prayer. I visit Bouazizi's tomb in an isolated graveyard in the village of Garaat Bennour, just outside town (where there will surely one day be a visitor centre). Then I continue in my hire car through olive groves along a hazy stretch of the three-lane TransAfrican Highway; it's amazing that such a landscape is just a two and a half hour flight from the UK.
This almost-deserted road leads to the Roman amphitheatre at the little town of El Djem, about 60 miles to the east. The amphitheatre, built in the 3rd century, is considered by some to rival Rome's Colosseum and looks glorious, bathed in honeysuckle sunshine with archways flanked with columns opening to mysterious passageways into the gladiators' arena.
I enter a doorway and climb steps to get a bird's eye view. More than 30,000 spectators could fit on the terraces in its heyday, watching gladiators tussle with lions and leopards below. Sometimes prisoners of war or slaves who had upset their masters were simply tied to posts as beasts feasted on the helpless victims. You can walk down into the darkest depths of the structure and see where the animals were kept in chambers before rudimentary lifts elevated them to the arena.
There's hardly anyone else about at this fantastic Unesco World Heritage Site during my visit. Television images of the Arab Spring have put off holidaymakers, even though travel advisories such as the one offered by the Foreign & Commonwealth Office say the country is safe to visit.
The same is true at the town's fascinating archaeology museum. Here I stroll through empty rooms taking in vivid mosaics depicting scenes at the amphitheatre, blood pouring from the faces of gladiators attacked by big cats. Such was the popularity of this sport that many wild beasts in North Africa are believed to have been virtually wiped out during Roman times.
Hiring a car opens up Tunisia to adventurous tourists. Just 50 miles to the north-west I visit Kairouan, the fourth most holy city in Islam after Mecca, Medina and Jerusalem. This is another World Heritage Site, one that attracted few holidaymakers even before the Arab Spring. I'm staying at the Hotel La Kasbah in a stylish room with a balcony overlooking a quiet courtyard with a pool.
Ever since AD670, when Uqba ibn Nafi discovered a golden cup he believed he had lost in Mecca, Kairouan has been a place of holy devotion. Seven visits is said to be the equivalent of a pilgrimage to Mecca. With Islamic religion increasingly important in the country since Ben Ali left, Kairouan makes an intriguing destination. As well as the bustling medina with its labyrinthine lanes there are quaint cafés offering shisha pipes, coffee and lovely sweet baklava, and you can visit huge 9th century bathing pools as well as the Great Mosque.
I roam around the medina, which was used for scenes in the film Raiders of the Lost Ark. Narrow alleys lead to tiny tree-lined squares and sawdust-covered passages with carpenters' workshops in which you can see intricate designs being carved into pieces of furniture. Little has changed for centuries, even though the country has been through such a big recent upheaval. At the ancient bathing pools an elderly local guide with a grizzled face and a grin tells me: "For the first time in my life I am very happy for democracy. Very happy."
The Great Mosque lives up to its billing. Walking through a giant limestone square I reach a doorway into a massive prayer hall that can hold 4,000 worshippers. The floor is covered by a sea of red-purple carpets. Orange water coolers stand next to stacks of Korans. A man with a pink brush is dusting a wooden partition, marking an area where women pray.
At nearby Bir Barouta, a well from which pilgrims to the city travel, I take a sip of water; tasting it is said to bring you back to the city one day. Then I head onwards, driving up the Trans-African Highway to Carthage to see its famous Phoenician and Roman ruins. The great trading city established in the 9th century BC overlooks the sea, just outside Tunis. Much of it was built over by the Romans, who attacked and almost destroyed Phoenician civilisation in 146BC. Few people are around other than a couple of security men who tell me they used to be part of Ben Ali's presidential guard and a guide named Kalthoum who fills me in about the exploits of Hannibal before saying of the new Tunisia: "We are so optimistic. We have suffered for so long, for 50 years. What we need is education and a proper health service. As human beings we need our dignity first."
Later, in Tunis, I walk along peaceful streets outside the damaged former headquarters of Ben Ali's political party and the Ministry of Defence on Avenue Habib Bourguiba, the main street leading to the jamboree of the medina and the Great Mosque on the hill.
After Bouazizi's act of defiance, the Jasmine Revolution quickly moved from Sidi Bouzid to the capital. Now, two years on, you can visit the places that were so important to Tunisia's uprising as well as its world-famous attractions as the country faces up to its still-uncertain future. Buy a map, hire a car. . . and see where the Arab Spring began.
Tom Chesshyre's book A Tourist in the Arab Spring (Bradt, £9.99) is published this month
Available from amazon.co.uk and waterstones.co.uk.
Need to know
Getting there British Airways (ba.com) has return flights from Heathrow to Tunis from about £170.
Getting about Rhino Car Hire (rhinocarhire.com) has rental cars from Tunis Airport from €30 (£25) a day.
Where to stay Hotel Ksar Dhiafa (hotel-ksardhiafa.com) in Sidi Bouzid has doubles from about £35; Hotel La Kasbah (goldenyasmin.com) in Kairouan has doubles from about £45; expedia.co.uk offers doubles at Hotel du Parc in Tunis, close to Avenue Habib Bourguiba, from about £40. Each hotel has ample parking.
Further information Tunisian National Tourist Office (cometotunisia.co.uk), Foreign Office (gov.uk/fco)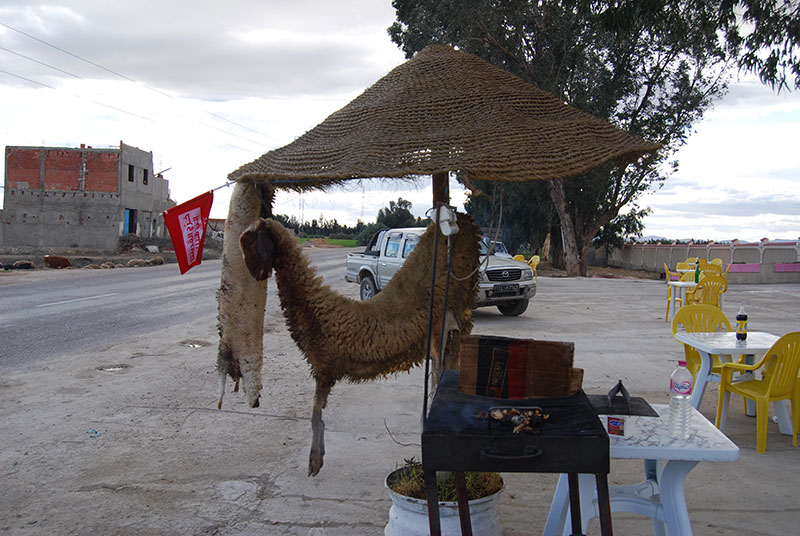 Sheep barbecue by side of road on way to Sidi Bouzid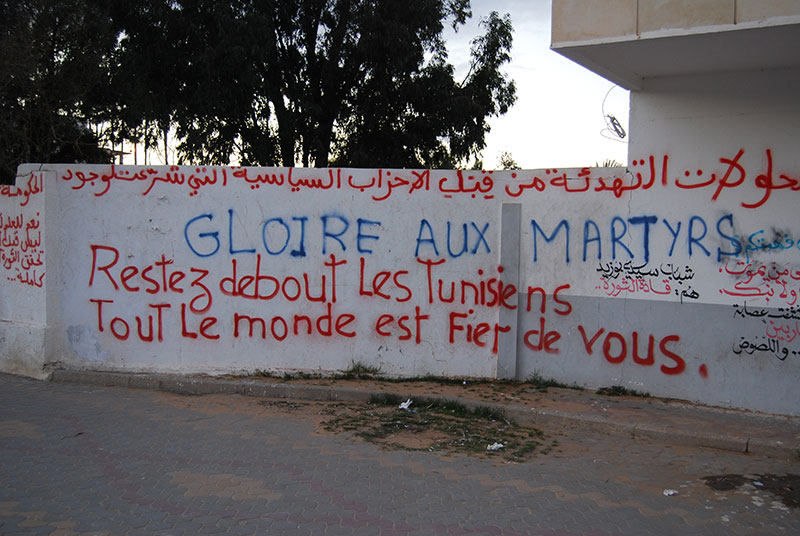 Message on wall in Sidi Bouzid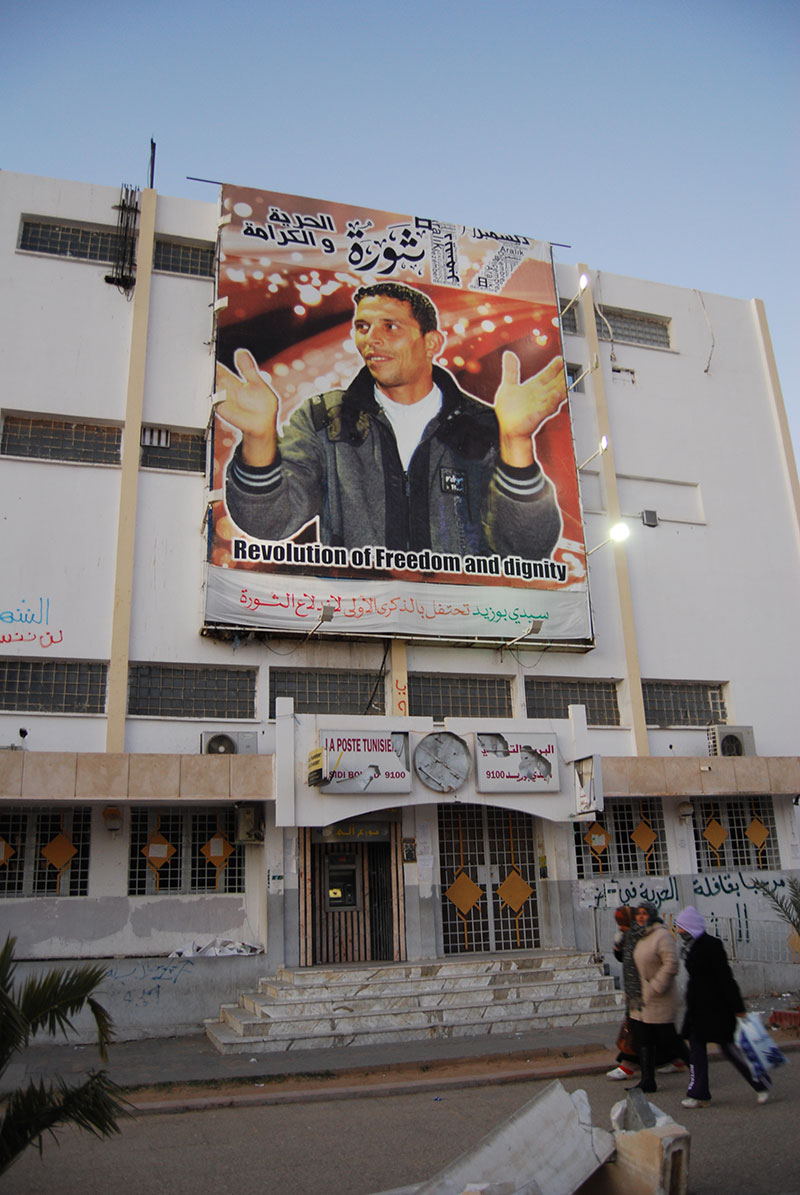 Memorial to Mohamed Bouazizi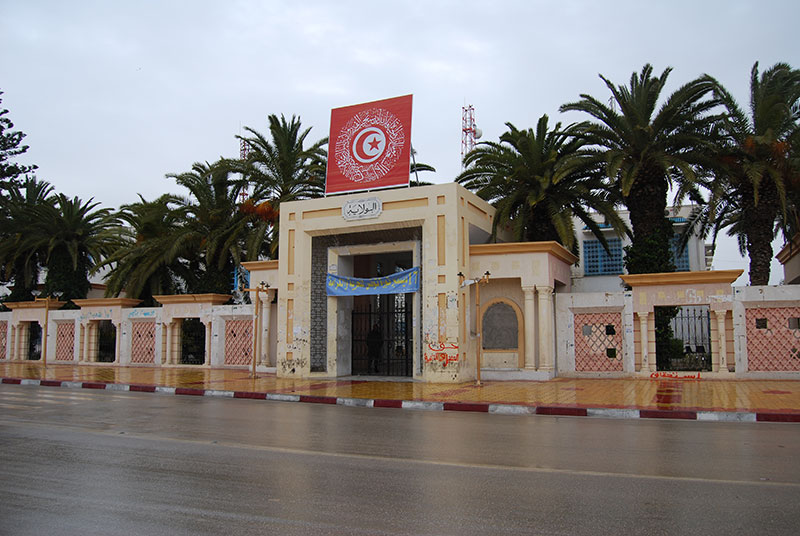 Place where Mohamed Bouazizi set himself on fire in protest against ill treatment by local authorities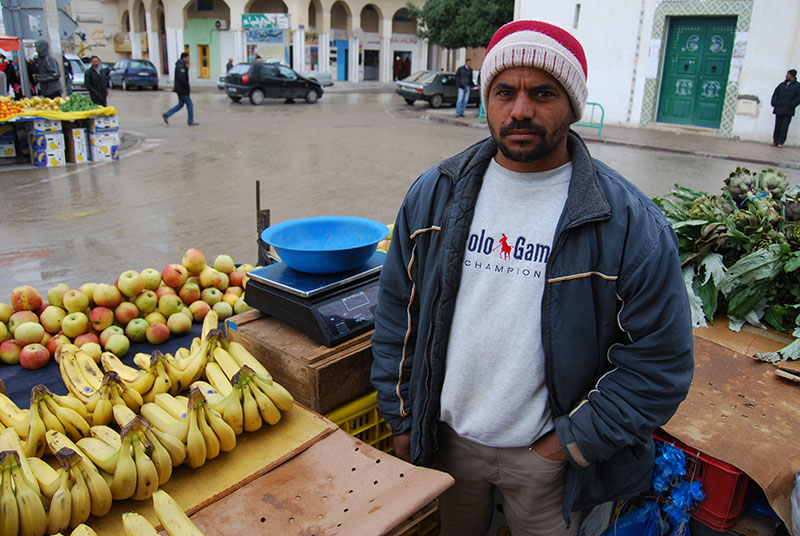 A fruit seller working Bouazizi's old patch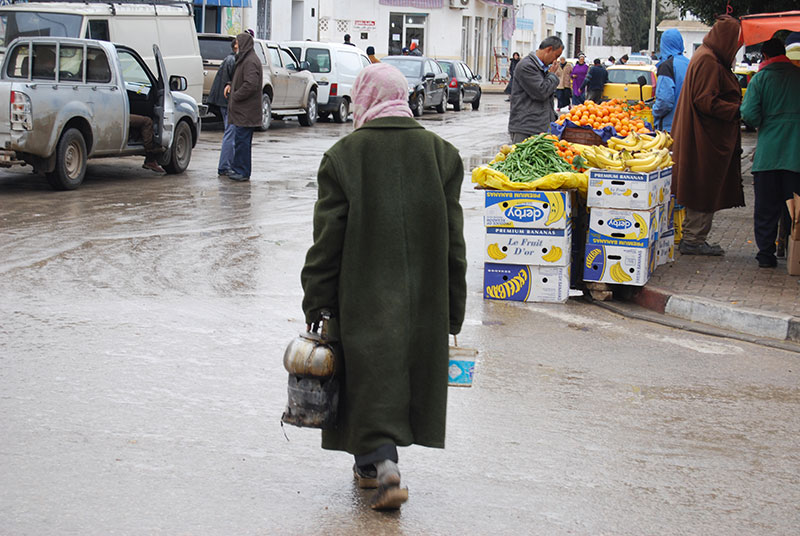 Sidi Bouzid was not the most attractive place on the planet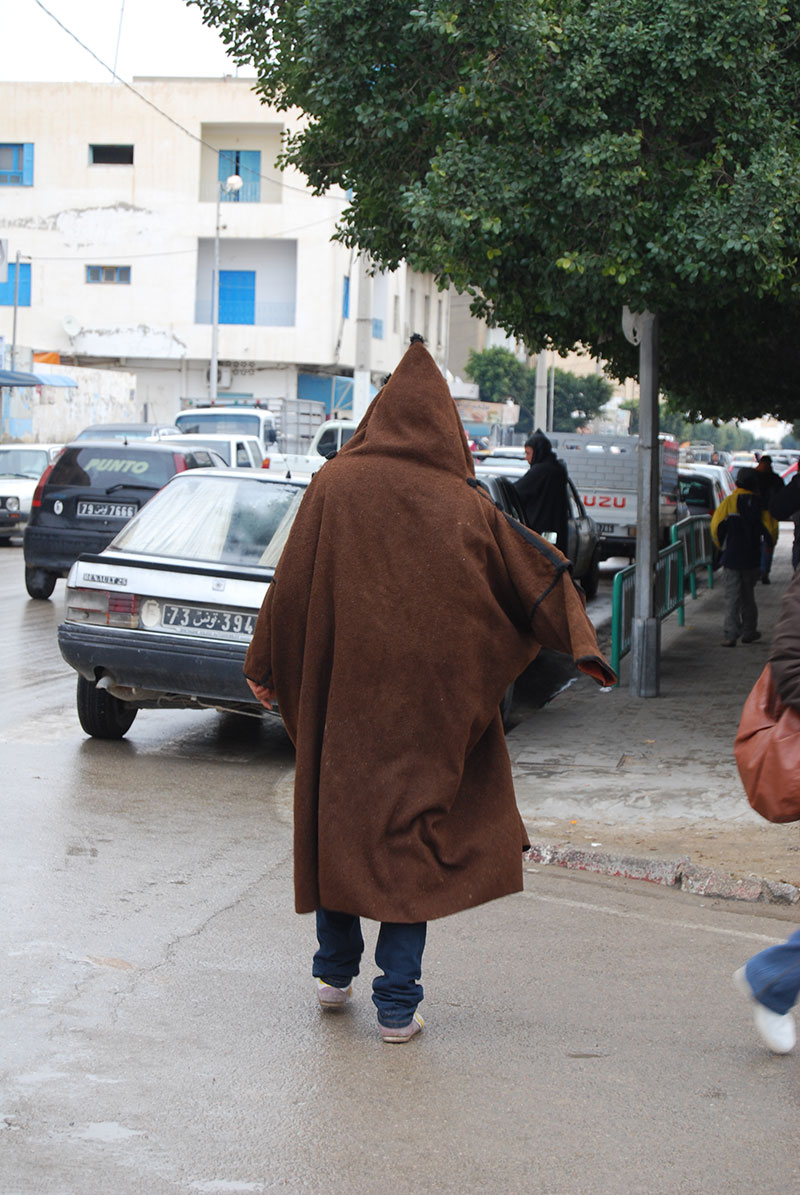 Strange pointed tunics favoured by locals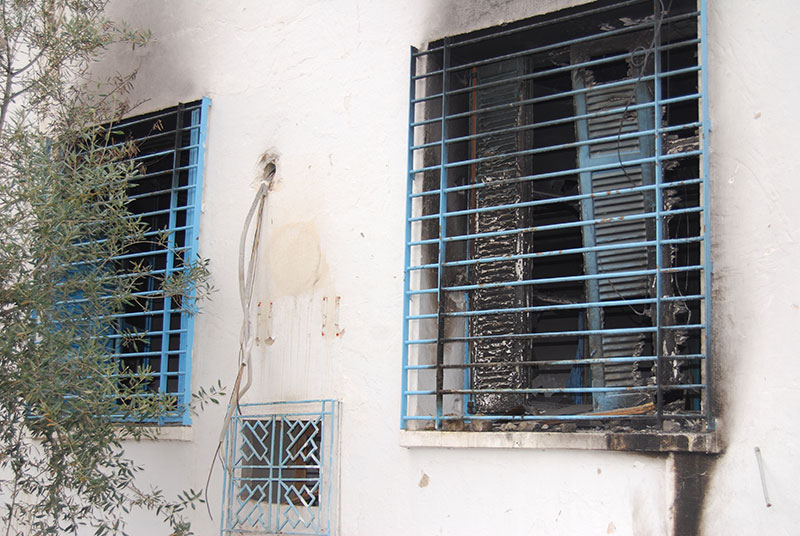 Burnt out former police HQ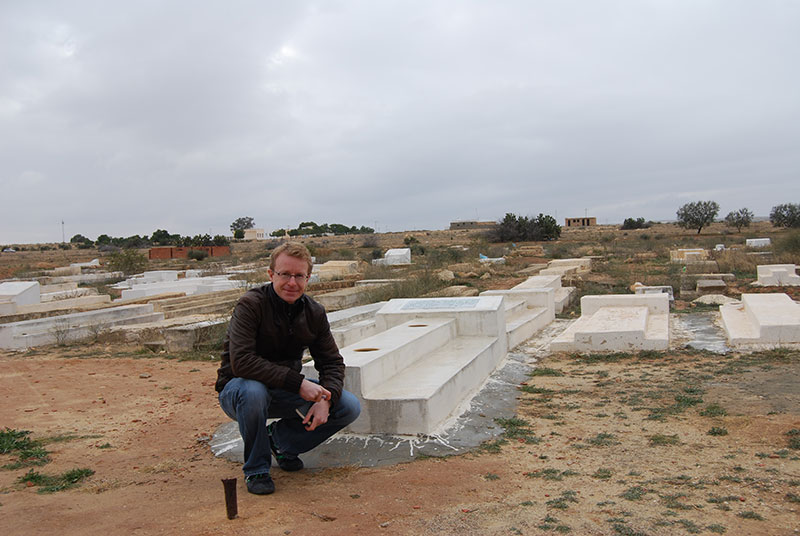 At Mohamed Bouazizi's grave in the village of Garaat Bennour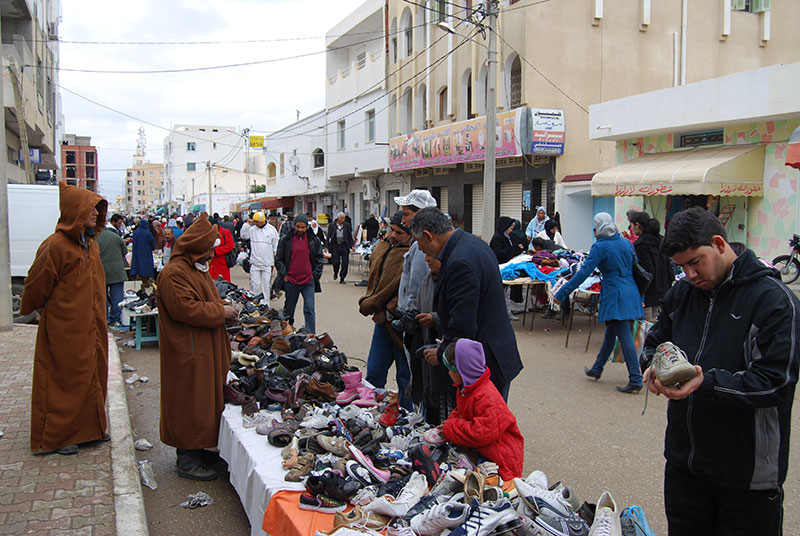 Makeshift stall selling secondhand goods donated in Western countries – in Sidi Bouzid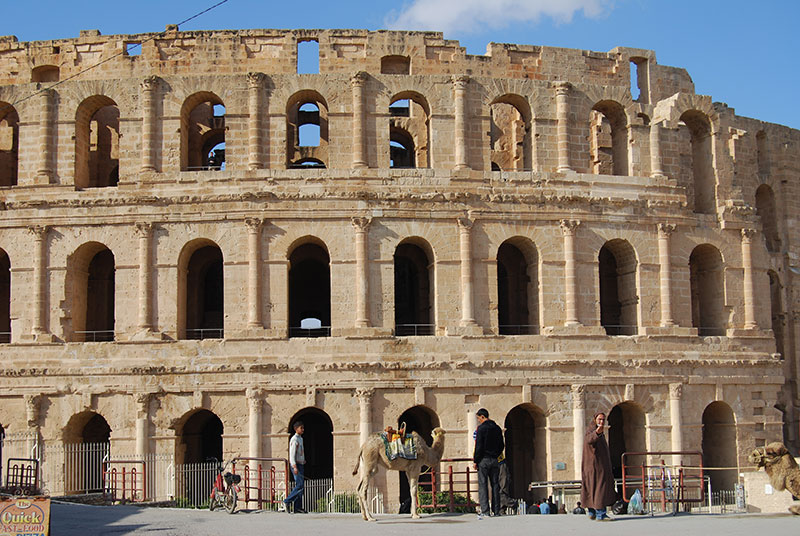 The Roman amphitheatre at El Djem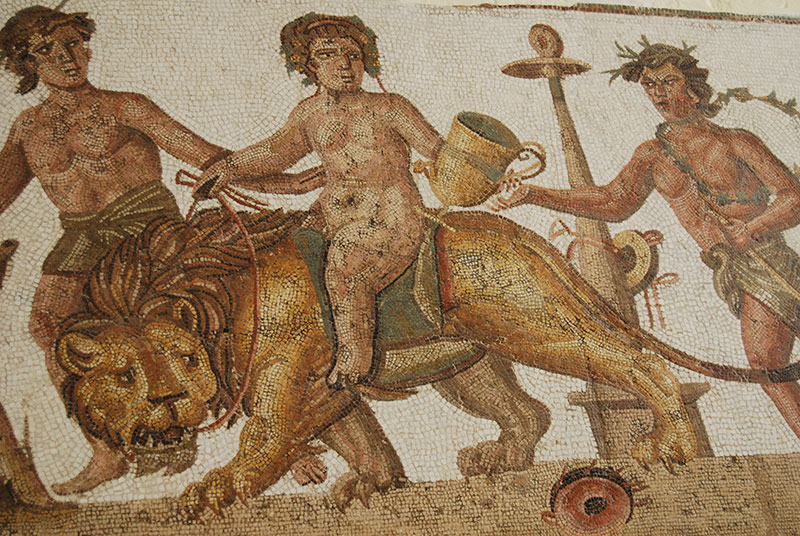 Roman mosaic from the museum at El Djem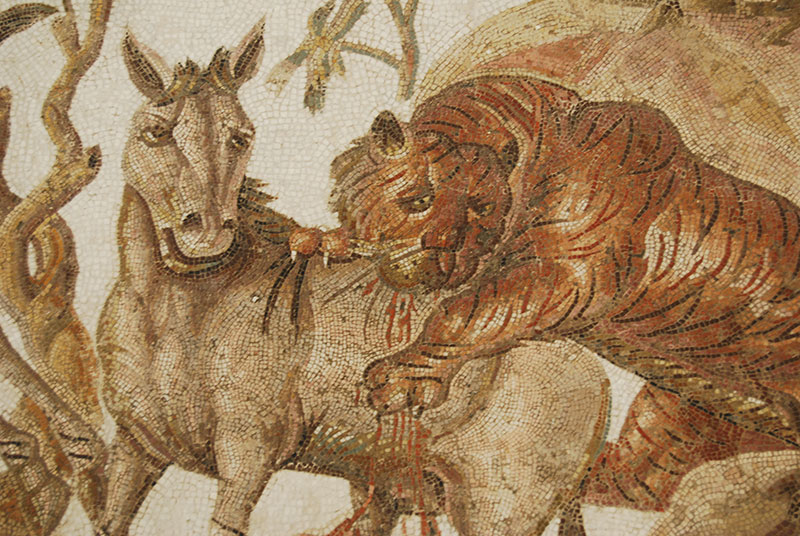 Another Roman mosaic from El Djem's museum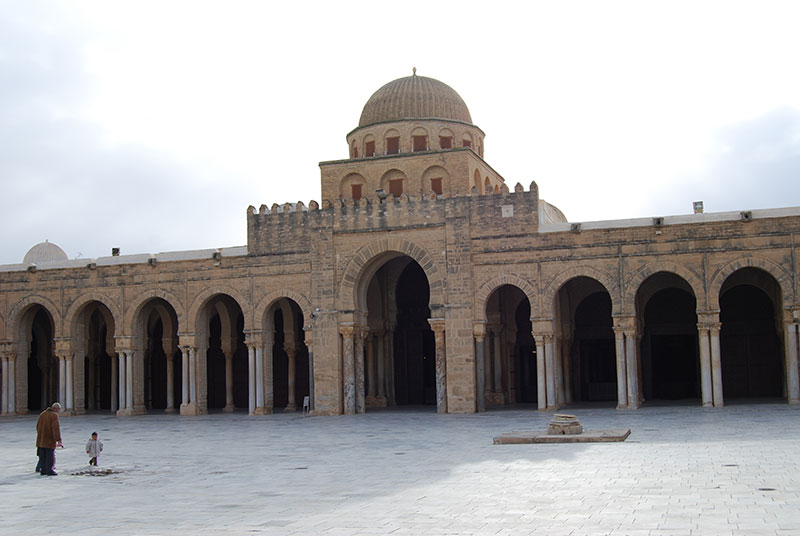 The Great Mosque at Kairouan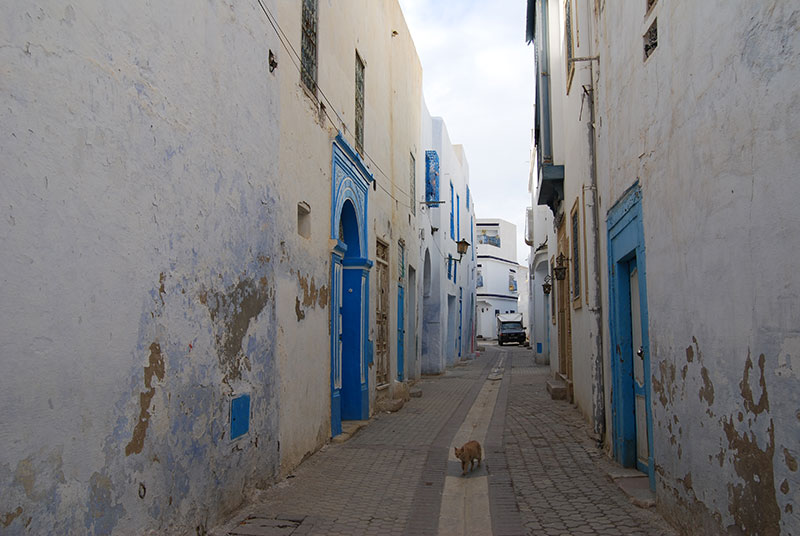 One of the many narrow alleys in Kairouan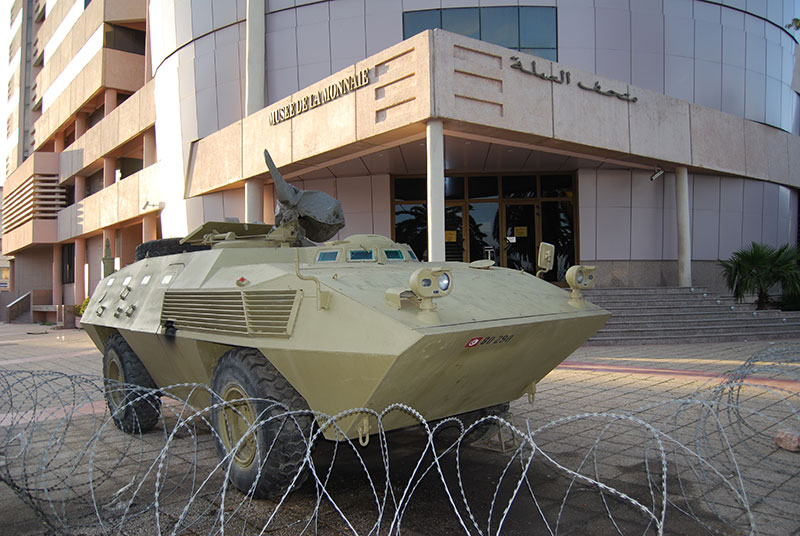 An armoured vehicle close to the National Bank in Tunis