ON August 8 this year Ahmed Rilwan Abdulla, a 28-year-old Maldivian journalist, disappeared.
He was returning home at around 1am from Male, capital of the "honeymoon heaven" that so many couples (including a fair few celebrities) will be heading to this festive period, to Hulhumale. This is an artificially-built island next to the airport island, a short ferry ride from Male. It is where many people, escaping the overcrowded capital, now live.
He was pictured on CCTV at the Male ferry terminal and sent a tweet from his account @moyameeha at 1.02am, presumably on the ferry. However, eyewitnesses say that at around 2am, a man fitting his description was taken at knife point into a vehicle. Screams were heard outside his apartment while a tall figure held his hand over a man's mouth and bundled him into the car, which then sped away. A weapon was dropped on the ground. This was later taken by police.
Ahmed Rilwan Abdulla has not been seen since.
The journalist wrote for the independent news website Minivan News ("minivan" translates as "independent" or "free" in Dhivehi, the local language). He was known for his stringent reports highlighting corrupt politics, Islamic extremism and gang culture. He had written an article on death threats made to more than a dozen local journalists. He had also exposed Maldivian militants going to fight in Syria.
The CCTV camera at Male's ferry terminal was subsequently found to show that a number of men appeared to have been following him. A clip of him and others entering the terminal can be seen on YouTube if you enter his name.
The police began an investigation into the journalist's disappearance after his family reported him missing on August 13. Four men were eventually, in late September, detained. They have since been released. Known gang members had been spotted at the ferry terminal on the night he went missing.
Ahmed Rilwan Abdulla's family has criticised the police for not conducting a sufficiently probing investigation, as has the Maldivian Democracy Network, which carried out an independent inquiry highlighting several potential leads that had not been followed up. This research was conducted by a Glasgow-based company named Athena Intelligence and Security, hired on behalf of the MDN.
The Maldives Police Services described their report as being made for "political gain". However, some believe that the police themselves have become politicised: that they are turning a blind eye as radical Islamic support is key to propping up the vote of the current president, Abdulla Yameen, who attained a narrow victory over Mohamed Nasheed of the Maldivian Democratic Party in the last election.
Daniel Bosley, the editor of Minivan News, was a Macclesfield postman who took an internship at the Maldivian High Commission in Male and found himself immersed in the 2012 coup that saw the democratically-elected leader Mohamed Nasheed ousted from power.
It has been a turbulent period in paradise.
Bosley was later made editor of Minivan News and he has said of Ahmed Rilwan Abdulla's disappearance: "After putting together his last movements and establishing clearly that this is a case of abduction, the trail has gone cold. No new evidence, no one claiming responsibility."
The international group Committee to Protect Journalists further quotes Bosley as describing his hiring of Rilwan – as he is generally referred to – as "without a doubt the best decision I have made in my time as an editor".
This was because of his excellent reporting. Since the apparent abduction, however, Minivan News has come under further attack. A machete was lodged in the front door of its offices and journalists have received a threat that "you will be killed or disappear next. Watch out". They have moved office.
The website findmoyameehaa.com includes more information about Rilwan's tragic case.
Having been in the Maldives for several weeks while researching a new travel book about the country and meeting reporters for Minivan News – one of whom told me that there was a fear of "a man with an iron bar in the hall" although "they leave us alone for the moment" – the series of events is especially disturbing.
It was as though they had seen it coming. The journalists I talked to even reported that they believed their phones were being tapped. When I met them – on the airport island before travelling back across the water to the same ferry port used by Rilwan – we were clearly "observed" by figures monitoring us, as I describe.
None of these matters make the holiday brochures. Nor do they get reported in the travel press. Few sitting by the infinity pools as I write this will know anything of Rilwan.
But it will not stay that way for long. Unless the authorities in the Maldives take this case – and others like it – seriously, the story will gain a wider audience.
In June 2012 a Maldivian blogger named Ismail Rasheed, who had written about gay rights, had his throat slashed in Male after being attacked by a gang. The knife missed an artery by millimetres and he survived, though he fled the country for his safety.
This is just one – extreme – example of a series of attacks and threats on journalists. And the word extreme is apt as it is clear that "extremism" is on the rise.
The group Reporters Without Borders now puts the Maldives at 108th out of 180 countries in its press freedom index. It has fallen in this index for four consecutive years.
Welcome to the Maldives (visitmaldives.com), motto: the sunny side of life.
Ahmed Rilwan Abdulla: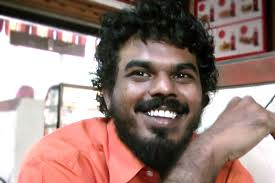 http://minivannews.com/files/2014/08/moyameehaa.jpg