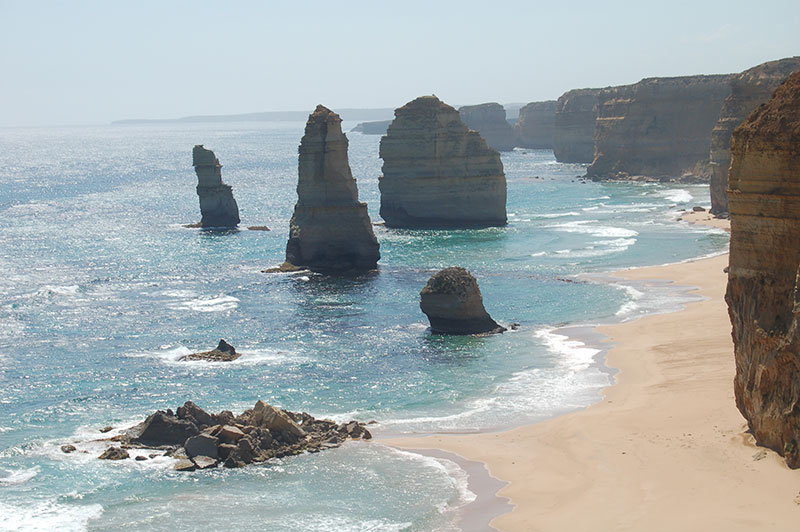 Part of the remains of the 12 Apostles, Victoria (more pictures at end of article)
On a cliff overlooking the expanse of ocean, with waves crashing below on apricot sands and birds of prey wheeling above untouched forest by the coast, Ian, a retired self-storage company owner from Melbourne, is getting philosophical – in an Australian kind of way.
"Mate, let me tell you," he says, looking out across the waves, "this is a ripper place. Totally ripper, mate."
He pauses as we listen to a wallaby scurrying close by in the bush. "Some resorts not far from here are packed to buggery in the summer, mate. But not here, mate. Oh, no, things are always totally ripper here."
It's hard not to agree. The Great Ocean Walk snakes for 90km (56 miles) along Victoria's spectacular southwest coast. Last year, Tourism Victoria announced the opening of the track, which is at points little more than a one-person-wide clearing through the bush, bringing a trickle of tourists to this beautiful region.
The path runs parallel, but not within sight of the Great Ocean Road, widely regarded as Australia's premier drive. This narrow road, built during the Depression to kick-start the economy, twists and turns along the rugged coast, offering fantastic ocean views.
There are camp sites along the path, which ends at the Twelve Apostles, an Australian landmark that used to consist of a dozen solitary rocks standing alone in the ocean; now there are just eight Apostles as four have collapsed. But we are not slumming it. "I just can't face that s*** any more," Ian says, summing up the feeling of our seven-strong group. The others are 20 years older than me but amazingly spritely; the walking pace is keen as we cover 15km a day over four days.
No, we're not messing about with flysheets and pegs, we're doing it in style – being dropped by bus at our start point each morning and picked up at the end of the day to be taken to a comfortable guesthouse for a nice meal, a glass of shiraz or two, and a discussion of the day's events.
The walks are the idea of Gavin and Dana Ronan, who gave up jobs in IT and marketing – Dana was head of marketing at Australia's version of www.lastminute.com – to set up a company called Bothfeet.
I talk to Gavin one evening at the Aire Valley Guest House, which has an almost unbelievably peaceful view from its veranda over a garden of lemon, apple and olive trees on to an open plain with cattle and eucalyptus trees. "Australia is not known for its walks," he says, clutching a VB beer and looking as if he wouldn't be out of place in a flashy Melbourne bar. "We want to change that."
It's early days yet, with Bothfeet organising just one or two walks a week. On ours, last December, we see kangaroos, kestrels, eagles, giant red ants (described by Ian as the "garbologists of the bush") and lots of snake marks, but thankfully no snakes.
"They are active at this time of year," says Andrew, our guide, whose working life has included stints as a semi-professional cricketer in England, the army and a couple of years as a possum catcher. "I'm surprised we haven't come across any."
To protect ourselves against bites, we are given thick plastic gaiters to wear around our ankles. Other kit includes a backpack with a water tube attached to the front strap, a fly net to wear over your hat (in places there are an awful lot of flies, though no mosquitoes), and a vacuum flask of hot water.
The latter is for "smokos" – also known as "brew stops". We're in no hurry, so smokos are common. During these breaks Andrew regales us with stories of shipwrecks and marauding escaped convicts back in the early 1800s. He tells us about the plants we see along the way and how they are used by Aborigines.
By the end of our four days, our enthusiasm for the scenery has brought the group together. "I love this place," says Carolyn, who is married to Geoff, a retired bank manager. "It's just getting out here and feeling the space. You need that sometimes."
Andrew joins in: "It's an Australian thing – of being out in the open. I get it in the Northern Territory, when I look across the flat water and the sky is pink and the crocs are growling. When I'm out here, I'm always thinking: 'Who in their right mind would want to work in an office?' " With golden light settling on the Twelve Apostles at the end of our "ripper" and invigorating – but not too demanding – walk, the collective answer of our group is: good question.
Need to know
Getting there: Tom Chesshyre travelled with Tourism Australia and Qantas (0845 7747767, www.qantas.co.uk), which has returns from Heathrow to Melbourne from £641.
Walking the walk: Bothfeet (00 61 3 5334 0688, www.both feet.com.au) offers four-day walks, including full-board accommodation, from £793.
Further information: Tourism Australia (www.australia.com), Great Ocean Walk (www.greatoceanwalk.com.au).
Where to stay
Decent places to stay used to be rare on the Great Ocean Road. Now you're spoilt for choice:
Chris's Beacon Point Restaurant and Villas (00 61 3 5237 6411): excellent restaurant with sea views; B&B doubles from£118 a night.
Moonlight Head (00 61 3 523 75208, www.moonlighthead.com) has views of Cape Otway lighthouse; full board from £269pp. Oscars, 41b Gipps Street, Port Fairy (00 61 3 5568 3022, www.oscarswaterfront.com) has B&B doubles from £111 a night.
First published in The Times, November 3 2007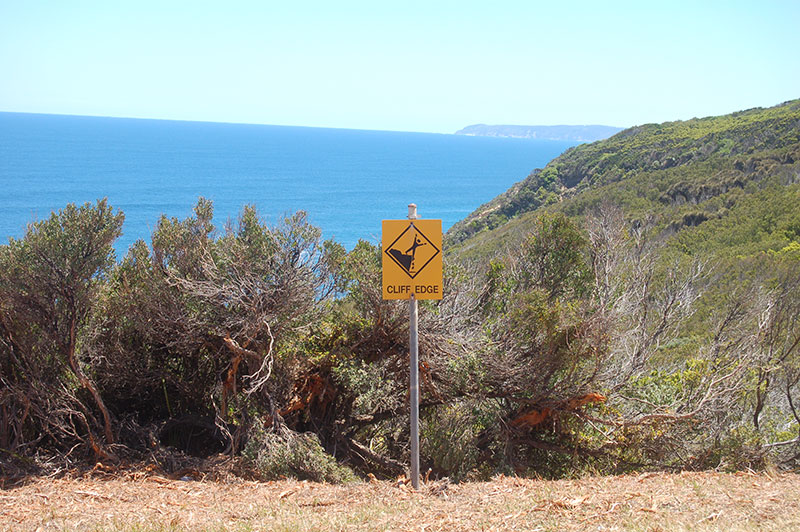 Along the Great Ocean Walk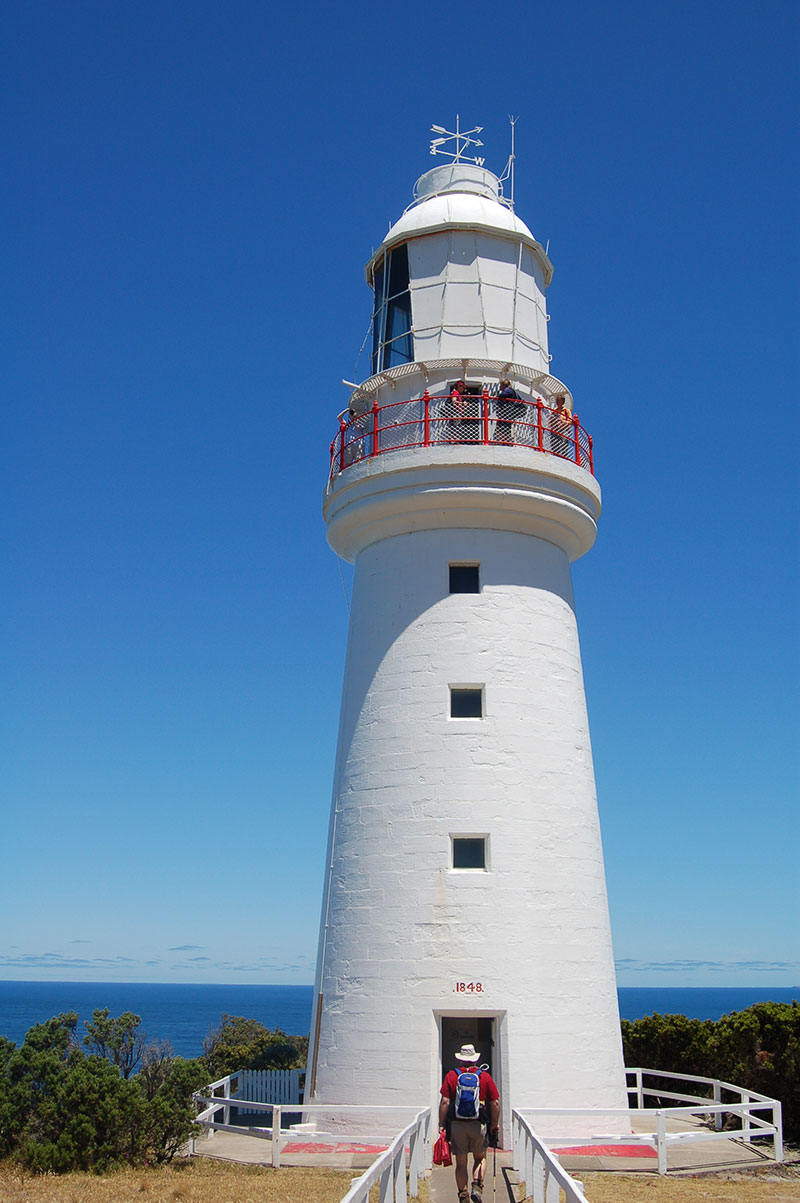 Stop-off at a lighthouse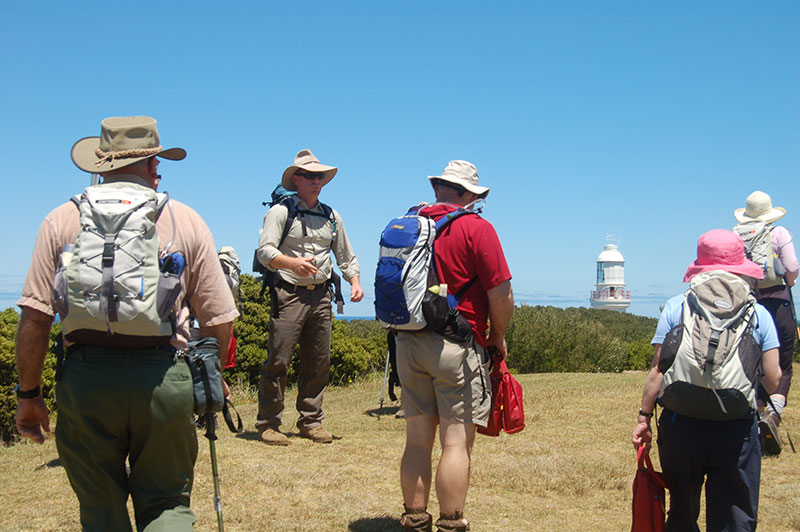 Walkers: Great Ocean Walk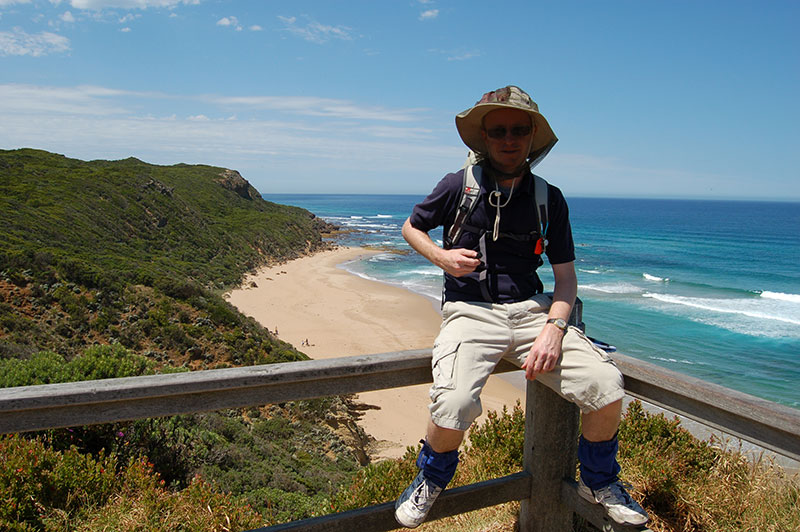 Shady character – wearing full walkers' kit