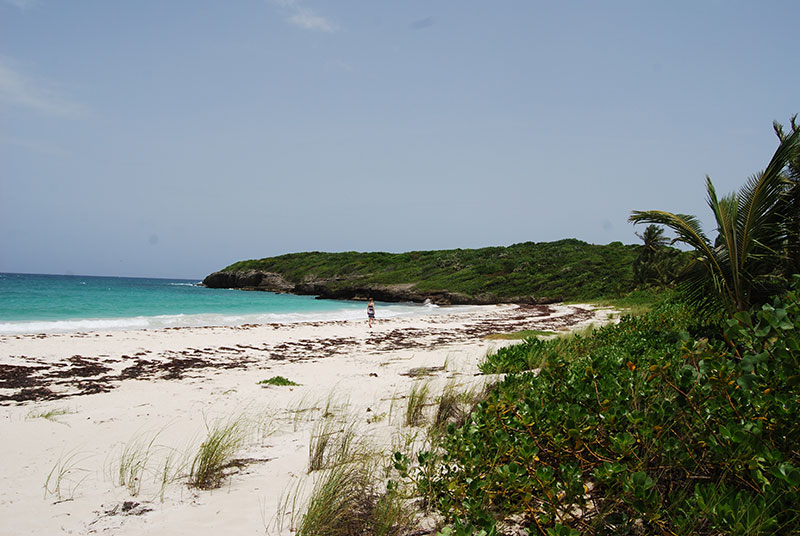 The beach at Playa Navio, where the final scenes of Lord of the Flies were shot in 1963 by Peter Brook (more pictures at the end of the article)
It felt like another planet. In the early evening gloom, dark shapes of swamp-like vegetation spread out in a wide circle around the crater-shaped bay. Insects buzzed as darkness descended. We paddled into the middle, the splash of each stroke echoing eerily across the calm surface. And then we noticed something. As we dipped our paddles into the salty water, a murky — at first almost unperceivable — light glowed below. As the minutes ticked by and we moved farther out into the bay, with not a soul about, the glow grew brighter.
We paused as Abe, our guide, explained the strange goings on: "This bay has the highest concentration of dinoflagellates on Earth: the micro-organisms that create this light. They absorb sunshine during the day using a process of photosynthesis. At night they release it to attract fish that eat their predators."
As the odd light rose from the depths, Abe said that while in normal sea water there might be 30 to 40 dinoflagellates per gallon (too few to notice their illumination), in Mosquito Bay on Vieques, a small island east of Puerto Rico, there are as many as 720,000 per gallon. Soon the peculiar creatures were in full bioluminescent glow, unlike anything we'd seen before. Each paddle stroke produced a blaze of blue-white light. The outlines of fish zipped below like streaks of lightning. "Jump in," said Abe. And we did; our bodies suddenly lit up as though we'd been dipped in fluorescent paint.
Vieques is a most unusual place; and not only because of its other-worldly waters. The island is part of Puerto Rico, eight miles to the east of the mainland and about 20 miles long and four miles wide, with about a third of the eastern edge closed to visitors — it is contaminated with unexploded ordnance left over from the days when the US Navy used it as a base.
The Americans, after setting up camp in 1941, finally left in 2003 in the wake of protests after the death of a local during an errant manoeuvre. This was the culmination of many years of anti-US feeling on the island, where the 10,000-strong population had been squashed into only a quarter of the land. It is one of the quietest Caribbean islands, hardly developed at all, unlike mainland Puerto Rico, which comes under the commonwealth of the United States with its highways, burger joints, KFCs and malls.
While some mainland Puerto Ricans would like the country, first conquered by the Americans in 1898, to become the official 51st US state, others are in favour of independence. Nowhere is that sense of wanting independence stronger than on Vieques, with its recent US Navy past.
It's a sleepy, tranquil island — a perfect hideaway from the mainstream Caribbean. With its narrow, empty roads shaded by creepers hanging from thick-green trees, bright flashes of scarlet flowers on its Flamboyant trees, empty beaches, crumbling US Navy bunkers and two tiny towns, it feels incredibly secretive. It's stylish, too — if you stay at its new designer hotel (the only one of any size; the next biggest has about a dozen rooms).
It took 20 minutes to fly from San Juan — Puerto Rico's capital, with its splendid fortified 16th-century old town — to the airstrip at Vieques. On the way we could see the big, five-star hotels and golf courses along the main island's eastern coast, as well as the peaks of the El Yunque National Forest. We could also see the huge breakwater built by the Americans, originally intended to link Vieques with the mainland in the 1940s to act as a safe haven for a retreating British Navy in the event of Hitler occupying the UK. Construction was halted in 1943 when Allied fortunes improved.
The W Retreat and Spa, opened last year, had its own "executive lounge" at the tiny airport — a laid-back bar serving rum cocktails and Corona beer. From there it was a five-minute drive in a minibus to the hotel, which has more than 150 rooms designed in a boho-chic style.
You enter through giant wooden doors into a reception with multicoloured decorations on the wall in the shape of butterflies and the little coqui frogs (which make a distinctive "cokee-cokee" sound). Past circular sofas with colourful throw pillows, you reach a large lounge with Moroccan-style rugs, L-shaped day-beds, peculiar abstract art, multicoloured guitars marked with "Love Sweet Love" (for guests to use), games of Monopoly, art books and a red-baize pool table.
Ambient dance music played. Waiters stood behind a bar with pink seats. On a veranda, couples sat at large pink, yellow and green circular seats (no shortage of colour at the W Retreat). A fire pit, where a flame was lit at dusk and "sunset sip" cocktails were served each evening (included in the price), was sunk cleverly into a lawn overlooking the Atlantic Ocean. Our room was also in this funky style, with a circular sofa and a giant bed surrounded by a decorative curtain. It overlooked two infinity swimming pools, where children played and couples relaxed on loungers with bright pink towels.
We explored the island in a Jeep Wrangler hired for $50 (£30) a day from the car rental agency across the street. "A bargain, but take a look first!" the owner said, showing me a beat-up vehicle with ripped, slightly soggy seats (caused by an overnight downpour; we covered them in cardboard) and a glove compartment that fell off when we opened it.
It was perfect for Vieques, and we were soon investigating the jungle-enveloped lanes, dropping south to the small town of Esperanza, with its higgledy-piggledy bars, laid-back B&Bs and restaurants with names such as Lazy Jack's and Duffy's. Chilled-out folk in flip-flops shuffled about — a far cry from the bustle of the mainland. Nearby, we took in Playa Navio, the beach where the final scenes of Lord of the Flies were shot in 1963 by Peter Brook, driving down a madly bumpy lane to get there. Only two other people were on the sands, no sign of children; savage or not.
Then we drove back through more jungle, past the entrance to Mosquito Bay, where its glowing waters are deep blue during the day. Vieques no longer has the US Navy launching bombs and causing a racket. Now it has hippies, boho cool, a lovely quiet feel — and, of course, some very strange lights in its waters at night.
Need to know
Getting there
BA (ba.com) has return flights to San Juan, via Antigua, from £461. Cape Air (www.flycapeair.com) has returns from San Juan to Vieques from $140 (£86).
BA Holidays (0844 4930758, ba.com/puertorico) offers a week, room only, at the St Regis Bahia Beach Resort on the mainland from £1,709pp including return flights from Heathrow. St Regis is a new five-star hotel, just outside San Juan and close to the El Yunque rainforest.
BA Holidays also has a week at the Rio Mar Beach Resort & Spa, a four-star family-friendly hotel just outside San Juan, from £969pp.
Where to stay
Rooms at the W Retreat & Spa Vieques Island (whotels.com) cost from $402.
What to do
Abe's Snorkeling & Bio-Bay Tours (abessnorkeling.com) arranges two-hour night tours, in kayaks, of the bioluminescence. Prices start at $30pp and $15 for children under 11.
Further information
Puerto Rico Tourism Company (seepuertorico.com); The Rough Guide to Puerto Rico (£12.99, roughguides.com).
The film The Rum Diary, based on the book by Hunter S. Thompson and set in Puerto Rico, is released on November 11. 
Where to go for the quiet life in the Caribbean
Los Roques, Venezuela
The archipelago of Los Roques lies about 160km north of the Venezuelan mainland. It consists of 42 named islands and 250 unnamed islets. There's only one village, on the island of Gran Roque, which has a little airport, a handful of sandy streets and a wide selection of colourfully painted pousadas. Many are run by Italians, who flocked to Los Roques after a restaurateur named Vincenzo Conticello wrote about its charms in the 1980s. The islands, with their many isolated sandy beaches, are known for their great seafood — especially lobster.
Details Journey Latin America (020-8747 8315, journeylatinamerica.co.uk) has a ten-night trip to Venezuela, including five nights in Los Roques from £2,452pp.
La Isla de la Juventud, Cuba
Though few have heard of it, this island off the southwest coast of Cuba is the seventh- biggest in the West Indies, with a population of about 100,000. But the "island of youth" is a sleepy place compared with the bustle of the mainland — a recent Times Travel writer reported finding dogs asleep on highways outside the main town, Nueva Gerona. This feels busy in comparison to the rest of the island, with market places and salsa dancing in the evenings. It's a short drive to plenty of beaches and wild, isolated nature reserves. Tourism is rare, people are open and friendly and there is little of the dollar-chasing of the mainland.
Details Best At Travel (020-7849 4145, bestatcubaholidays.co.uk) offers three nights on La Isla and four in Havana, with all flights from £870pp.
Carriacou, Grenada
Divers know about Carriacou — there are wrecks of First World War gunboats in its waters — but few others seem to. The main town is Hillsborough, which has a few buildings, a jetty and a fruit market. There is also a museum detailing the history of slavery on the island; the African influence on Carriacou still runs strong and there are "big drum" dances, which can be traced to the West Coast of Africa. There are peaceful beaches, protected nature reserves and lovely hidden coves. Carriacou is Arawak for "island of reefs", another reason divers love it so much. The population is about 5,000.
Details Dive Worldwide (08451 306980, www.diveworldwide.com) offers seven-night trips with all flights, hotels and diving from £1,295pp.
First published in The Times, October 29 2011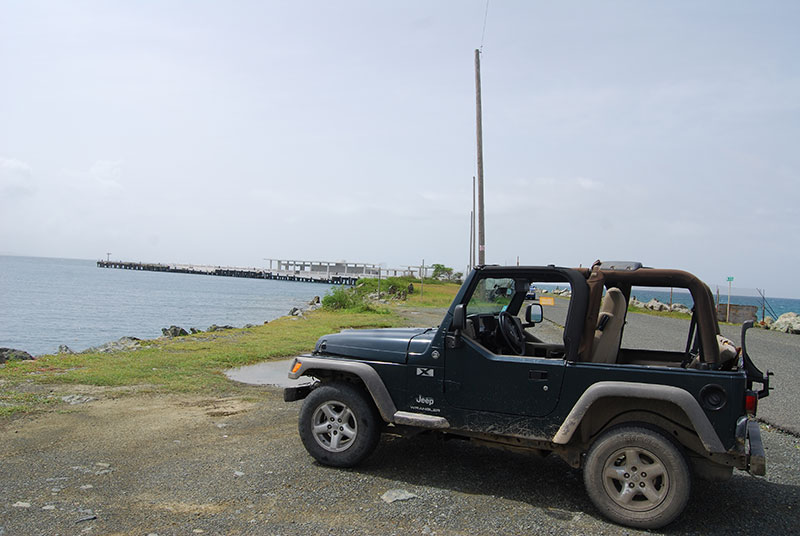 $50 a day Jeep on the breakwater built by the Americans, originally intended to link Vieques with the mainland in the 1940s to act as a safe haven for a retreating British Navy in the event of Hitler occupying the UK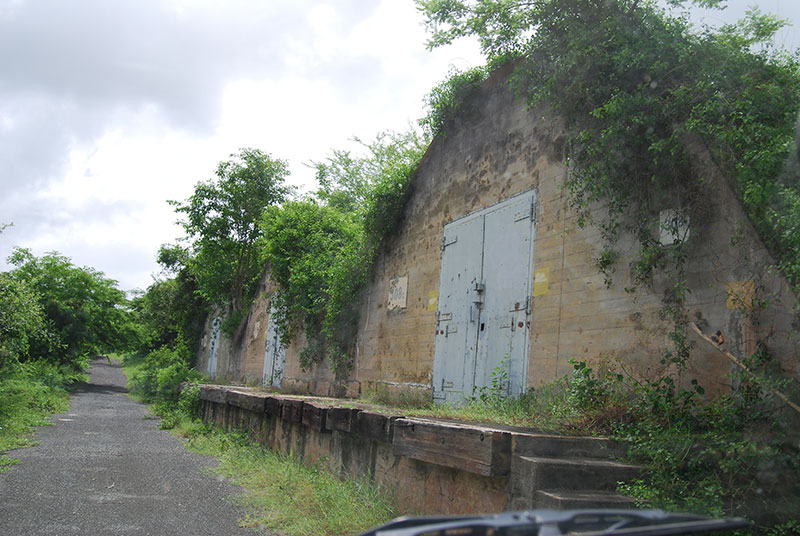 Old US bunkers on Vieques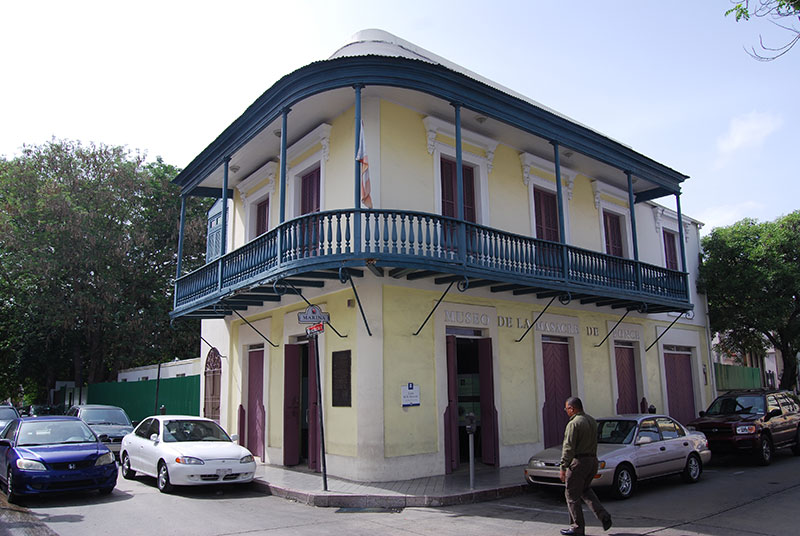 Museum in the town of Ponce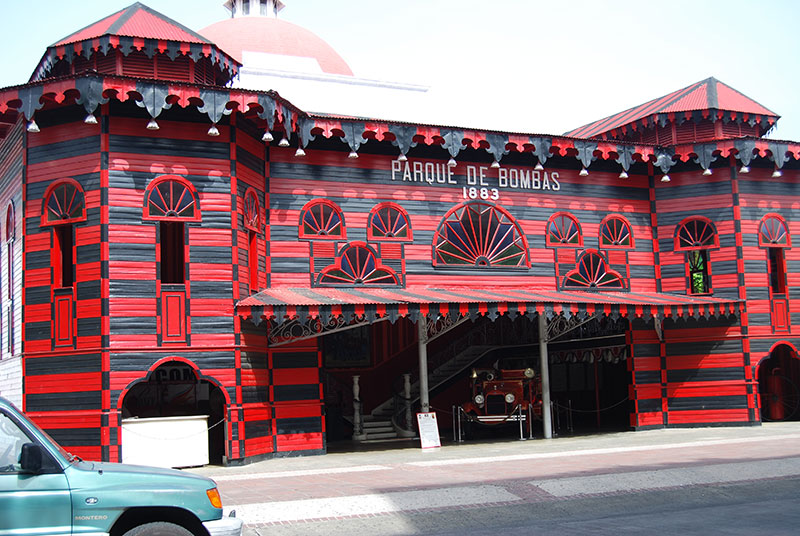 Historic fireman's depot in Ponce