Driving through countryside close to Matemwe (more pictures at the end of the article)
Somewhere near the turning to Stone Town in Tunguu, on a stretch of dusty road surrounded by tropical forest in the centre of Zanzibar, a policeman in a white uniform raised his hand to ask us to halt. He had spotted us from afar and we had seen him spring from where he had been leaning in the shade. He looked grave, as though we had done something very wrong.
I pulled over. He sternly gestured for me to move over even farther. I drove our Suzuki Jeep on to the dirt verge. Then he went to the passenger window and stuck his head inside.
He asked to see my international driver's permit (which all visitors must have when driving in Tanzania; available for £5.50 from post offices in the UK). I showed him this and he held the document thoughtfully, examining the grey cardboard cover almost ruefully. He then leaned farther into the car.
"Not stop there! Not stop! Fee! Fees and bail of the Government of Zanzibar!" he said.
"But you asked us to stop," I replied.
"The Government of Zanzibar!" he answered. "Fees and bail!" Then he put his hand in a pocket and pulled out a ragged scrap of paper, on which there was small smeared print and a Biro figure indicating 50,000 shillings (about £22).
We had been warned about police road stops when we collected our hire car at the airport, and had been told to hold our nerve on such occasions. This advice had been relayed by a slightly nervous-looking rental company rep. Not many tourists hire cars in Zanzibar; we didn't see another tourist driving about during a week on the 35 mile-long, 12 mile-wide island.
We did hold our nerve, and the officer eventually (after quite a stand-off) took back his scrappy paper and waved us on. We had passed one of the big tests of a fly-drive in Zanzibar: don't hand out shillings to shifty policemen on remote roads.
Our regular police stops almost became part of the fun of the trip. What would be the character of the officer ahead? Stern, snappy and bullying like our friend near Tunguu, or charming and smiley like many others who simply appeared curious to talk to passers-by from foreign lands. Often we were just waved through without stopping. Other times we would see officers asleep in the shade of a mango tree.
Driving yourself on a break in Zanzibar is a wonderful way to see an island with a rich history that makes other Indian Ocean islands seem dull by comparison. We stayed at three hotels (two nights in each), travelling by car in between and exploring places that the majority of visitors do not see: we know this because we saw them lying by the pools each day.
From our first hotel — the splendid Kasha Boutique, with villas with plunge pools on the northeast coast of the island — we drove one morning to investigate Stone Town. After negotiating a bumpy dirt track and the sleepy fishing village of Matemwe, where tiny children waved and gave us the thumbs up (often looking as though they were thinking: "Who are these mad people in the car?"), we passed along roads with cattle, chickens and goats, as well as carts pulled by oxen and locals precariously transporting the long mangrove branches for contructing buildings.
It was hot and increasingly chaotic as we arrived at Zanzibar's capital, with thousands of people milling about at streetside stalls selling bright, neatly stacked piles of mangos, watermelons, limes and sweet potatoes, as well as great bundles of colourful clothes. Past several mosques (the island is Islamic, while mainland Tanzania has a large Christian population) and the entrance to the port, we drew up in front of the fabulous House of Wonders, next to a little park overlooking the coast of Africa, about 25 miles to the west.
The House of Wonders lived up to its name. Built by Sultan Barghash in 1883, at a time when Stone Town was the headquarters of the Imamate of Oman that ruled much of East Africa, the name comes from its use of electricity and lights that illuminated a building on the island for the first time. It is an extraordinary structure, with huge metal columns, vast balconies and a tall, thin clocktower; looking a little like an antebellum home from the Deep South of the United States, except with its dimensions almost comically exaggerated.
Inside, we learnt about the days when Zanzibar was a famous stop for explorers about to head into deepest Africa; Burton and Speke (in 1856), Livingstone (1866, on his last journey; he returned in a coffin in 1874), and Stanley (in 1872, when he arrived to a hero's welcome after hunting down Livingstone). We also found out about the years of the British protectorate from 1890 until Zanzibar gained independence in 1963. Interestingly, the pop star Freddie Mercury, whose father worked for the British as a civil servant, was born and lived on the island until he was sent to boarding school. Perhaps he was thinking of the roads of his homeland in later years whenever he sang Another One Bites the Dust.
After examining the relics in the old Sultan's Palace next door, we ordered coffees at a pretty café named Archipelago, overlooking the water. The is close to the Africa House Hotel, where Livingstone is said to have stayed. We wander about the hot streets, popping into the handful of souvenir stores selling wooden masks and bags of spices (the island is famous for its cloves), with only a few other tourists walking about. They had all come with guides, but we were free to explore on our own. And each day we did. On one afternoon, we visited the tiny, curious village of Nungwi on the northern tip of the island, entering its famous "supermarket" — which sold a handful of sodas, canned foods and toiletries. This was as close as Zanzibar got to a super-market as we know it on the whole island. The coastline here was particularly stunning, with its white sand beaches and coral reefs.
On another we stopped amid the lush green of the tall mahogany trees of Jozani National Park, where we searched in vain for the endangered endemic colobus monkeys. We took in the ruins of the first mosque built (in 1107) on the east coast of Africa, northwest of a quiet fishing village called Kizimkazi — a splendid, laid-back place where fishermen were mending nets and carving new boats in the shade of trees down by the beach.
We revisited Stone Town and ventured into the warren of the old slave market and a fruit market that seemed to go on for ever, teeming with pineapples, bananas, passion fruit and piles of cashew nuts, another big local crop.
It was a week of exploration, dodging traffic officers, getting lost (the signs on the island are appalling) and smarting at the stark contrast between the world of luxury hotels and the hard realities of life for many in East Africa. The average annual income in Zanzibar is about £160; rooms at most of the top hotels are much more than that a night.
But going by car was a great way to see what we found to be one of the most interesting spots in Africa. With an international driver's permit, a smile for the policemen and an eye for goats darting across the road in front of you, it is easy, and enjoyable, to go on a fly-drive on Tanzania's lovely spice island.
Need to know
W&O Travel Rainbow Tours (020-7226 1004, rainbowtours.co.uk) has seven-night breaks with three nights at Kasha (half board), two at Baraza (full board and all drinks) and two at Palms (full board and all drinks) from £2,175pp, based on two sharing, flights and transfers included. A hire car costs from £260 extra a week.
Kasha (kasha-zanzibar.com) consists of luxurious new villas overlooking a sand beach and a coral reef, while Baraza (baraza-zanzibar.com) is a new hotel with five-star rooms with an Arabian theme; the Palms (palms-zanzibar.com) is a hideaway of six huge villas with private plunge pools.
Alternatively, seven nights' half-board at the Breeze Beach Club & Spa, a relaxed family-friendly resort, is from £1,190pp, with flights and transfers included.
First published in The Times, February 19 2011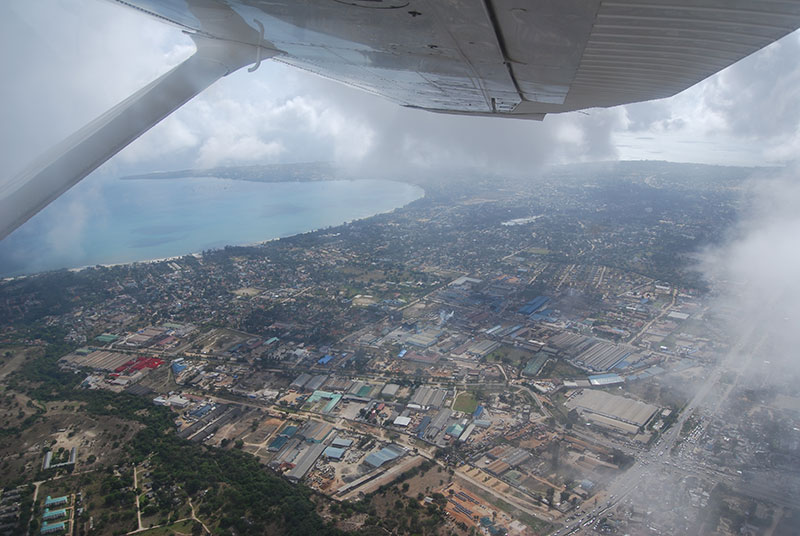 View from propeller plane on approach to Zanzibar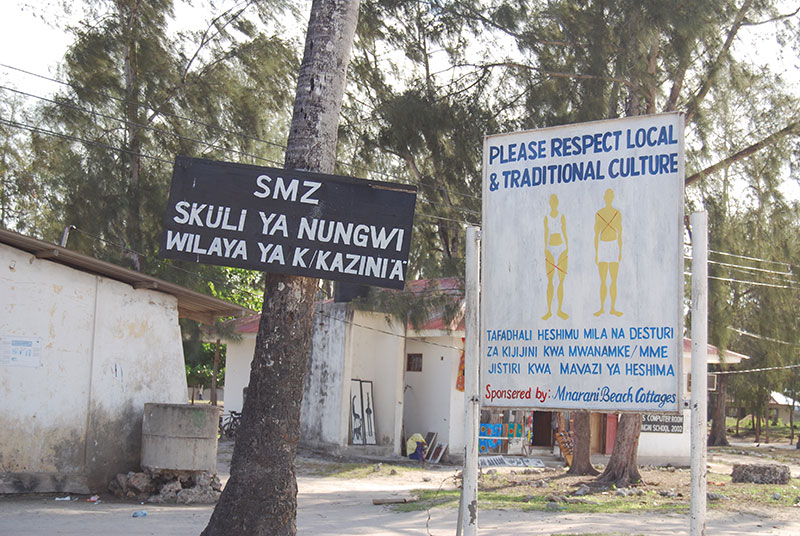 Sign in out of the way village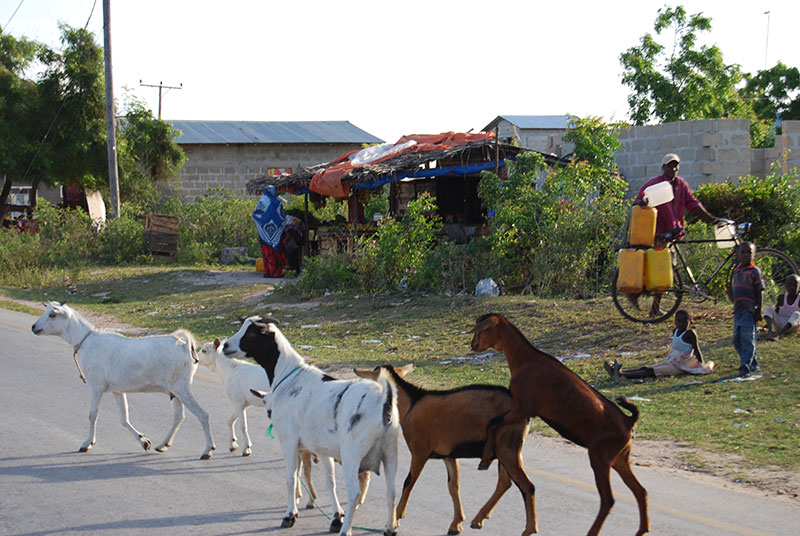 Goats cross road in unusual manner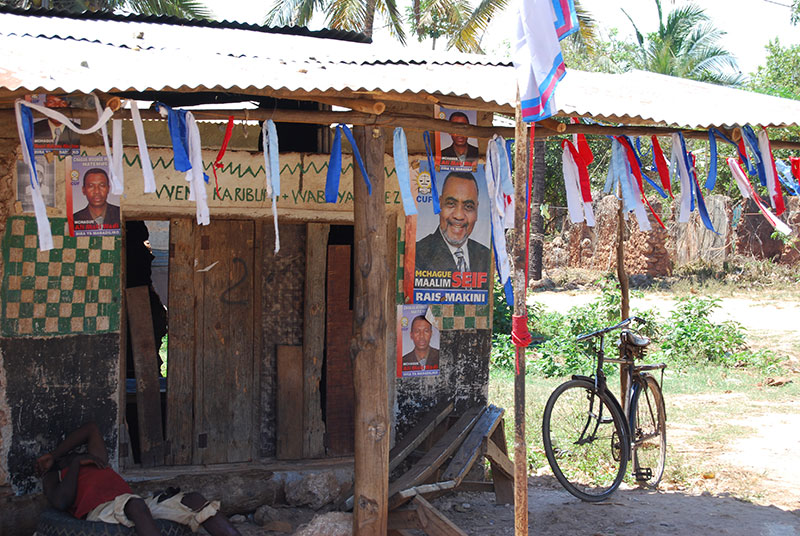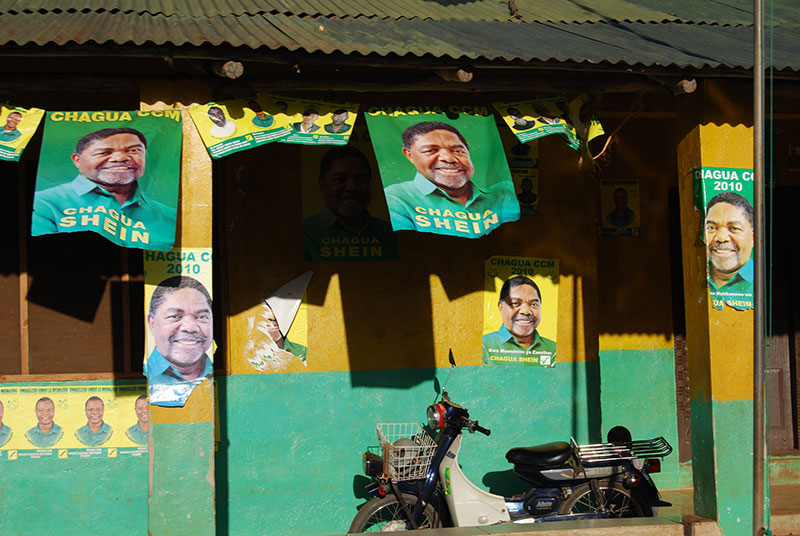 An election was in the offing…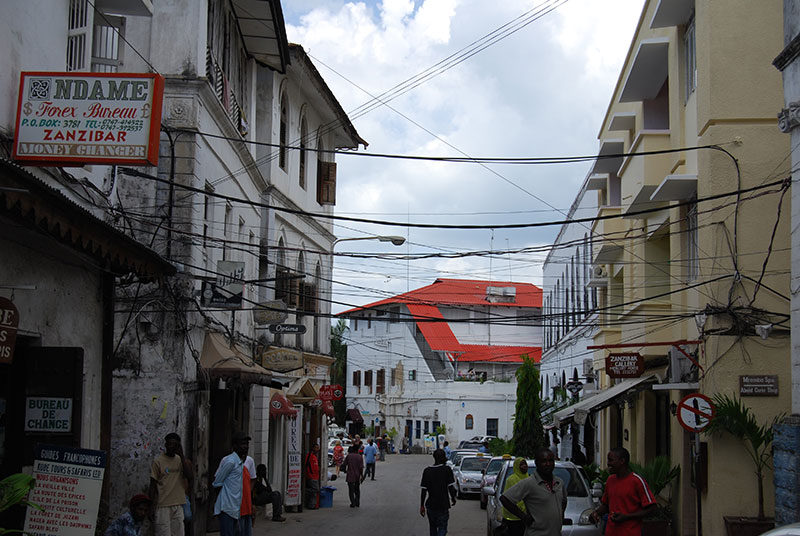 Stone Town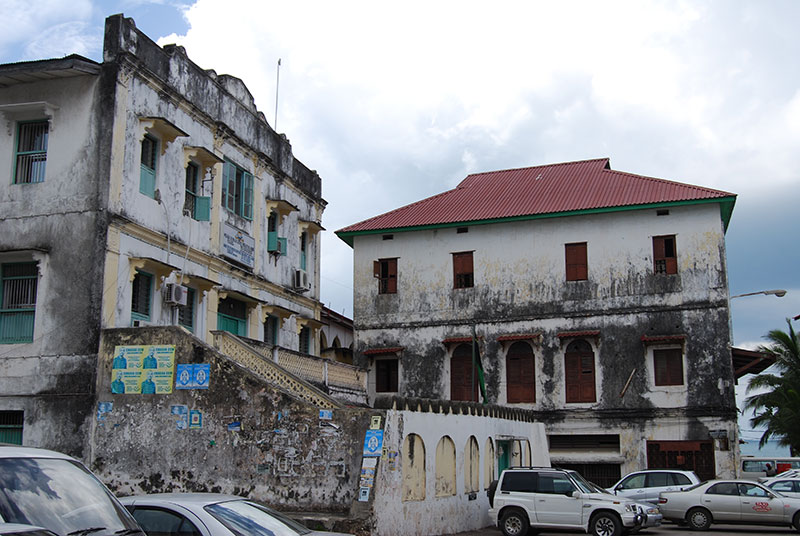 …parts of which could have done with a lick of paint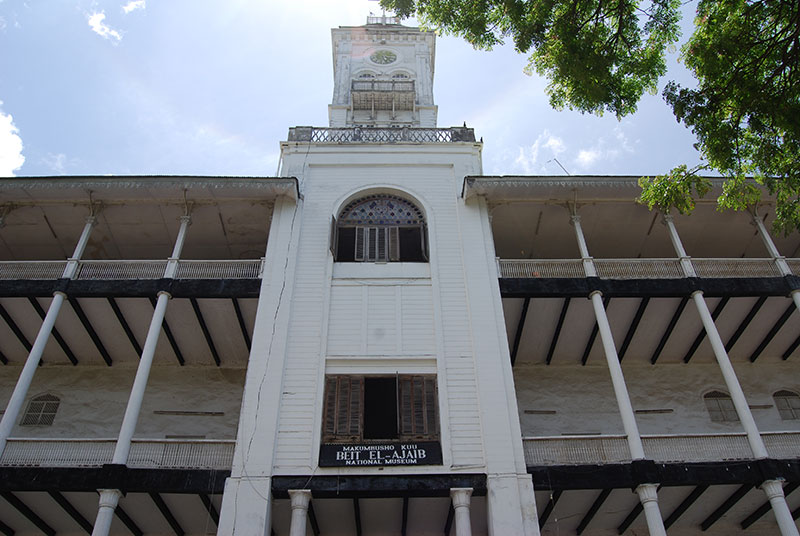 The House of Wonders, Stone Town
Boats by Stone Town