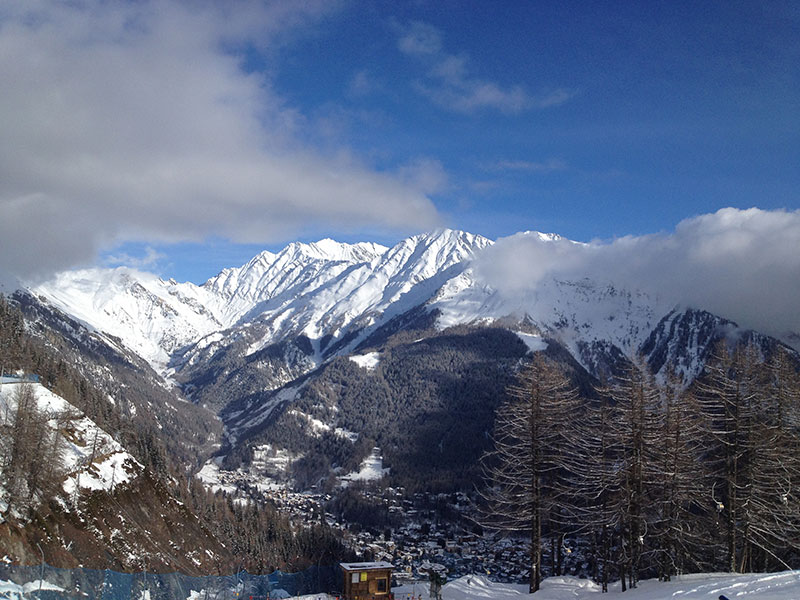 The view from the slopes at Courmayeur (more pictures at end of article)
Dark clouds billow on the far side of Mont Blanc — a blizzard must be settling in Chamonix. But here on the Italian side of Monte Bianco we're bathed in sunlight. At cafés in the narrow lanes of the pretty resort of Courmayeur, fashionistas from Milan wear shades while sipping coffee and cioccolata, soaking up the rays.
It is quiet. We imagine the bustling queues for ski lifts and the swirling snow in Chamonix and Tignes, and thank our lucky stars we're in Italy.
Courmayeur and its neighbouring resort La Thuile, both in the Aosta Valley, pride themselves on being calma than their Gallic neighbours, a 25-minute drive through the Mont Blanc tunnel. They also make a lot of their sunshine: being south of the great mountain, the resorts often enjoy brighter days.
That's not to say there's a shortage of snow. On the morning after our arrival, 20cm has dropped, the sun miraculously breaking through. We take a gondola from the village to the start of the main slopes (no queues) and switch to a chairlift to a far-off mountain-top, from where we are soon traversing down intermediate runs.
The scenery around Courmayeur is second to none, with jagged peaks all around, the great bulk of Monte Bianco looming large, and slopes clad with thick pine forest. The skiing is just right — for those who are not looking to be pushed to the limit on black runs. This is confidence-building territory, with wide, uncrowded, steep-enough pistes.
Courmayeur's cool cats from Milan aren't into rushing about too much. But they are into a good lunch. We ski down to a charming grey-stone chalet housing Château Branlant, and settle at a wooden table in an alcove near a crackling fire.
A smiling waitress delivers a selection of starters for our group of five friends. First come delicious cured meats and salamis as well as thin slices of lardo (cured fatback), a local delicacy and surprisingly tasty. Spinach tarts and quiches are next, accompanied by sweet chestnuts, fig bread dipped in honey, and grilled cheeses with walnuts.
After mains of fresh pasta with ragu and mozarella, haunches of roast lamb, and breaded veal Milanese-style (which appears to mean "covered in cheese"), we amble to our skis for a leisurely afternoon on the slopes.
You eat well in Courmayeur. We can also recommend Pierre Alexis 1877 (down a back street near the elegant church and full of locals), as well as at La Terrazza (with delicious pizzas) in the heart of town. And the restaurants are as good in La Thuile, a smaller resort just a short drive away.
The next day we head off for a morning's hard skiing. We strike lucky. Even though the fresh snow is a day old, hardly anyone has skied the off-piste powder, just away from La Thuile's main slopes. We take run after run (again no queues), led by Rab Bickerdale, a Scottish-born ski instructor with a maestro di sci qualification and an outfit made for the resort by Armani. "In Chamonix all this powder would have been skied by 10am … yesterday," he tells us. "It's a battle getting to the best bits."
That's the joy of this pair of lesser visited Italian resorts; they can feel at times as though they've opened just for you. After a long ski, covering 3,600m of vertical descent with a top speed of 79kph (according to the incredible app, Ski Tracks), we find ourselves at the slope-side Maison Carrel.
We dine on slices of cured hams and lardo, followed by gnocchi with smoked ham, brandy and poppy seeds, and ravioli with a cheese fondue sauce accompanied by chestnuts and honey. Outside the sun is beaming on the bellissimo scenery. The "other side" of Mont Blanc is a delight.
Need to know
Tom Chesshyre was a guest of the Ski Club of Great Britain (020-8410 2022, skiclub.co.uk/freshtracks), which has a week's chalet-board in Courmayeur from £849pp, with instruction, flights and transfers included. It also has a week's half-board in La Thuile from £795pp, with off-piste instruction and transfers, but not flights. EasyJet (easyjet.com) has return flights to Turin from £66.
Where to eat In Courmayeur, try Château Branlant (chateaubranlant.com), on the slopes, two courses from about €25; Ristorante Pierre Alexis 1877 on Via Marconi (0039 0165 843517), has two courses from about €20; La Terrazza (ristorantelaterrazza.com) on Via Circonvallazione, has €10 meals. In La Thuile, Maison Carrel (maisoncarrel.com), on the slopes, has two course for about €20; Ristorante Pepita Cafe (0039 0165 883047) on Frazione Entreves has good pastas from about €20 for two courses.
Further information Aosta Valley (aosta-valley.co.uk), La Thuile (lathuile.it); Pré-Saint-Didier spa (termedipre.it) is a brilliant spa complex close to Courmayeur; day passes €44.
First published in The Times, February, 2013
Lunch at Chateau Branlant