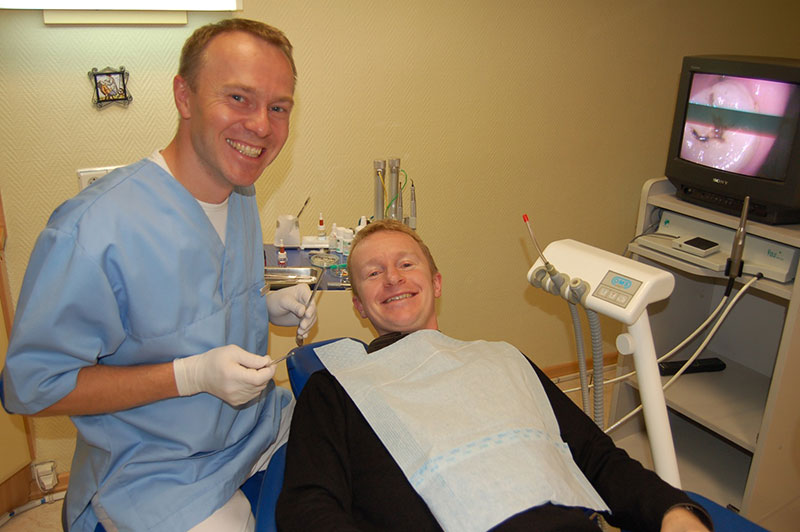 Szczecin in Poland is a long way for a trip to the dentist, but Tom Chesshyre still comes up smiling.
THIS is not my idea of fun — absolutely, positively not. To my way of thinking, holidays and dentists are about as far apart as possible. While one represents pleasure, the other — usually, with my teeth — equals pain.
But here I am in a city I'd never heard of until I booked my flight for 1p each way plus taxes (grand total: £24.63) — Szczecin in Western Pomerania in northwest Poland — lying with my mouth open and a Polish dentist checking my molars.
"Ah, Mr Chesshyre, you do not have the whitest of teeth," says Dr Cezary Turostowski, who runs Dentus, a dental practice that offers treatments for roughly a third of prices in the UK — a filling with a consultation is about £20, a bridge £700, an extraction £30, a crown £200. He has been recommended by the manageress at my hotel, the Radisson SAS, and all his staff speak English; appointments should be made about a week in advance.
"But they are healthy. They have lots of calcium. They are strong teeth," he says. "It is not natural to have sparkling white teeth." (Laser whitening costs £200 and takes about 40 minutes.) "Your teeth are right for you. Strong and healthy. . . ah, but you have a cavity!" Great. "OK," I say, out comes the drill and 20 minutes later the deed is done. I am officially a "dental tourist", just like thousands of Danes who come each year, and the handful of British tourists who have heard of the cheap, high-standard treatments.
It's enough to put a smile on your face — which is exactly what you want as Szczecin is hoping to be the next big party destination in Eastern Europe, for those tired of Riga, Tallinn, Vilnius and Bratislava.
Post-filling, I decide it's time to get my teeth into the nightlife. I meet up with Wojciech, Anna and Elvi — twentysomethings who know the best places to go.
We eat at the Renaissance restaurant at the Radisson, considered one of the best in town. I have a terrific meal of fresh tomato soup, followed by roast pheasant, with a glass of nice red Polish wine (£20 and not a blood sausage in sight) — and then we hit the town.
A five-minute taxi ride and we're at the city's "hottest" club: Can Can. It's astonishing — like stepping into a L'Oreal advert. Everyone seems young, glamorous, sophisticated, and just plain beautiful. Not a dodgy set of choppers anywhere. A model agency could clean up here.
The women are stunning, wearing glittery retro disco outfits, and the men are smartly dressed, some in suits. Everyone is well-behaved but having fun, dancing to a mix of 1980s and dance hits.
Above the din, Wojciech tells me how many of their friends have moved to the UK to get work: "I almost have more friends in London than I do here."
We go next door to the Rocker Club, which is a little more raucous, for apple and cinnamon-flavoured vodkas. Next it's City Hall for Polish hip-hop until the early hours.
I never get the knack of pronouncing Szczecin (officially it is "shcheh-cheen"). But I like it. It's only a 90-minute flight from Stansted, it's fun, the food's good, and my teeth feel like a million dollars . . . only they cost a whole lot less to fix.
Need to know
Szczecin ("shcheh-cheen")
Getting there: Ryanair (www.ryanair.com) has return flights from £24.63.
Getting around: Hertz (www.hertz.com) has cars from £25 a day.
Where to stay: Radisson SAS (www.radissonsas.com) has double rooms from £45. The Novotel (www.novotel.com) has doubles from £36.
Going out: Can Can (www.cancan.pl), Rocker Club (www.rockerclub.pl), City Hall (www.cityhall.pl).
Where to eat: The Renaissance at the Radisson. Bombay (00 48 91 488 4932); great Indian restaurant, £10-£15 a head.
Getting your teeth checked: Dentus (www.dentus.szczecin.pl).
Reading: Poland (Rough Guides, £14.99).
Further information: Polish National Tourist Office (www.visitpoland.org).
First published in The Times, February 18 2006