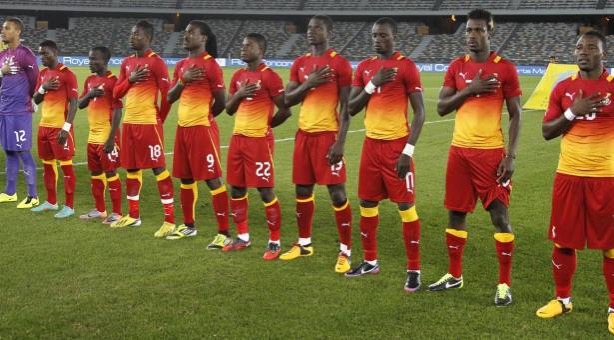 EVEN the goats are better than us. We — a group of volunteers in Ghana to help coach youngsters in football — are playing a crack team of locals, most in their mid-20s, on a bumpy pitch in a small village in the hills north of Accra, Ghana's capital.
It's a special match organised to mark the end of a week in which we had been training under-17-year-olds in nearby villages. "It's the whites versus the blacks!" screams the DJ, his enormous sound system pumping out "hi-life" hits (West African music that mixes reggae with soul). About 800 people have turned up to watch the match and every vantage point is filled — there are even people perched in the mango trees by the sidelines.
The sun is scorching and we are 3-1 down — I've been subbed off after twisting an ankle in a midfield pothole. The pitch is terrible, but one of the best for miles around — most don't even have grass.
And the goat is about to dazzle our defence. With consummate ease, one of the locals sprints past our centrebacks, but plays the ball too far ahead of himself. It looks like it's running for a goal kick, but a small group of goats, munching the grass, is in the way.
The leader, a grey scraggly animal, sees the ball and instinctively butts it, away from the goalkeeper and straight into the path of the striker, who brilliantly thumps a goal. 4-1, and no offside whistle for the goat — "Goooalll!" cries the DJ, as the crowd goes wild.
The moment perfectly encapsulates African football and our experiences of football coaching in Ghana: fantastic talent, awful facilities . . . and a lot of fun.
I've joined a group of 18 volunteers, ranging in age from 19 to 35, to spend a fortnight helping out with training drills in and around Accra. Most of the volunteers are gap year students either about to go to university or just finished, plus a couple of career breakers. The other volunteers are here for five weeks, after which some will go backpacking northwards through Ghana into Burkina Faso and then on to Timbuktu in Mali.
They're part of the Tom Vernon Football Academy, based in Accra and run by Tom, an enthusiatic and self-assured 25-year-old from High Wycombe who formed the academy — which looks after a group of 20 or so of Ghana's best under-17 players — four years ago.
Tom came to Ghana despondent, after quitting a coaching science degree at John Moores University in Liverpool — "too much theory, not enough practice" — and going for a holiday, staying with a family friend who ran a furniture business in Accra.
A former Sunday league football player in the UK, Tom began teaching English at a local school and soon found himself running football games. A chance meeting in a bar with one of Ghana's premiership football club owners led to a coaching job, where he thrived — and a year later he was in charge of Hearts of Oak, the title holders and the country's biggest team.
While there, he had an idea. "There was so much amazing young footballing talent around, but people didn't have the best tactical understanding of the game," he says, explaining that rough pitches mean that almost all players in Ghana have "brilliant ball control, wonderful skills".
So he started the academy, which is about to release its first intake, some of whom are expected to sign for clubs in France; 15 per cent of their signing fees will go to improving the academy's facilities.
"Our philosophy is to give these boys the chance to fulfil their potential," he says, as we watch them training on their home "pitch", a dusty lot beneath crackling electricity pylons. "So many people in Africa, in every walk of life, don't fulfil their potential."
Most come from very poor backgrounds — football is their chance to make a living far in excess of farming or working for a company in Accra (where the average annual salary is £400). Like basketball is to inner-city kids in the States, football is seen as a way out of financial hardship.
After setting out plastic cones for crossing practice, Tom — not afraid to make his feelings known — is in full voice: "Too slow! Come on, tackle him! Lazy, lazy, lazy! Why are you just watching him: is he your boyfriend?!" The players are excellent — scooting about, sending whistling shots goalwards, flicking the ball expertly. "Imagine Sol Campbell being able to do that," says Tom after one player controls the ball perfectly, before whipping in a cross (perhaps being a bit unfair to England's star central defender).
During a break, I talk to Isaac "Telly" Bawa Shaze, 15, undoubtedly the academy's star. "My plan is to play for a big club — Manchester United or AC Milan, maybe Valencia," he says nonchalantly, adding that his favourite player is Paul Scholes. "The academy is great: we get free accommodation, free food, free school and free sports equipment."
Telly's "problem" is his height. He's about 5ft 1in and even though Tom tells him it's not the answer, he spends 20 minutes a day hanging from a bough of a tree in the courtyard of the academy's HQ — to stretch himself.
The academy is funded by volunteers, who contribute £100 each. Everyone seems to be having the time of his life. Although there are no female football coaches, there are a dozen women on volunteer trips based at the academy who are either coaching tennis, teaching at arts and crafts centres or working as physios.
I go with Joe Mulberry, 22, from Barnstaple in Devon, and Mark Griffith, 21, from Cheltenham, to organise a coaching session for Mandela FC's under-17 team, based at Labadi Beach, a deprived neighbourhood with open sewers, corrugated iron housing and a view of the fierce breaking waves across the Bay of Guinea. Rip currents make swimming extremely dangerous, and limit Ghana's sun-and-sand tourist potential.
"It's the best thing I've ever done — I've loved it," says Joe, who has extended his stay at the academy from five weeks to three months. "We recently held a trial for new kids to join the academy. We expected a couple of hundred people, but about 2,000 turned up. It was amazing. People were in tears when they weren't selected for the next stage of trials. It was unbelievable."
Mark, who joined the academy on completing his degree, adds: "It's the most rewarding thing I've done, without a doubt. It's definitely changed me — made me more rounded. At least I think so."
It's a win-win situation. The kids love to play football and the volunteers have a great time, picking up "skills" such as responsibility and teamwork along the way.
They also get to experience "the real Africa" that most visitors to the likes of South Africa or Kenya don't see — isolated villages where babies scream with fright at their first sight of a "whitey" (mothers rushed over to us, amused to watch their children's reactions); bustling markets where tourists are a novelty, not people to rip off; national parks full of elephants (and a just a few tourists); historical sights such as the old slave forts where history is told straight, with no tourist-board gloss.
And then there's the real thrill: the chance of discovering the next Marcel Desailly (who plays for Chelsea), Tony Yeboah (formerly of Leeds United), Abedi Pele (three times African player of the year, 1991-1993), or Freddy Adu (just 14 years old and already signed up for Washington DC United, with Manchester United interested) — all born in Ghana, one of the safest countries in Africa.
"One day maybe," says Tom, watching Telly hanging from the bough of his mango tree and dreaming of those extra inches. "Who knows . . . one day maybe . . . we'll just have to wait and see."
NEED TO KNOW
Getting there: Sportsventurer (0845 1211996, www.sportsventurer.com) offers five-week coaching placements from £1,280; two-week "taster" trips are £495. All meals and accommodation (in a dormitory) included, but not flights. Three-week overland adventures to Timbuktu are an additional £500. Three-star hotel accommodation is about £20 a night extra. Sportsventurer also offers football placements in Trinidad and Tobago, rugby coaching trips in Tonga and Fiji, and cricket in Trinidad and Tobago. Madventurer offers community work in Ghana villages.
Flights: British Airways (0870 8509850, www.ba.com) has flights to Accra from £550.
Red tape: Visas for Ghana are £20 from the Ghana High Commission (020-7201 5900, www.ghana-com.co.uk).
Medical requirements: Yellow fever vaccinations are required; anti-malarial pills also needed. See www.masta.org.
Reading: Ghana (Bradt, £12.95); A Good Man in Africa by William Boyd, who was born in Accra (Penguin, £7.99); A Passage to Africa by George Alagiah (Little Brown, £7.99).
Travel advice: Foreign Office (0870 6060290, www.fco.gov.uk).
Playing away
Disneyland Resort Paris (0870 5030303, www.disneylandparis.com) has daily football training sessions for boys and girls aged 7-14 with coaches from Manchester United. Sessions cost £17 and must be booked.
First Choice (0870 8503929, www.firstchoice.co.uk) offers Holiday Soccer School trips for 5-16-year-olds in Lanzarote, the Costa del Sol, Corfu, the Algarve, Majorca and Turkey — two-day courses are £29, four days from £59.
Thomson Holidays (0870 5502555, www.thomson.co.uk) has Spurs Football Coaching packages for 5-12-year-olds in July and August in the Balearics and the Canary Islands from £165 for a week.
Worldwide Soccer Academy (020-8500 2665, www.worldwidesocceracademy.com) offers five days' coaching by Chelsea football academy coaches at La Quinta resort in Marbella, Spain, for £98 in the summer; for 10-12-year-olds.
First published in The Times, June 12 2004