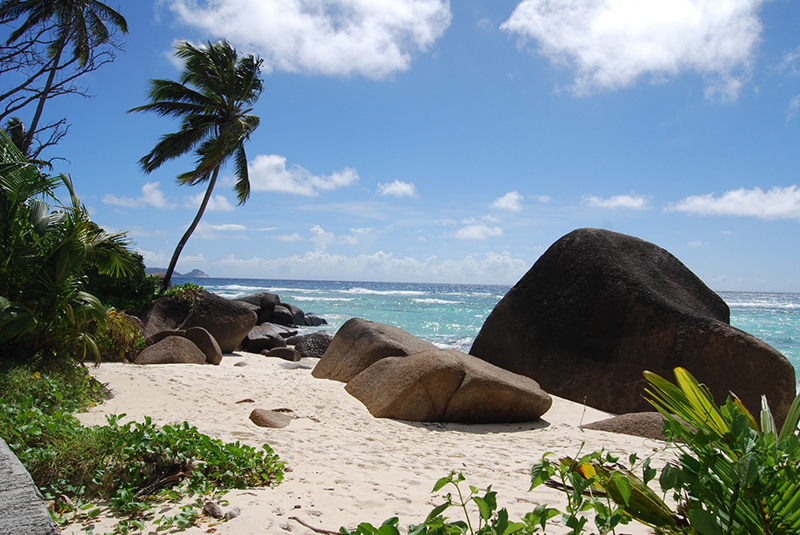 William and Kate apparently discussed getting married for the first time in the summer of 2007 in the Seychelles — they like to get out and about, as they're movements even before getting married showed…
Mustique, St Vincent and the Grenadines
They love it. They've been several times. It's expensive, exclusive and where A-list celebs such as Mick Jagger, Tommy Hilfiger, Shania Twain and Bryan Adams own villas. The royal couple are said to enjoy a drink at Basil's Bar, the only drinking hole, where Prince William has a preference for vodka with cranberry juice, while Kate goes for Sunset Premium rum cocktails. Their last visit to the tiny island — which has about 100 villas and a single hotel (the Cotton House) — was in August 2009.
During their holidays on Mustique it is believed that they have stayed at Villa Hibiscus, which is usually let at £10,000 a week and is set on a hill with an infinity pool and five bedrooms. The Prince's group was seen playing volleyball and Frisbee, and Prince William has, island moles report, played tennis with Richard Branson. Other celebrity visitors to Mustique, where most people travel around by "mule" (the local nickname for golf buggies), include Kate Moss and Amy Winehouse. And, of course, there's already a royal connection. Princess Margaret, who went on a Caribbean cruise for her royal honeymoon with Lord Snowdon, built Les Jolies Eaux on the island in the 1960s after being given a plot of land as a wedding present. Regular visitors have included Jagger and Lord Lichfield, her cousin .
Go like a royal Carrier (0161-491 7620, carrier.co.uk) offers seven nights at The Cotton House (cottonhouse.net) from £1,775pp, including flights from Gatwick and transfers. Villa Hibiscus (villarentals@mustique.vc, mustique-island.com, 00 784 488 8000) is from £10,000 a week, including chef, maid, butler and gardener.
Desroches, The Seychelles
After a three-month split in 2007, the royal couple rekindled their romance on a break on the small Indian Ocean island of Desroches in the Seychelles, about 230km (143 miles) southwest of Mahé, the capital. The island is less than 5km long, has a population of about 50 and is surrounded by 14km of beautiful white-sand beaches. Apparently it was here that they first discussed marriage after their reconciliation following their April split.
The island, encircled by coral reefs, consists of a series of modern beach villas, with minimalist interiors and exposed wood floors. Each villa comes with a pair of bicycles for getting about, and is set amid tropical gardens no more than 25m from the sea's edge.
While they were there, Prince William and Kate went on fishing trips and played pool with a honeymooning couple — who later told a newspaper that Prince William encouraged his counterpart to "snooker" Kate. On one fishing trip Prince William caught a barracuda, which the couple later ate. Kate used Soltan sun cream, which fellow guests noted with approval as showing a down-to-earth touch.
Go like a royal Elite Vacations (01707 371000, seychelleselite.co.uk) offers a week's all-inclusive in a junior suite from £3,349pp.
Lewa Wildlife Conservancy, Kenya
Prince William popped the question on the edge of Lake Rutundu last October, in the foothills of Mount Kenya (10,200ft above sea level). He and Kate had been staying at Lewa Downs, an upmarket safari lodge owned by Ian Craig, whose daughter Jecca is a close friend. But to get some privacy, the couple flew by helicopter to the nearby Rutundu Log Cabins, two rustic-chic cabins by the lake, where a bottle of chilled champagne was waiting in an outdoor cupboard to celebrate the engagement in case of a "yes".
When this was duly delivered, they spent an evening in one of the isolated cabins, usually popular with fishermen. Each cabin has rough wooden beams and moss on the log walls. There are also open fireplaces and sheepskin rugs. "Thank you for such a wonderful 24 hours," Kate wrote in the visitors' book, "I love the warm fires and candle lights — so romantic! Hope to be back again soon."
After Eton, Prince William spent some time on the Lewa Wildlife Conservancy during a gap year. Kenya holds a special place in royal hearts because it was at the Treetops Hotel in Nyeri that Queen Elizabeth learnt in 1952 that her father, George VI, had died and that she had succeeded to the throne.
Go like a royal Rutundu Log Cabins (laikipiatourism.com), both cabins are from £282 a night; they sleep eight. A week in a Lewa Wildlife Conservancy cottage is from £2,844pp with W&O Rainbow Tours (020-7226 1004, rainbowtours.co.uk). President Clinton once stayed there.
Klosters, Switzerland
This upmarket Swiss ski resort, a long-time favourite of the Prince of Wales (one of the ski lifts is named after him), is home to a couple of Prince William and Kate Middleton "firsts". Their relationship first became public when they were pictured skiing there together in March 2004. During this trip Prince William was reported as saying: "I don't want to get married until I'm at least 28 or maybe 30." They were later, in January 2006, photographed kissing for the first time at the resort, creating a media storm.
Prince Charles usually favours the five-star Walserhof Hotel, where he has taken Prince William and Prince Harry. Before the Prince married Lady Diana Spencer, she was a member of one of his royal skiing parties, sparking rumours about an impending marriage. While Prince William enjoys the hotel, he is also believed to have stayed at a chalet costing as much as £69,000 a week on one trip with Kate. His wife-to-be is thought to be a better skiier than the Prince, although he is said to have once accosted a paparazzo who was struggling to follow them and said: "You ski like a girl."
Go like a royal Ski Solutions (020-7471 7777, skisolutions.com) offers a week's B&B at the Walserhof from £1,340pp, including transfers and flights. Oxford Ski (01865 398130, oxfordski.com) offers a week at chalet Eugenia, rumoured to be where Prince William and Kate stayed, from about £30,000 a week.
Restormel Manor, near Lostwithiel, Cornwall
The Middletons spent a few days at Restormel Manor over Christmas in 2009. The manor is part of the Prince of Wales's Duchy of Cornwall estate, though it is believed that the family paid full whack for their stay; about £3,000 a week. Prince William is said to have recommended the nine-bedroom property, which sleeps 18, with three sitting rooms, a boot room, an indoor pool and a tennis court (Kate is a decent player). He did not go over that Christmas period but has previously stayed along with Prince Harry.
Restormel Manor is 500 years old and the largest of several properties on the site, about one mile outside Lostwithiel; the smallest cottage sleeps four. It's at the head of the Fowey valley beside the River Fowey and close to Restormel Castle. The manor has a wood-chip boiler, in line with Prince Charles's love of all things green.
Prince William and Kate are Cornwall fans. The tourist board says that they celebrated the Prince's 27th birthday at "a secluded cottage using the names Mr and Mrs Smith". It also says that they had a picnic with friends at Polkerris Holiday Park in Par, while Prince William and Prince Harry have watched a rugby match at the Royal British Region Club in Fowey.
Go like a royal Premier Cottages (01579 346473, premiercottages.co.uk) has the smallest Restormel cottage at £400-£750 a week; the manor is £750-£3,250.
St Andrews, Scotland
The University of St Andrews is, of course, where it all began. The royal couple first met in September 2001 while studying art history (though Prince William later switched to geography, achieving a 2:1). But it was the famous charity fashion show during which Kate modelled a sheer black lace dress that really caught the Prince's attention; he was pictured craning his neck to see her.
This show was held at the Fairmont hotel, a five-star retreat on a clifftop, set in 520 acres with a golf course and a spa. The Prince regularly used the hotel's gym and spa during his undergraduate days. He also "enjoyed fruit cocktails in the Atrium and Kittocks Den", according to the hotel. The fashion show was held where the Squire restaurant is now located.
Prince William's favourite bar, however, was at the St Andrews Golf Hotel. He often enjoyed pints of cider here with friends. The unpretentious drinking hole now boasts of its cocktail shooters, pitchers of beer and "Cheesy Tuesday nights with DJ Charlie".
After living in St Salvator's Hall in his first year, the Prince moved to a townhouse on Hope Street, close to the beautiful beach on West Sands, where he often walked with Kate.
Go like a royal Fairmont St Andrews (01334 837000, fairmont.com) has two-night "Royal Wedding" packages on April 29 from £229pp.
The Cotswolds
The Cotswolds have been a favourite haunt for Prince William and Kate during their courtship. They have been to the races at Cheltenham, and Kate was also once invited to the Royal Box for the Cheltenham Gold Cup without the Prince, when the Prince of Wales and the Duchess of Cornwall were hosts. They have also attended events at the Beaufort Polo Club, near Tetbury, where Prince William and Prince Harry have played in front of Kate (with paparazzi lurking all over the place).
Not far away in Sherston, Wiltshire, Prince William has been known to enjoy a drink at the Rattlebone Inn, a 17th-century pub with a roaring fire, exposed beams and a flagstone floor. The pub serves Young's real ales as well fruity clarets and the menu includes pigeon breast and black-pudding salad and confit of Gloucester Old Spot pork belly with scrumpy cider gravy.
The Wild Duck at Ewen, near Cirencester, has also lured the Prince in for a tipple or two. It's a traditional 16th-century inn with lots of nooks and crannies and dried hops hanging from beams, plus a dozen designer bedrooms at the back. Food includes venison burgers and Thai curries, and a bottle of 1997 Château L'Angelis Grand Cru Classe St Émilion will set a prince back £150, though William is said to prefer pints.
Go like a royal Cheltenham Racecourse (cheltenham.co.uk); Rattlebone Inn (the rattlebone.co.uk); Wild Duck Inn (thewildduckinn.co.uk), doubles from £110.
Chelsea, London
Away from the London limelight Prince William and Kate have hung out at the Builders Arms in Chelsea. The gastro pub is in a Georgian building with wood-panel walls tucked away on Britten Street, just off the King's Road. The menu includes poached salmon salad, devilled kidneys on toast and beer-battered fish and chips. Another favourite is Julie's Restaurant and Bar in Holland Park, where they have eaten regularly and occasionally dined at a table with red curtains that can be drawn for privacy.
To party like a royal, Mahiki is the Hawaiian-themed nightclub to try, on Dover Street in Mayfair, and run by Prince William's close friend Guy Pelly. The Prince has visited many times as have other royals and celebrities such as Jay-Z, Kate Moss and Rihanna. The club is set over two floors and offers £5,500 jeroboam bottles of Cristal champagne. Pelly has also recently opened Public, a Prince William and Kate-friendly bar in Chelsea offering a "virgin industrial glam clubbing heaven" .
Go like a royal Builders Arms (geronimo-inns.co.uk), Julie's Restaurant (juliesrestaurant.com), Mahiki (mahiki.com), Public (public.uk.com).
Balmoral, Scotland
In the early days of their romance, Balmoral was where Prince William got to know Kate, whose parents recently visited and were photographed at the estate. Ingrid Seward, editor of Majesty magazine, which pitches itself as the "Quality Royal Magazine", believes that the honeymoon will include at least a few days at the 50,000-acre property. It's not such a wild guess given that six royal honeymoons have taken place at Birkhall, Prince Charles's residence on the vast estate, including the Queen and Prince Philip's in 1947 (they also spent some time at Broadlands, the Mountbattens' country house near Romsey in Hampshire). Edward and Sophie took their honeymoon at Birkhall, as did Prince Charles and the Duchess of Cornwall.
Go like a royal Hilton Craigendarroch (01339 755858, hilton.co.uk) is about eight miles away, with doubles from £158.
Coast to coast, Canada
Six weeks after their honeymoon, the couple's first official overseas tour will be a nine-day trip to Canada, departing on June 30. The east-to-west journey will take in Alberta, the Northwest Territories, Prince Edward Island, Quebec and the National Capital Region. On Canada Day (July 1) it is believed they will be in Ottawa for celebrations. Prince William last visited the country, one of the 15 overseas realms of which he will one day be King, in 1998 when he was 15. The Prime Minister of Canada, Stephen Harper, has promised to "provide them with all that our country has to offer" and is believed to be planning a royal banquet.
Go like a royal Bon Voyage (0800 3163012, bon-voyage.co.uk) offers a 15-day tour across Canada by train travelling from Toronto and taking in Winnipeg, Jasper, Lake Louise, Banff, Kamloops and Vancouver costing from £2,669, with five-star hotels along the way, two nights in sleeper compartments and flights.
Anglesey, Wales
When the dust of the royal wedding and the honeymoon settles so will Prince William and Kate: in Anglesey. For Prince William it will be back to work at RAF Valley, where he began a three-year posting as a search and rescue helicopter pilot in April last year. He rents a remote, £750-a-month cottage on the island and is said to enjoy walking in the countryside with Kate. They're often spotted out and about (complete with security guards), and have enjoyed a drink or two at the White Eagle at Rhoscolyn — which has a fine selection of real ales and terrific views to Snowdonia.
Prince William is also said to go with his RAF pals to the Valley Hotel, near his base — sometimes on its quiz night. He and Kate occasionally go for meals at the grand Plas Dinas Country House, just across the water from Anglesey. The Prince also orders royal takeaways from the Flaming Grill burger bar. Meanwhile, Kate shops at the local Waitrose . . . apparently.
Go like a royal White Eagle (white-eagle.co.uk); Valley Hotel (valley-hotel-anglesey.co.uk), Plas Dinas Country House (01286 830214, plasdinas.co.uk) has doubles from £140.
First published in The Times, April 16 2011