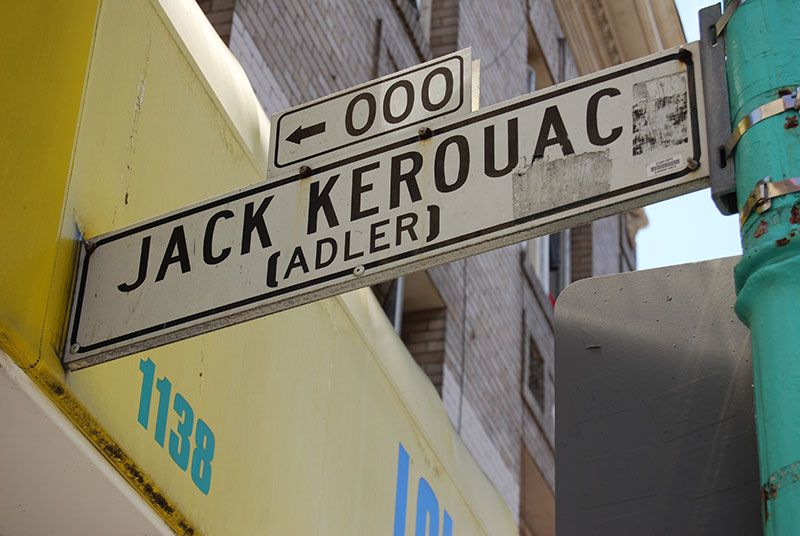 Lights flashed. The cop car made a u-turn. I looked in the mirror as the siren sounded, then checked our speed: too fast. One day into our trip across the United States driving from Denver to San Francisco, following the highways taken in Jack Kerouac's novel On the Road, and we were already in trouble with the law (just like the characters in the book).
"Do ya'll realise what it'da be like to hit an elk in this thing?" drawled the steely-eyed officer, eyeing our Toyota sceptically, as he strolled — slowly — to the driver's window. "I'm sorry I didn't realise we'd picked up speed. It was just because we were going down hill," I replied. I really hadn't: the speed limit was 40mph, and seemed so slow for such a good road.
"Do you realise what would happen if you hit an elk?" the officer continued, raising his voice and looking very angry, all of a sudden. I replied that it would probably be an extremely dangerous collision, and apologised profusely. He eyed me, looking steely again, his face bright red. Then he walked away and, remarkably, gave us a "courtesy warning" and let us off a $250 fine. For the rest of our 2,000 mile trip, we stuck religiously to the limit.
It was quite an adventure. My girlfriend and I had begun in Denver the day before, where we had flown into the "Mile High City" and picked up our car from the airport. We were heading for the Pacific Ocean, taking in five states along the way: Colorado, Wyoming, Utah, Nevada and California on a two-week trip we would never forget.
In Denver, we had checked out the laid-back shops and the cool downtown bars — some of which still had a Beat Generation vibe. We had also seen the strikingly bright Native American art at the brilliant Denver Art Museum, one of the best collections in America. Then we'd driven via the even more relaxed city of Boulder — where we picked up an ice-box from a mall (essential for keeping things cool on a long drive) — and headed along dramatically twisty roads into the Rockies to stay at the old gold mining town of Central City.
A night in a casino hotel amid the old clapboard houses — spinning a few slot machines and being surprised to end $10 up — was followed by our brush with the law. And then we were on, northwards, along the I25 in the direction of Wyoming.
It was a long straight road. I stuck on the cruise control and we watched the scenery change from jagged elk-filled mountains, to a mall-land of Walmarts, to an emerald expanse of fields, to a series of bright fireworks outlets, which seemed to mark the boundary into Wyoming. They did. And soon we were moving along the I80, which led us the rest of the way to San Francisco, the Beat poets' favourite hangout.
Wyoming was like nowhere we had ever been. The state is enormous: 97,800 square miles, compared to Britain's 88,700, but with a population of about half a million. The prairies spread out seemingly forever, rolling in honeysuckle glory, with snow-capped mountains on the horizon. Hail beat down making the road almost invisible. Great trucks roared by. The hail disappeared, almost as quickly as it came. And then performed the same trick a few more times.
We crossed the Continental Divide — the hydrological dividing point of America between the Pacific and Atlantic oceans — and stopped in the tiny town of Arlington, where a teenager was shooting gophers with a rifle in a field. The sound of bullets whistled across empty land.
The cops seemed to take interest in outsiders (us) as we drove into Saratoga: we were followed into town by a cruiser, which turned away after a while, as we were 5mph under the limit and nervously creeping along. Saratoga was a small farmers' town with a couple of rows of shops selling cowboy boots for cowboys, not tourists. Pick-up trucks were the vehicles of choice. The grocery shop had enormous deer and buffalo heads mounted on the walls.
We checked into Saratoga Resort, a motel with natural hot springs in a courtyard at the back. Each hot-tub had a slightly different temperature: from hot to very hot to absolutely baking hot. The smell of sulphur rose into the sky, as stars appeared above. We crunched our way back to our warm, shoebox room across remnants of snow. We were travelling in late April and it was still freezing.
The next day the miles clicked by, along Rattlesnake Road, and back on to the I80. On and on we went through cowboy country to the Utah border. The most we drove in any day was about 400 miles; about six or seven hours, quite manageable. The scenery changed at the border, becoming hillier, with the highway heading down through wide gorges until we saw the pancake-like spread of Salt Lake City.
This has to be America's cleanest city. We stayed at a downtown hotel within strolling distance of the temple to the Latter Day Saints. Along pavements that might have been scrubbed with a toothbrush they were so spotless, we visited the grand temple, where friendly Mormons greeted us on paths amid brightly blooming flowerbeds. "All is well with the world and God is smiling on you," said one sister, with a beatific smile.
More miles and more highway led to the mesmerisingly bright Salt Lake Flats — progressing through the haze as though we were driving across the moon. Past $10 lapdance joints and towns with penitentiaries, where signs warned us not to pick up hitchhikers in case they were escaped convicts, we reached the little-visited Elko. This was a truckstop of a place with a run of fast-food joints and casinos, one of which we were staying at. We drank Buds at the bar amid truckers and cowboys wearing caps saying "Support gun rights: without them you don't have any". The machines pinged and played tinny electronic tunes. We won another $10 on the slots.
A pitstop in Reno (effectively a smaller version of Las Vegas) was followed by two nights on the southern, Californian tip of Lake Reno. What a glorious place: the Alpine water so placid and smooth, like bathwater but stretching forever, with snow-capped peaks all about. This was the perfect hideaway for a breather on a long road trip. We took a boat trip on the MS Dixie, and went for walks by the shore.
The drive into San Francisco was not the longest one on the trip. We dropped downwards from the mountains and soon found ourselves on the busiest highways yet. Drivers went faster. They jumped lanes erratically. The signs were confusing. But we made it across the long-sweeping Bay Bridge in one piece and arrived in Frisco.
We had arrived. After a struggle with a one-way system from hell, and a close call with a tram, we found our hotel near North Beach, one of Kerouac's beloved old haunts. Then we took one last drive, to the edge of the Pacific Ocean. From Lincoln Park, with the wind sweeping across the choppy waves, we stood and looked out towards the delicate red outline of Golden Gate Bridge. What a drive — 2,000 miles on the road, with a lot of weaving, and only a little trouble with cops along the way.
Need to know
Getting there: Bon Voyage (0800 3160194, bon-voyage.co.uk) has a 14-night fly-drive with two nights at Hotel Monaco, in Denver, two nights at Century Casino in Central City, one night at Saratoga Resort, two nights at Salt Lake City's Hotel Monaco, one night at Red Lion Hotel in Elko, one night at Silver Legacy in Reno, two nights at Aston Lakeland in Lake Tahoe, and three nights at San Francisco's Diva Hotel from £1,995pp (£2,145pp in a convertible). United Airlines (0845 8444777, unitedairlines.co.uk) has flights to Denver and from San Francisco from £639.
Getting about: Rhino car hire (rhinocarhire.com) has 13 days' car hire from £524; Denver pick-up and San Francisco drop-off.
Further reading: On the Road by Jack Kerouac (Penguin Classics, £8.99)
Chasing the American dream
In On the Road, Jack Kerouac's 1957 novel about the madcap exploits of hipsters chasing their dreams across America's highways, Sal Paradise — the main character — has a thing about Denver.
"Denver, Denver, how would I ever get to Denver?" he wails as he waits for a ride in the Great Plains. Eventually, after squeezing into pick-ups with hobos, he lucks out with a journey in a brand-new car, zooming onwards with "the wickedest grin of joy in the world", looking forward to the city's Beat Generation jazz clubs.
The book, soon to be released as a film starring Sam Riley and Kristen Scott, and directed by Walter Salles, is the perfect inspiration for any US road trip. Clasping a dog-eared copy, we visited Larimer Street in Denver, teeming with "downtown hipsters and hustlers … old bums and beat cowboys", when Kerouac visited. It was this vibe that attracted him and his friend Neal Cassady another writer — Sal Paradise in the novel, and Dean Moriarty, Paradise's sidekick. Urban renewal which began in the 1960s means Denver is very different now. But My Brother's Bar, a poky place with $4 beers — where Kerouac drank — can't have changed much. In Central City in the Rockies, Paradise describes going to the "beautiful little opera house built in the midst of shacks on the steep slope" of the old town. The elegant opera house is still there, with a piece of graffiti saying "Jack was here".
At the Wyoming-Utah border, we did not see "God in the sky in the form of huge sunbathing clouds above the desert", but we enjoyed Salt Lake City, where Moriarty "was actually born on the road, when his parents were passing through … in a jalopy on their way to Los Angeles".
We rolled westwards, "balling the jack", understanding the mindset of the book's characters as we reached California: "Dean was happy again. All he needed was a wheel in his hand and four on the road". And by the time we got to "Frisco", as Moriarty said, we couldn't go any further because "there ain't no more land!"
We visited the City Lights bookshop frequented by Kerouac, Cassady, Allen Ginsberg and other Beat writers. It's even run by a Beat poet, Lawrence Ferlinghetti, now in his nineties. On the evening we arrived, the lines written on the sidewalk felt just right: "The air was soft, the stars so fine, the promise of every cobbled alley so great that I thought I was in a dream."
First published in The Times, August 11 2012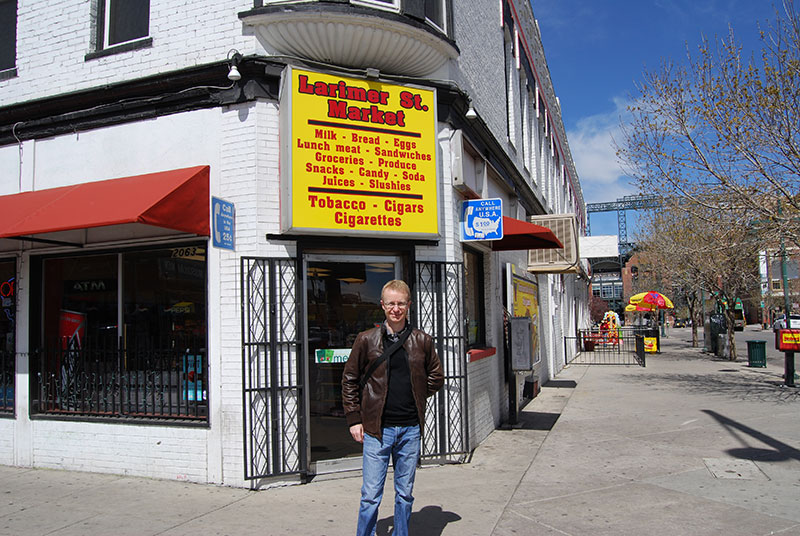 At the beginning of the trip on Larmier Street, Denver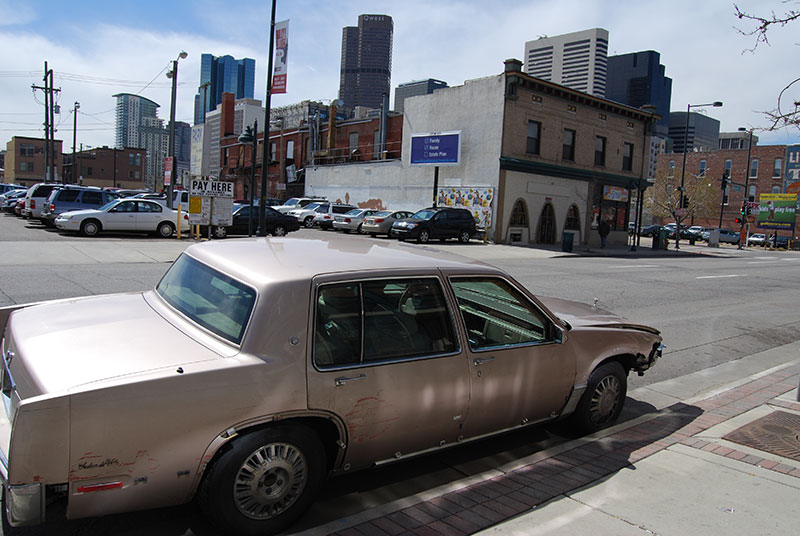 Larmier Street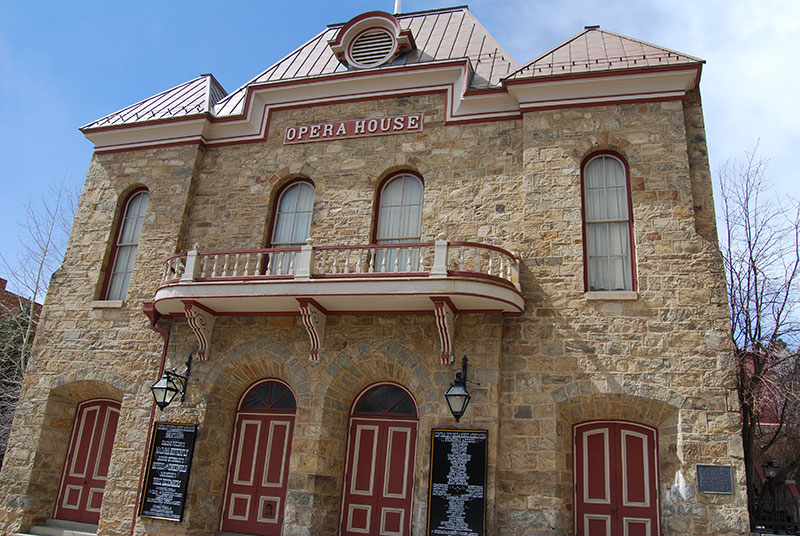 Opera House in Central City, Colorado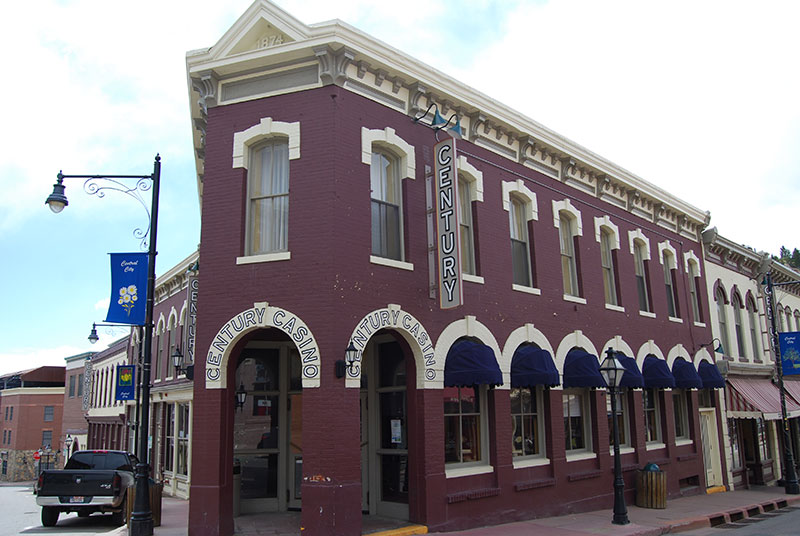 Central City, Colorado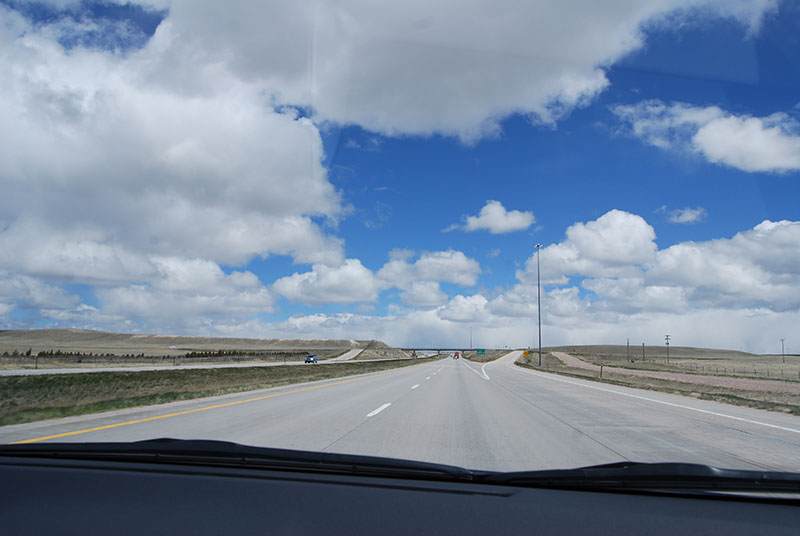 On Interstate 80 through Wyoming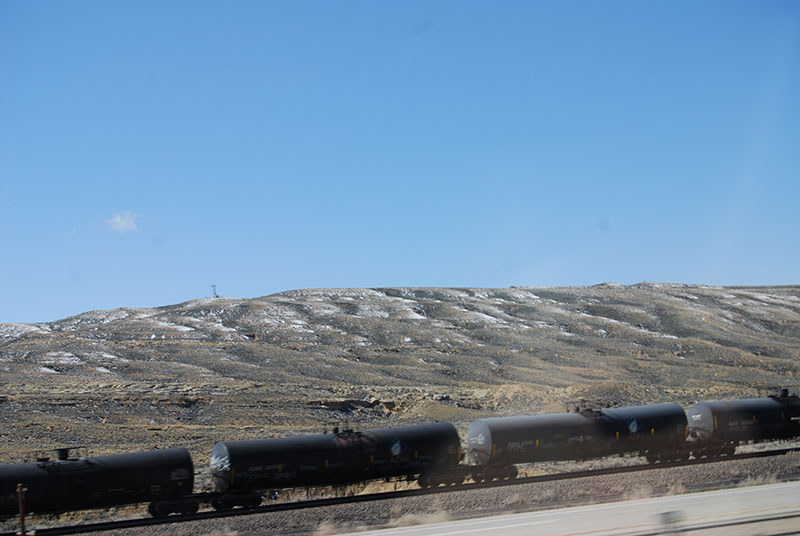 Passing a train in Wyoming – the kind Kerouac might have ridden on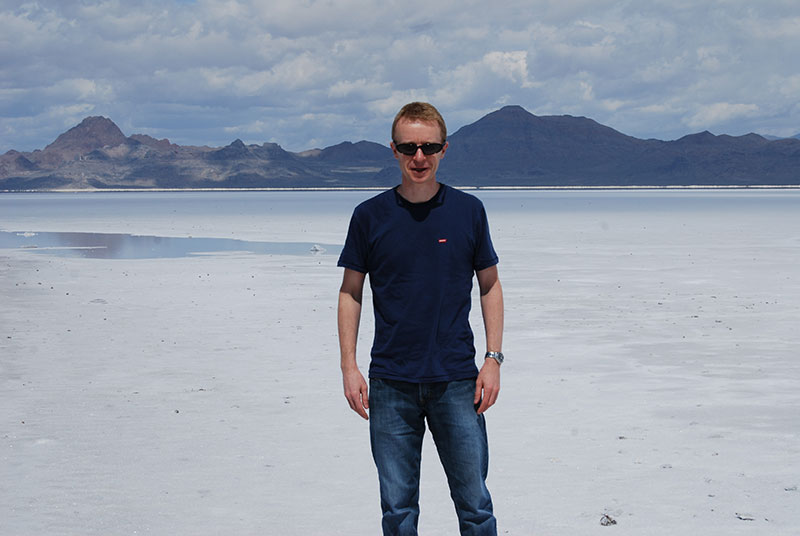 On the edge of the Great Salt Lake, Utah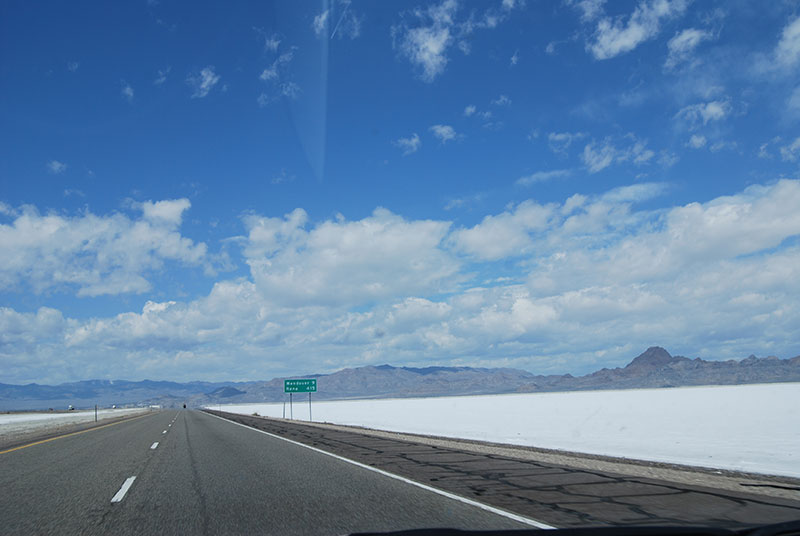 On the road through Utah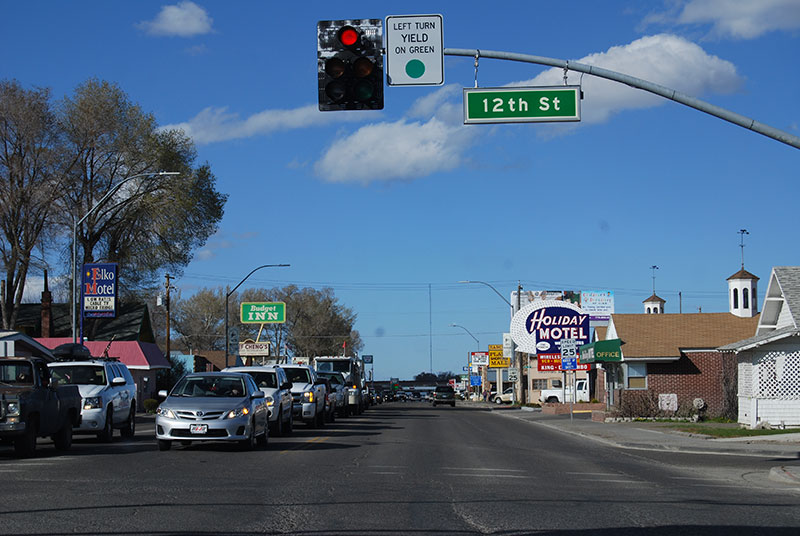 Elko, Nevada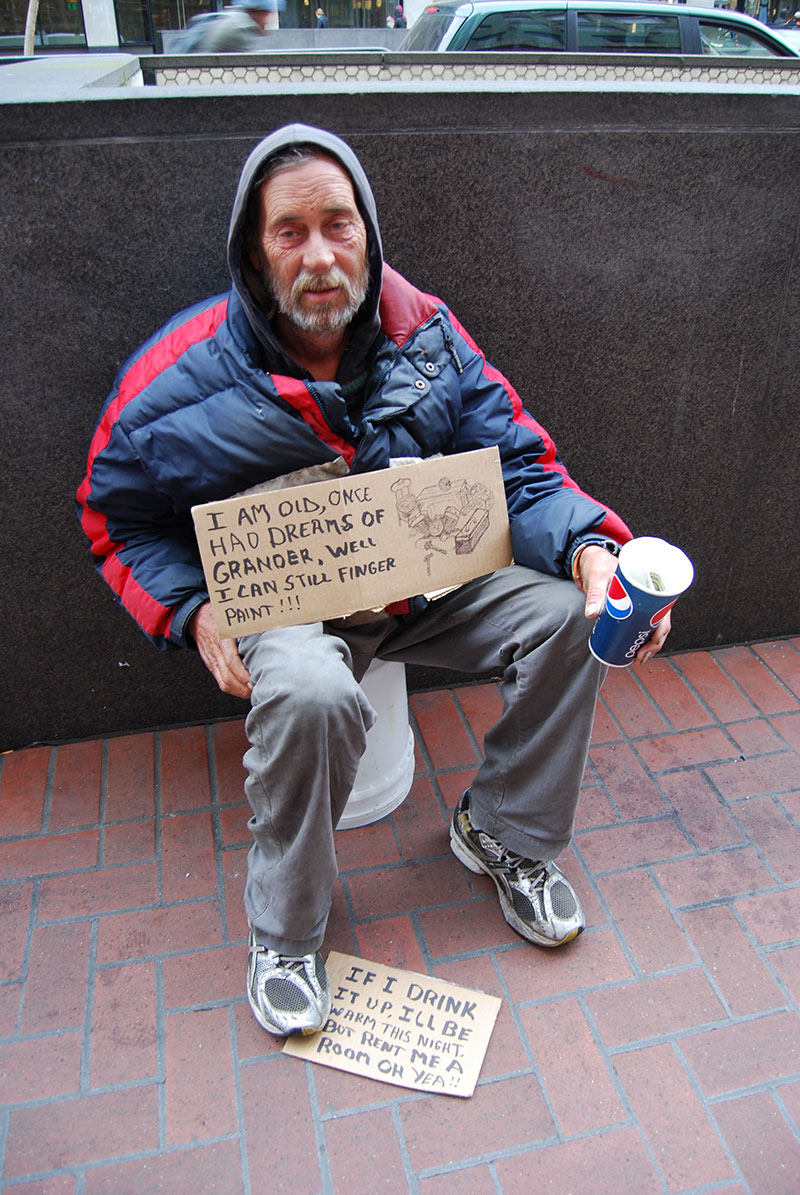 "Dreams of grander" – homeless man in San Francisco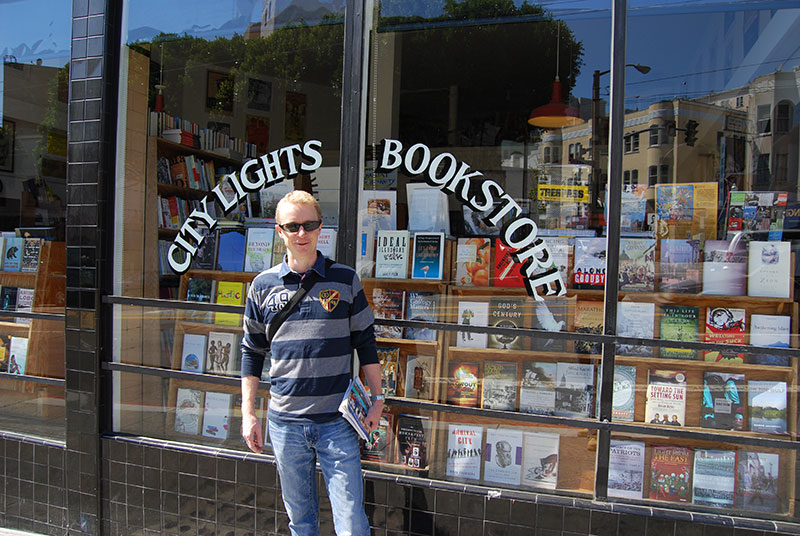 City Lights Bookshop in San Francisco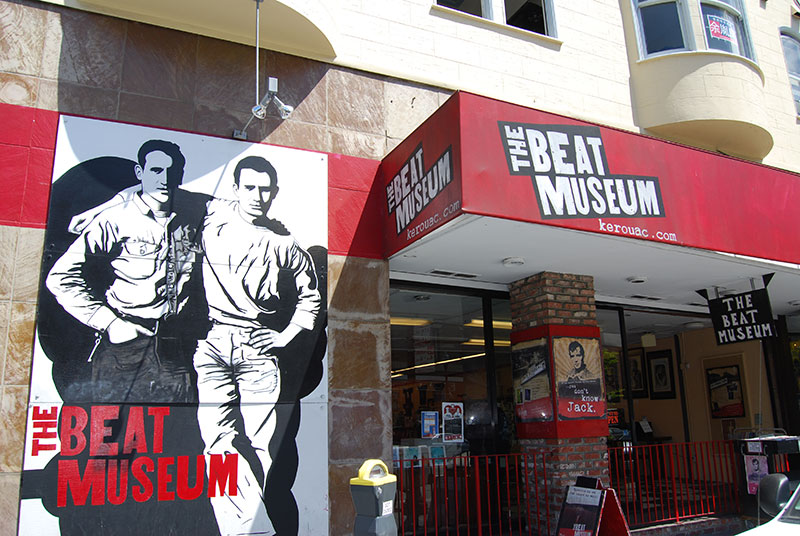 The Beat Museum, San Francisco