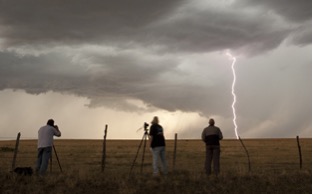 FRANK, a systems analyst from New Jersey, looks upset. He orders a Jack Daniels and turns to me. "I just don't believe this," he says, "I can't go on the trip."
Pale and quivering, he continues: "My wife just watched the Weather Channel at home and saw loads of heavy fronts heading this way. She's freaked and says she can feel one of her panic attacks coming on. I've gotta go…she's totally flipped."
Which was perhaps not surprising. Here we are in Oklahoma City at the beginning of what sounds like the most dangerous holiday in the world: namely, a tornado-chasing tour. And the weather is forecast to be almost perfect for a torrent of twisters.
So his wife had a good point. For as the locals tell you, tornadoes can be absolutely lethal: they flatten houses (occupants sometimes disappear completely); send cattle flying miles through the sky, depositing them in treetops; and regularly cause thousands of people to rush to basements for safety. They are not, in short, things with which to mess.
Yet we are planning to do just this: to chase these horrific freaks of nature across "Tornado Alley", a stretch of land extending from North Dakota south to Mexico, and from Iowa to as far west as Colorado. It being mid-June, we are in peak tornado season. Enough to put any nervous relative in a, ahem, spin.
We are at Oklahoma City's Holiday Inn, sitting by the bar, which is dimly lit with a basketball game flickering on television. It is almost midnight. David Gold, who runs Silver Lining Tours, the company taking us, is in the lobby getting everyone ready. He calls me over; Frank stays seated, staring into his JD.
"Right, guys," says David, who looks like Ben Elton and is wearing jeans and a scruffy T-shirt. "There isthe chance of significant tornadic action in the mid-region of North Dakota tomorrow afternoon."
"I can't make an absolute promise, but it seems there will be tornadic supercells. We are going to go hardcore, people. Are you ready for this?" We nod without thinking, before it dawns on us that this means a drive of more than 800 miles during the next 12 hours.
There are eight other tour members: Danny and Mark, a travel agent and a supermarket employee in their twenties from Bexhill, in East Sussex; Ali, a German industrialist, with Lucas, his 15-year-old son; Anne, an Australian pathologist; Mike, a maths teacher from Atlanta; George, a retired pharmaceutical company employee from New York; and Alex, a 16-year-old student from Virginia.
All are of a scientific bent, interested in meteorology and, of course, they have all watched Twister, the 1996 film about  tornado chasing that was a catalyst for the launch of several  tornado-chasing businesses.
"Oh, sweet, man. This is gonna be awesome," says Alex. He is a technological whiz-kid and has brought a laptop that he plugs into the van's cigarette lighter and tunes into a global positioning system which shows our highway location. He also has a lightning detector, a severe weather radio (for emergency weather reports) and a citizens' band radio.
It is a long night. Sean, our straggly haired driver, starts playing heavy metal "to help stay awake"; David is in the other van. Our only breaks, as we burn through Missouri, Iowa and South Dakota, are at truckstops with names such as Truck Haven, where we stumble about bleary-eyed, buying hot dogs at 99 cents and marvelling at David, who uses a laptop to check storm prediction websites.
Occasionally he impressively, if incomprehensibly, mutters: "We're seeming to get a consolidated region of convergence here." Or: "We'd better prepare a secondary alternative chase." Or: "This is junkin', man."
The upshot is: we are heading for a storm near Jamestown, central North Dakota. We are exhausted but excited. And things are about to get very exciting indeed.
After an 18-hour journey, at 7pm, we see a dark, bruised-looking sky in the distance. Alex and Sean are already taking pictures, saying: "Ahh, that's a beautiful storm man…Look at that cloud formation, dude."
David radios us from the other van, demanding that we "haul butt. That thing's going berserk, man."
We hurtle forward towards the swirling clouds, passing a sign saying "Abortion – the choice that kills". Insects splatter on the windscreen; are they escaping the storm, I wonder.
Then the severe weather radio issues a "tornado watch" report. "If you are in the line of these storms, please find cover," a voice trills dramatically. We don't, and the clouds are getting heavy and dark.
Lightning is striking all around us. Sean feverishly describes the clouds as being "really pulsey, man". David, who clearly relishes the chase, sounds as if he's about to collapse: "That's a monster supercell!" Alex keeps repeating: "Ahhh, man, that's beautiful."
As we move closer to the storm, near a vast shelf of violently bubbling clouds with twisty wisps of white cloud looking like potential tornados, David calls over the radio: "Pull over, pull over. Now! Everyone out."
Wondering if some disaster awaits us, I leap out with the others. Within seconds everyone has cameras out, capturing the vision before us.
It looks as though we have driven to Armageddon. It's the meanest, moodiest sky I have ever seen – and it's rushing towards us in a cauldron of broody blackness.
"Are we OK?" I ask. But David is too busy making calculations. "It's definitely capable of spinning a tornado two or three miles from here. There's a vigorous rising motion," he says. And Danny, his camera glued to his face, declares: "God, I'm glad we got to this in time."
Just as the storm is about to reach us, David demands: "Back in the vans!" And we speed away, before stopping near other chasers' vehicles. The clouds, which David has by now determined are harmless, sweep over us. Clattering rain and hailstones the size of 1p coins pelt down.
We head south to Fargo to find a motel. "Awesome, man, absolutely awesome," says Danny, shaking his head in disbelief at the intensity of the event.
It is an experience we repeat three more times over the next five days while travelling more than 3,000 miles. Disappointingly, we never in fact see a  tornado and twice we miss them only by minutes.
Yet I can't help agreeing with the rest of the group that it is a fantastically exciting trip. Where else can you have such an adrenalin rush? And how else can you see such a wide expanse of America in such a short time? (Three days later we were in the Texas Panhandle.) It was indeed awesome and I couldn't help but feel sorry for poor old Frank – stuck at home watching the Weather Channel in New Jersey.