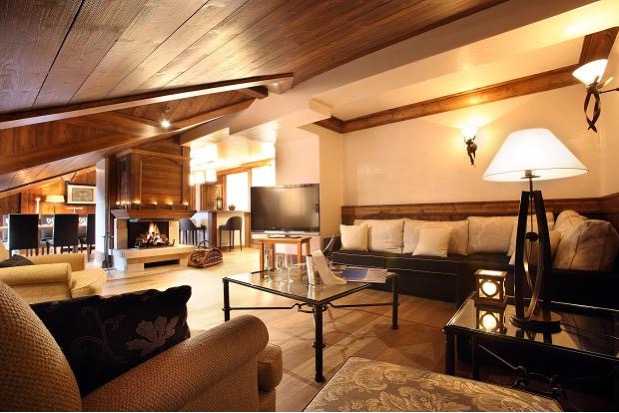 Le Portetta
On the terrace, women in thermal tops with sleeves rolled up were sunbathing, drinking coffee and watching kids bundling down the tiny nursery slope. The sun beamed brightly — perhaps too brightly — as there was only a thin strip of snow on the twisting pistes; we were travelling in late March and there had been an unusually warm spell.
To the left, we could see pines and jagged rocks running up the steep face of the Dent du Villard (2,284m). It was calm. It was quiet. It was sunny. And there wasn't a celeb around. "We don't have them here. No Carla Bruni, no Sarkozy. They go to 1850," said Nicolas Dumont, the director at Le Portetta, the slick sister hotel to Lime Wood, in the New Forest in Hampshire, which is, paradoxically, where so many famous faces can be spotted these days. Le Portetta is a super-cool, but also super-discreet, hotel in Courchevel 1650, whereas the bustling resort of Courchevel 1850, 200 metres up the mountain, attracts names such as Roman Abramovich, Victoria and David Beckham, and Eminem.
"You don't get all the bling bling. You don't get people flashing their money and trying to be the richest man of the week," Dumont said. What you do get is a growing number of discerning skiers — including many of the in-the-know Paris set (excluding the Sarkozys) — who have stumbled upon perhaps the most charming and relaxingly stylish place to stay within the Three Valleys skiing area. While much of the world's biggest ski area is swamped, either with Russians with roubles to blow or mass-market package tourists, Courchevel 1650 seems somehow to avoid the worst of the crowds. It feels like a secret spot, with just a handful of cosy tavernas and reasonably priced pizzerias.
Le Portetta is definitely the place to stay. Last winter, the hotel had its first season after a major refurbishment; it now has a basement spa filled with candles, a sauna, steam room and relaxation room, and offers treatments such as massages, pedicures and facials.
Almost all the walls throughout the hotel have been decked out in smart wood panels. There are open fires and more candles in the downstairs lounge, with its pale brown velvet chairs, exposed beams and antler decorations. Efficient staff in waistcoats and white shirts take orders. It's as though you've entered a very posh (yet laid-back) log cabin.
And quite apart from the sheer comfort of the hotel, there's its location, right on the slopes. Courchevel 1650 is home to some of the finest blue pistes in the Alps, suiting intermediates, and beginners on the fringe of becoming intermediates. It's a great place to learn to ski and to get better after a first trip; it's also excellent for children.
The best place to eat on the slopes is at the bottom of the "Pyramide" run, so named because the peak at the top is an almost perfect pyramid shape. The Bell Air outdoor café, with its picnic tables overlooking the pistes, is friendly and low-key, with reasonably-priced hot dogs and drinks — a far cry from some of the upmarket (and very over-priced) restaurants at Courchevel 1850.
Even though the snow was tricky during our visit — icy in the morning, good for a couple of hours and then slushy — the pistes were beautifully maintained. And it was fun to pop over to Courchevel 1850 every now and then, passing the mini airport with its helicopter pad for the wealthiest VIPs, to see the champagne corks in the snow, the leopard-print ski outfits and paparazzi photographers (but no celebs that we could see).
But it was even better to return to Le Portetta, to stroll around the little run of shops (with its down-to-earth grocery shops and cafés that seem to be used by locals as well as tourists), and to have an après-ski tipple in the log-cabin lounge. At sundown, all was quiet on the slopes of the Dent du Villard. The streets were almost empty. And it felt as though we (almost) had the Three Valleys to ourselves.
NEED TO KNOW
Getting there
Tom Chesshyre travelled with Original Travel (020-7978 7333, originaltravel.co.uk) which has a week's half-board at Le Portetta in Courchevel 1650, including return flights and transfers from £1,500pp. A "loft" room, with your own kitchen, is from £1,500pp B&B, based on four sharing, with flights and transfers included. Le Portetta (00 33 479080147, leportetta.com) has half-board double rooms from £149pp.
Further information
Courchevel Tourisme (courchevel.com)
ALSO IN THE THREE VALLEYS…
Meribel You can ski through from Courchevel to Meribel, one of the most British resorts anywhere in the Alps, with a great selection of restaurants and lively nightlife. To go in style, Purple Ski (01885 488799, purpleski.com) offers La Petite Pia, a luxurious chalet sleeping eight, with four bedrooms with en suite bathrooms. A week's half-board is from £952pp, based on two sharing. Champagne and wine is included, but not flights and transfers.
Courchevel 1850 For a taste of the Courchevel 1850 glitz without breaking the bank try Crystal Ski (0871 2312256, crystalski.co.uk), which has a week's B&B at the two-star Hotel Olympic from £559pp, including flights and transfers. The three-star Hotel Les Tovets is from £885 for a week's half- board, including flights and transfers.
Courchevel 1550 This resort is known for being good for families on a budget — and it is directly below Courchevel 1850, while Courchevel 1650 is tucked away to one side. Ski Power (01737 306029, skipower.co.uk) offers a week's half -board at Hotel Chanrossa, a traditional Savoyarde chalet hotel 15m from the foot of the slopes, from £299pp. Flight and transfers included.
Le Praz At 1,300m, Le Praz has a low-key village feel, and is reached by steep intermediate and expert runs, so not the greatest for families. Ski Power (as above) offers a week's half-board at the modern Chalet Veronique, near the lake at Le Praz, from £291pp, flights and transfers included.
La Tania This small resort, set amid wooded slopes at 1,350m, opened just before the 1992 Winter Olympics and is known for being good value and quiet. Thomson Ski (0871 9710578, thomsonski.co.uk) offers a week's self-catering from £375pp, based on four sharing, with flights and transfers.
Val Thorens Another resort that you can reach from Courchevel, this is Europe's highest resort at 2,300m. It's popular with young skiers and claims to have the highest pub in Europe, The Frog and Roastbeef. Ski Europe Online (01350 728869, skieuropeonline.co.uk) offers a week's half-board at Chalet Abricot, 25m from the pistes, from £609pp, with flights and transfers.
Orelle This small mountain village (which few people have heard of) has just 400 inhabitants, though it's linked by cable car to the Three Valleys beneath Val Thorens. Zenith Holidays (01737 852242, zenithholidays.co.uk) offers a week's self-catering at the Residence Le Hameau des Eaux d'Orelle from £183pp, based on four sharing and a Eurotunnel crossing.
First published in The Times, December, 2011
"Loft" room at La Portetta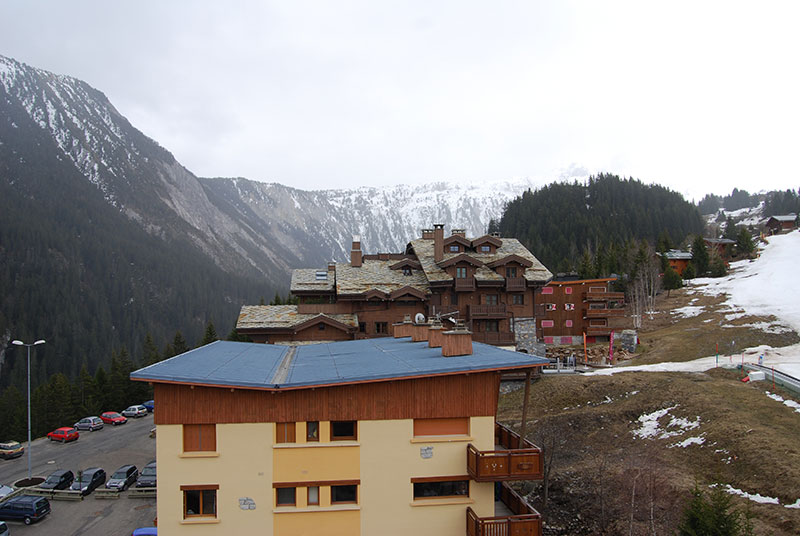 View from hotel . . . not much snow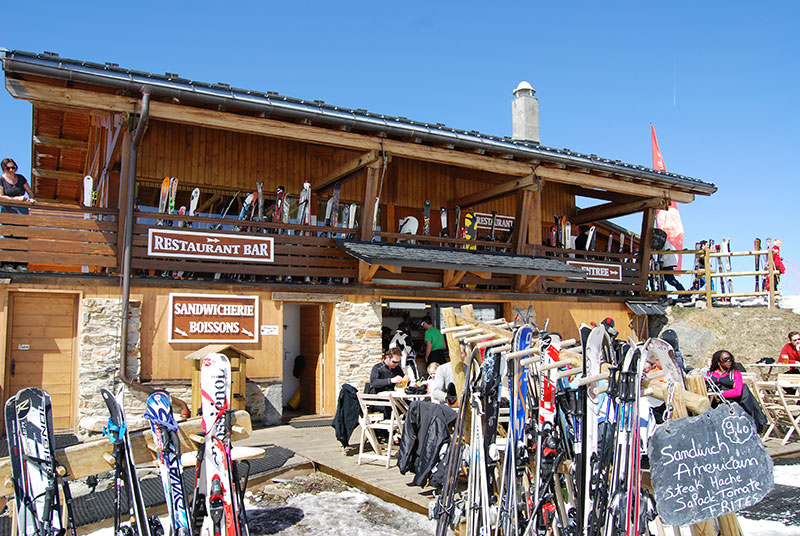 Halfway up the mountain . . . still not much snow