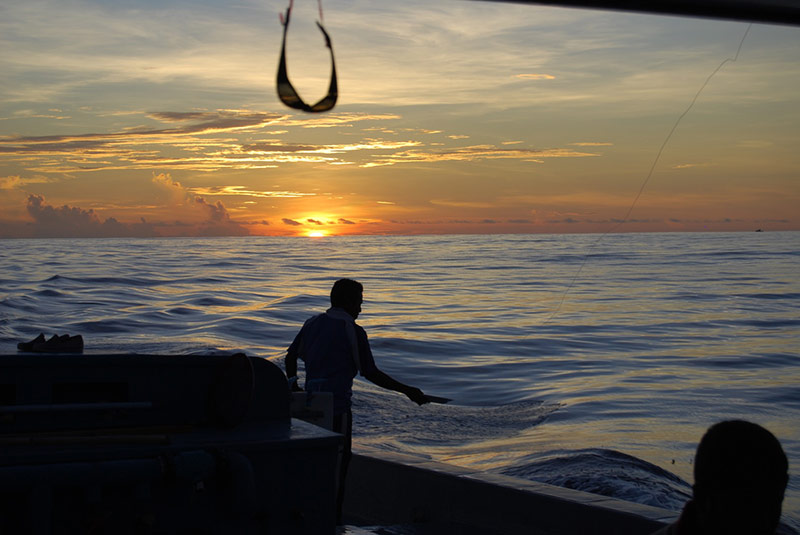 Tuna fishing boat at dawn in Addu Atoll
THERE'S a party atmosphere on the roof of the ferry from Kulhudhuffushi to Malé. The sun is beginning to set in a blaze of orange and pink, and locals are sprawled on the roof gossiping, sharing jokes and sipping fizzy energy drinks. I am the only tourist on board for an overnight journey of roughly 200 miles, a southwards route that costs about £30 (or 15 pence a mile). For this princely sum I have a space on A-deck, a comfortable patch of green foam matting beneath softly whirring fans. On the roof of the ferry , though, there's a natural breeze as we gaze out at the dramatic sky.
The locals about me, mainly resort workers, are returning on annual leave to their families in Malé, the bustling capital of this precariously watery nation of 1,200 islands (about 80 per cent of the land is at 1m above sea level, making it one of the most at-risk countries in the world from the rising sea). "Flying is too expensive," says Ahmed, a dive instructor. "Anyway, going by boat is more fun."
He's right, and he's also on to something that might well transform the way we go on holiday to the Maldives. In 2009 something quietly changed in this tropical Indian Ocean country. Before then it was illegal for tourists to travel "off-piste" to islands that were not official holiday resorts (of which there are about 100). The reason for this was that officials were fearful that westerners might spoil the Islamic way of life on the 300 or so islands inhabited by locals. However, a new government decided to open up these local communities so more people could benefit directly from tourist cash. And so, slowly, began the construction of a series of guesthouses on remote islands, some of which had not seen "outsiders" for years. In effect, without many foreigners realising that it had happened, a whole new country had opened up, away from the plush glossy magazine world of five-star resorts famous for their high service standards, spas and fancy water villas.
It was to this "new" nation that I spent almost two months travelling on ferries and cargo ships last year while researching my travel book Gatecrashing Paradise. The idea was to stay at the cosy new guesthouses (do not expect anything madly glitzy or flashy), and sometimes in spare rooms, to see the country from a different perspective, enjoying both the quiet and isolation of these islands and their natural beauty.
Ferries such as the one from Kulhudhuffushi to Malé took me from remote islands on Addu Atoll in the far south, beneath the Equator (where I joined a tuna fishing boat and watched the long joust-like rods pull in skipjacks at dawn), to the very north, 600 miles away. I travelled in a big figure of eight, downwards to Addu and then back up via little-visited, ancient Buddhist stupas (monuments) on Laamu Atoll, an island rebuilt after almost being washed away by the 2004 tsunami, and onwards to an artificial "emergency island" being constructed 2m above sea level (in case waters indeed rise as a result of climate change).
Utheemu, my most northerly stop-off, is where the great Maldivian hero Muhammad Thakurufaanu lived in the 16th century, leading a revolt against Portuguese raiders who had ruled the country for 15 years until 1573. Staying in a room at a local's house (for £10 a night), I came to understand the immense pride Maldivians have in being independent for so many years; the period of British involvement in the islands from 1887 to the 1960s was as a "protected state", with internal affairs run entirely without interference.
From Utheemu I visited the island of Makunudhoo, which is so remote that it does not feature in most guidebooks and is where some locals told me they had not seen a foreigner for more than 20 years. I was lucky to arrive on a festival day, enjoying a great feast of barbecued fish during a happy street jamboree lit by lanterns at a dusty crossroads. The beaches on Makunudhoo were deserted and probably the most picturesque I have ever laid eyes on, the waters alive with a kaleidoscope of glittering fish.
It felt at times as though I had come across a new, Indian Ocean version of Greek island hopping as it was when it first took off in the mid-20th century. I could hardly believe so many "undiscovered" little islands existed.
I became immersed in the country's sometimes tricky politics, gossip and intrigue. I fell in love with its rich culture and fabulous food. Yes, the ferries were sometimes difficult — timetables were unreliable and word of mouth was usually the best way of knowing when to turn up at the docks — but there is, as I soon found, no better way of seeing this remarkable archipelago.
The American humourist PJ O'Rourke once quipped that "there are a lot of mysterious things about boats, such as why anyone would get on one voluntarily". But that's not true in the Maldives. Just hop on a ferry and see where it takes you.
Gatecrashing Paradise: Misadventures in the Real Maldives by Tom Chesshyre is published by Nicholas Brealey (£10.99). To order for £9.89 including free postage visit thetimes.co.uk/bookshop or call The Times Bookshop on 0845 2712134
Or see Amazon
Need to know
Trailfinders (020 73681200, trailfinders.com) has return flights from London to the Maldives from £596.
Great little places to stay in the Maldives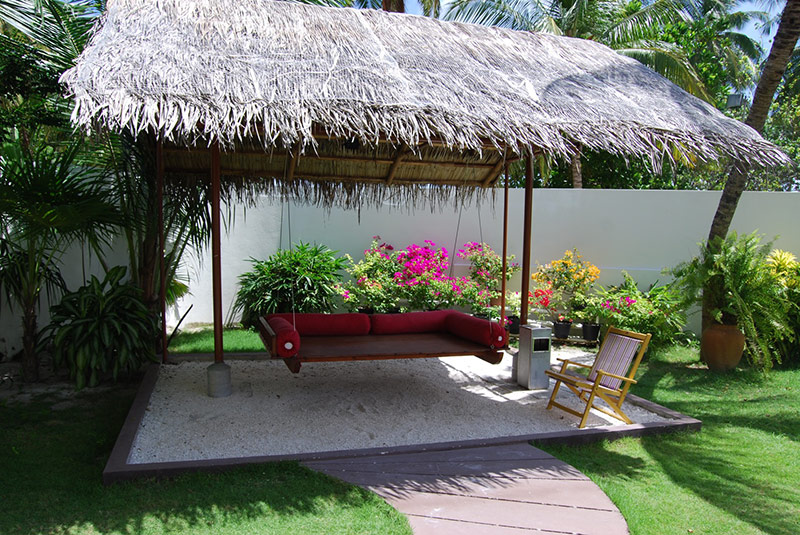 The garden at Reveries, Laamu Atoll
Reveries Diving Village, Gan, Laamu Atoll
There are 25 rooms at this popular guesthouse that includes the former Maldivian president Mohamed Nasheed among its guests. It's right by a sandy beach and was one of the first guesthouses to open after the change in rules allowed foreign holidaymakers on "inhabited" islands. The peaceful tropical garden has a swing seat, perfect for lazing with a novel. Rooms are smart and very comfortable, with air-conditioning. There's a central plunge pool next to a restaurant serving excellent fresh tuna dishes. Diving lessons are available on request. The website guesthouses-in-maldives.net is a good starting point for planning an island-hopping trip.
Details: Doubles are from about £110 with all meals and daily trips to a desert island where swimming in a bikini is allowed (guesthouses-in-maldives.net)
Asseyri Inn, Hanimaadhoo, Haa Dhaalu Atoll
Run by a young, laid-back couple, Asseyri has great-value rooms and can also arrange scuba diving as well as boat visits to a series of nearby islands including Utheemu, where guests can see the home of the 16th-century national hero Muhammad Thakurufaanu. The guesthouse is close to a beach and comes with one of the best restaurants serving Maldivian dishes such as garudiya, a clear tuna broth. The rooms are decorated with palm fronds and bright art. The owners can arrange packages with all meals and activities included, as well as internal flights to and from Malé, for those not wanting to take the ferry.
Details: B&B doubles are from about £70 (asseyri.travel/inn)
Ripple Beach Inn, Hulhumalé, Malé Atoll
Hulhumalé is connected to the island where most flights from abroad land (at Ibrahim Nasir International Airport) and Ripple Beach makes a good first-night stopover for those planning an island-hopping break. The rooms are compact but high-tech, with digital TV, air-conditioning and wi-fi. They also have charming hand-made furniture and polished coconut wood floors. The restaurant serves great tuna curries and sandwiches, overlooking a sandy beach with calm waters. There are nearby Maldivian restarants serving tasty "short eats" such as chilli salt prawns and cheese puffs (see maldivescook.com/snacks).
Details: Doubles are from about £26 (ripplebeachinn.com)
The SeaHouse Hotel Top Deck, Villingili, Malé Atoll
Another great choice for a first night, the SeaHouse Hotel had a different name (and was referred to as a guest house) when I visited. It's on the little island of Villingili, close to a stunning beach that's particularly good for swimming. The 31 rooms are spotless and modern. The island has more character than Hulhumalé and it's commonplace to see locals playing football at sunset or chilling out on jolies, rudimentary chairs with a string-net seat. The hotel has a good brasserie and it is run by the same people behind the SeaHouse Cafe on Malé itself, a much-loved local institution renowned for its curries. There's a good Chinese restaurant close to the SeaHouse Hotel.
Details: Doubles are from about £40 if booked through booking.com (www.seahousemaldives.com/topdeck)
Skai Lodge, Malé, Malé Atoll
This small B&B is tucked down a tiny lane not far from the artificial beach in the capital. It's nothing fancy — the rooms are quite basic — but if you are after a feel of the bustle of Malé it's a good, cheap base. Breakfast is served in a small room where Bollywood films are usually playing on the television. As well as being near the artificial beach it's also close to the Maldivian parliament. Those after an alcoholic drink can catch a 15-minute ferry across to the airport island, where the Hulhule Island Hotel has a bar overlooking the sea.
Details: Doubles are from about £35 (skailodge.com.mv)
Arena Lodge Maldives, Maafushi, South Malé Atoll
The suites at this little guest house are colourful and clean, decorated in traditional Maldivian style. There are 12 altogether, each with air-conditioning. It's an hour and a half south from Malé by ferry; the owners can provide details of timetables. They can also organise barbecues on deserted islands and watersports or snorkelling. There's a lovely white-sand beach close by.
Details: Full-board rooms are from about £108 (guesthouses-in-maldives.net)
Happy Life Maldives, Dhiffushi, North Malé Atoll
It's just 20m to the beach at the Happy Life . This four-bedroom lodge is bright and airy, with one of the rooms having a great sea view. All meals are included and the owners can advise on the best ferries to catch from Malé to arrive at Dhiffushi (the 2.30pm ferry from the capital should arrive at 5pm). Watersports and excursions can be organised; the use of a kayak is included.
Details: A night's full board is from about £125 (guesthouses-in-maldives.net)
Charming Holiday Lodge, Hulhumeedhoo, Addu Atoll
Way down on the southern tip of the Maldives, Hulhumeedhoo is a ferry hop from the mainland of the atoll, which is linked by a nine-mile road (the longest in the country). This is an isolated place with a laid-back feel and the oldest cemetery in the Maldives, which is not far from the wonderfully named Charming Holiday Lodge. Rooms are contemporary in design with flatscreen televisions with satellite channels and air-conditioning. The owners can arrange fishing, snorkelling and cycling. They can also organise trips to the Herathera Island Resort & Spa to use its pools and bar.
Details: B&B doubles are from about £55 (charmingholidaylodge.com)
Equator Village Hotel, Gan, Addu Atoll
OK, strictly speaking this is not one of the new breed of guesthouses, but it makes a great spot for a couple of days on an island-hopping break. It's in the old RAF barracks (the RAF had a base on Gan until 1976) with a laid-back feel and a fantastic pool with a licensed bar next to it. Gan counts as a "tourist resort" island, although it's really best known for its airport and is quite unlike any of the other resorts. You can walk across a causeway from the island of Feydhoo, which is where ferries and cargo ships come in (I caught the overnight Naza Express cargo ship to Feydhoo from Malé).
Details: B&B doubles are from about £125 (equatorvillage.com)
Azoush Tourist Guest House, Fulhadhoo Island, Baa Atoll
With a population of just 300, Fulhadhoo is a tiny, peaceful spot. It's about 2km long and less than a kilometre wide, and it holds a historical claim to fame as it is where the seaman Francois Pyrard de Laval was shipwrecked in 1602 (his account of his time in the islands is gripping and includes a description of the harrowing night when his ship hit the reef). Azoush has three comfortable, air-conditioned suites.
Details: Full-board doubles are from about £125 a night (guesthouses-in-maldives.net)
Ferry timetables: mtcc.com.mv, vermilliontransport.com, atolltransfer.com