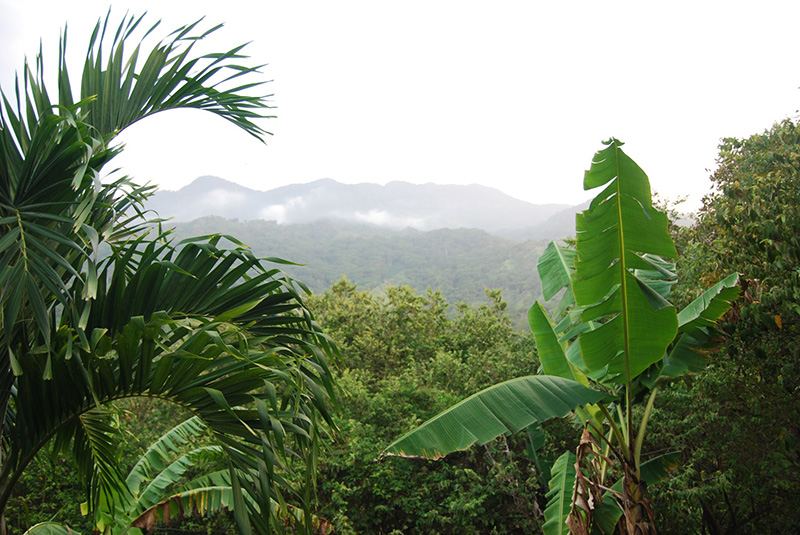 View from a San Rafael guest lodge, about 30 miles east of the Spanish colonial town of Santa Marta, close to the Caribbean coastline
It's a beautiful sunny morning in the foothills of the Sierra Nevada and I'm talking to a man with a squint who used to grow coca leaves for some of the biggest cocaine drug lords in Colombia.
Not perhaps a typical holiday encounter. As cicadas screech and cockerels echo in the valley, Robinson Pérez Navarro tells me about his old job. "I worked in a laboratory for five years," he says, pointing towards the jungle as he explains how a team of 20 people hiding in the mountain would add gasoline, caustic soda, chalk, potassium, sulphuric acid and salt to crushed coca leaves to begin making the Class A drug.
"It was just work. We would leave the fields alone for three or four months and then we would harvest the crops. There were 20 of us in the lab. The chemicals we required were delivered by donkey."
This was often tricky. "Sometimes the police would come and everyone would run." The donkey would be left with the incriminating evidence, not knowing what all the fuss was about as men raced about with guns.
Many times the army located laboratories. "We would throw up our tools and disappear into the jungle. They didn't chase. They knew that we were just being used by the drug lords. Back then, this place was very violent and dangerous."
Learning the ins and outs of cocaine production is all part of the experience at a series of guest lodges in the north of Colombia owned by former coca farmers. In areas that were once out of bounds to holidaymakers, the Government has brought order by fumigating coca crops and driving out guerrillas. The result is that kidnappings and violence are a thing of the past at the main tourist sights.
I'm staying at the San Rafael guest lodges, about 30 miles east of the Spanish colonial town of Santa Marta, close to the Caribbean coastline (a lovely stretch that feels as though it's the Caribbean's forgotten coast). The lodges were opened with the help of government and United Nations cash four years ago, but since then about 20 others have sprung up near by.
San Rafael is wonderfully peaceful. My guesthouse (or posada) is at the top of a hill surrounded by banana plants and mango trees. Butterflies flutter around pink flowers by a wooden deck with a small table and a hammock. Inside, two single beds are covered by mosquito nets and a fan. The roof consists of dried plantain plant leaves and the lodge is open on the sides, letting in wafts of air. On a wall by a bare lightbulb, a yellow lizard resides, minding its own business, except for the occasional skilful flick of its tongue to capture a fly.
It makes an intriguing place to stay (about £35 a night) for a couple of days on a tour of Colombia's Caribbean coast. On my first night, after a fish, plantain and rice meal in the open-air dining area with a dirt floor and a flickering TV showing Spanish soap operas, I meet some of the other lodge owners … feeling almost as though I've settled into rural Colombian life.
Zunilda Ramírez, who also used to grow coca leaves, smiles and says: "We used to earn five times more with coca, but our quality of life is much better now. The law used to be on top of us the whole time: helicopters every day. Now we have tranquillity. That does not have a price."
She and her husband Fabio have five children. "Yes it was an exciting time and there were a lot of parties round here," says Fabio, who is wearing a T-shirt with a slogan that appropriately enough reads "In the jungle". He continues: "It was good money. But deep down we knew it was not good for the children."
The great thing about the lodges is that there is also so much to see near by. With a local guide I visit Santa Marta, a vibrant, slightly ramshackle town with multicoloured houses and tiny lanes dating from Spanish colonial times. This was where the conquistadors first settled, when the explorer Rodrigo de Bastidas arrived in July 1525. His remains are in the elegant white cathedral by the central square.
Afterwards we drive to Quinta de San Pedro Alejandrino, where Simón Bolívar died of tuberculosis in 1830. The revolutionary and military strategist, who had survived several attempts on his life, had planned to visit Europe to get away from his troubles. But he ended up staying on the coast because he was seriously ill.
His final home is now a place of national pilgrimage. Bolívar is regarded as the hero who finally defeated the Spanish in 1819. There is a statue of him, with a wrinkled brow and a stern look, next to a huge saman tree crawling with iguanas.
Nearby, in the old farmhouse, you can see the bed on which he died. "He is like our George Washington. But while George Washington liberated only one country, Bolívar liberated five: Colombia, Venezuela, Ecuador, Bolivia and Panama," Juan, my guide, says.
We are just about the only visitors, as we are later when we visit Tayrona National Park. This is a wonderful jungle setting right by the coast, with tracks through rainforest teeming with monkeys and lizards.
The park must be one of the most undiscovered parts of the Caribbean. When we walk along a trail to the sea we pass a group of tiny Kogi indigenous people. They live off the land and play no part in mainstream Colombian life. The men and women stand no higher than 5ft and are wearing sack-like clothing.
They peer at us shyly and one of them points at my watch. He is curious about the time. "They have no concept of time," my guide says. "They do not even know how old they are."
It's an extremely odd sensation, seeing such an out-of-the-way place, just as it is staying at the San Rafael lodges … odd, but very interesting, too.
Need to know
Getting there Original Travel (originaltravel.co.uk) offers ten-day tailor-made trips in Colombia that include two nights staying at the tourist lodges owned by former coca plantation farmers in Tayrona, from £1,995 pp.
Kuoni (kuoni.co.uk) and Last Frontiers (lastfrontiers.com) also covers Colombia.
Further information Proexport London, Colombia Tourist Office (020-7491 3535, www.colombia.travel) offers information on the country's many tourist sights. Tourist lodges (posadasturisticas decolombia.com).
Security For latest Foreign & Commonwealth Office advice: fco.gov.uk.
Reading Colombia Handbook by Charlie Devereux (Footprint, £14.99), One Hundred Years of Solitude by Gabriel García Márquez (Penguin, £9.99) are evocative of the sleepy feel of the countryside in the north of Colombia near the tourist lodges.
First published in The Times, February 5 2011