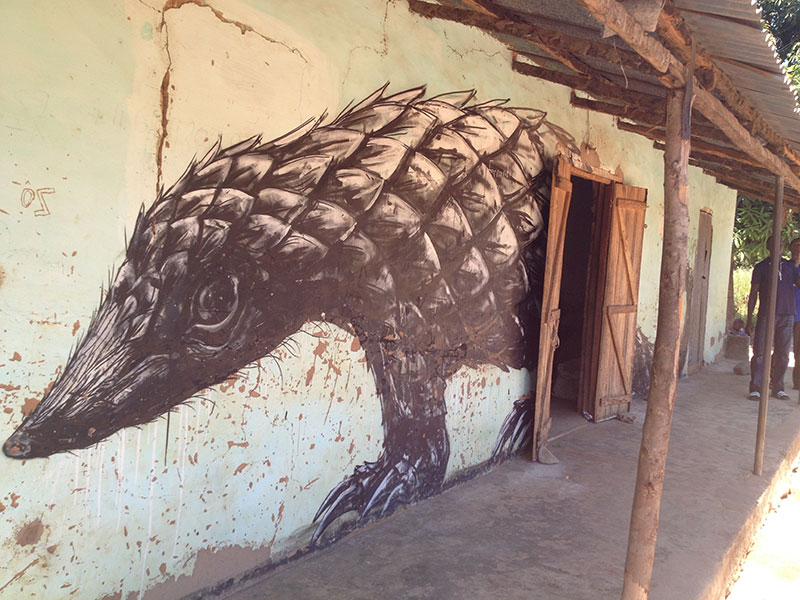 An aardvark painted on the side of a home in the village of Kubuneh (more pictures at the end of the article)
Walking into Kubuneh we quickly realise that this is no typical West African tribal village. From the base of a giant kapok tree, an eerie face peers out, painted white on the bark. Its twisting, elongated visage (reminiscent of Edvard Munch's The Scream) has a single eye and two crooked rows of clattering teeth.
Farther along, on the side of a hut with a corrugated roof, a multicoloured heron is daubed, its wings trailing extravagant streaks of black, white and grey. A path leads to another simple dwelling decorated with an electric blue lion's head connected to a man's body covered in tattoos. From the creature's mouth billows a "roar" of scarlet paint covering an entire wall. Beyond is the spray-painted figure of an African boy holding a boom-box radio, with a hyena curled by his feet. On the same building, a naked woman is depicted, hunched over as she sets light to a clump of weeds.
It's as though we've stepped into an avant-garde modern art gallery, yet we're not so many miles from the run of mass-market hotels on the coast that have for years sullied the reputation of The Gambia's tourism. We're "up river" — eastwards down the River Gambia, along which this sliver of a country is based. We're on the edge of a creek by Makasutu forest. This is a "sacred forest" (in the local Mandinka language), filled with mangroves, palms, mahogany, baobab and magnificent kepok trees.
The paintings are the result of Wide Open Walls, a street art project begun by Lawrence Williams, a fortysomething art school and film graduate from Kingston-upon-Thames. He came to The Gambia two decades ago and became involved at the Mandina River Lodge, an eco-hotel that's about 20 minutes on a pirogue (boat) from Kubuneh. In the past few years Williams has quietly gone about encouraging Gambian artists to paint works in four villages in this remote spot. "It's all about having fun and creating something magical," he had told me the night before.
Williams himself has taken on the appearance of a work of art, so covered is he in tattoos, and wearing large circular tribal earrings. We spend a marvellous couple of hours wandering about the red-dirt tracks between single-story homes decorated with anteaters so big they look like dinosaurs, and giraffes with madly curving necks. A lizard with a flickering tongue is depicted clambering up the wall of a café. A tall, thin man is shown with a baby strapped to his back (usually it's the women who carry youngsters in Gambian villages). He's holding a sign that says "Baby on board". A woman with an agonised face is painted on a nearby wall clasping her hands as though praying. Many of the works are by Njogu Touray,known by some as "West Africa's Banksy".
Tourism in the Gambia is moving on, with the village paintings just one of a series of projects hoteliers hope will make people think twice about the image of the "Costa del Sol of West Africa", with its sordid edge of sex tourism involving both male and female visitors. At the Mandina River Lodge, which is decorated throughout with flair by Williams, a 20m tower has been constructed in a new area with a swimming pool by the creek. The top offers brilliant views across mangroves towards the river— a perspective that was previously impossible to see anywhere in the country.
I'm staying at an isolated lodge with stained glass windows that cast yellow, green and blue light on a giant four-poster bed with a huge mosquito net. As well as the striking street art, the highlight of my visit is a "sun-downer" boat ride, departing one afternoon at 4.30pm. I'm expecting a dawdle along the creek and a Julbrew beer (brewed in the capital, Banjul) as the sun drops away. Instead, we are treated to an explosion of birdlife as ospreys soar above, blue-chested bee-eaters flicker past, and cumbersome-looking goliath herons flap out of the mangrove with wing-tips just above the water. We also spot shiny black cormorants, pink-backed pelicans and African darters. The latter are curious creatures with long, thin, S-shaped necks that seem to dance forwards as they paddle in the olive-green water; for this reason they're also dubbed "snake birds".
The best is yet to come. Down a tributary creek we arrive at a series of trees covered in brown blobs. On closer inspection these turn out to be black kites, and soon they are taking to the royal blue sky, circling madly as if the scavengers are about to come for us (it's all a bit Alfred Hitchcock's The Birds). Then we arrive at a small island where egrets are coming home to roost for the evening. Trees are almost entirely covered in white. At least a thousand birds squawk and screech — including many squadrons that turn up as we watch. All five of us on the tiny motorboat are for a while speechless; transfixed by the "show".
Well-organised birdwatching tours are another way that officials hope to reposition the country's tourism. While the politics of The Gambia have been fraught — the nation recently abruptly left the Commonwealth and President Yahya Jammeh has been accused of being increasingly autocratic (no local I talked to dared go on the record about him) — the reality is that holidaymakers are crucial to the livelihoods of many. Each job in tourism is said to provide for between 10 and 15 dependents.
I visit the Sandele Eco Retreat in the village of Kartong, close to the southern border with Senegal on the Atlantic Ocean. Solar panels provide electricity and clever ventilation systems are used in the four main lodges and the 20-room annexe. These work well: no need for air-conditioning. Instead of using wooden beams, ceilings are made of a lime "concrete" of ground oyster shells collected from the roots of mangroves.
Local craftsmen make the pretty jewellery sold in the shop; one has earned enough from sales to build his own house. The British owners Geri Mitchell and Maurice Phillips — who used to work in social services in the UK — intend eventually to pass on the resort to the local community. There are a lot of Brits in The Gambia, which was a British colony until independence in 1965. Mitchell told me that they aim to complete six further lodges. Each is plush, with big double beds, dome-shaped roofs and plunge pools — as well as ten more rooms in the annexe. They first opened with a couple of rooms in 2008, and have become a magnet for tour operators offering yoga breaks.
Sandele is just one of several new hotels that have opened over the past few years (see panel). As well as the glamorous Coco Ocean, which has a first-class spa and a whitewashed, minimalist Miami South Beach style, there's the hippest new arrival: Leo's Beach Hotel. This is on a quiet stretch of the coast, on a cliff, with great views across the Atlantic. It's a handful of miles from the town of Senegambia, epicentre of the liveliest and some of the shabbiest tourism, where prostitutes and bumsters (hustlers) are commonplace.
Leo's consists of five smart bedrooms and a large suite. The Austrian owners Nina Waitz and Alois Weiss fell for The Gambia during a holiday in 2009 and gave up jobs in publishing in Vienna to create an angular Bauhaus-style hideaway set around landscaped gardens with baobab and mango trees. They too have installed solar panels that work so well they are contributing electricity to the local grid. "It is nice to be self-sufficient," says Waitz over coffee in their laid-back bar.
I go on a day-trip along the River Gambia to Jufureh, to see where Alex Haley, the American author of Roots, traced his ancestry back to the slave Kunta Kinte. It's a gorgeous sunny day that begins in Banjul, close to the grand archway celebrating President Jammeh's rise to power; no traffic is allowed to pass under the arch, and the rumours are that this is because its foundations are too weak. We chug along the river, passing the rugged tropical outline of Dog Island, before coming to a weather-beaten jetty. This leads to a statue of a figure holding his hands aloft clutching broken chains. A sign says: "Never again."
Then we take in the Slavery Museum, which tells the story of tens of thousands of Senegambians (those from Senegal and Gambia) who were transported to the United States to work on plantations; many died because of the terrible conditions on the slave trade ships. Farther on, we meet the chief and make donations to the village. A guide tells me that he has met the civil rights leaders Louis Farrakhan of the Nation of Islam and Jesse Jackson, as well as Jermaine Jackson of the Jackson Five. Tourist cash, he says, now keeps the village going.
Among the holidaymakers on the boat back to Banjul — after seeing the slave fort on James Island — I talk to Monica Gordon from Cheam. Her mother emigrated to the UK from Jamaica in the 1950s. "Black history is not taught at all in schools in Britain. My kids have been taught nothing," she says. "That's why I'm here."
Yes, the Gambia still has its tacky spots. Yet there's a feeling of regeneration going on and plenty of reasons to go: boutique hotels, spas, Banksy-style art projects, stylish eco-resorts with yoga pavilions, world-class birdwatching tours. Don't let the bumsters put you off.
Need to Know
Getting there
Tom Chesshyre was a guest of The Gambia Experience (0845 3302087, gambia.co.uk), which has a ten-night break with three nights staying at Ngala Lodge (B&B), Mandina River Lodge (half-board) and Coco Ocean (B&B) from £1,549pp, flights and transfers included.
Reading The Gambia (Rough Guide, £12 on Amazon). Water Music by T. C. Boyle (Granta, £7.99) is a fictionalised version of Mungo Park's journey to discover the Niger River in the 18th/early 19th centuries.
Where to eat
The Calypso beach bar (00220 9920201) on Cape Point is a laid-back restaurant/bar selling tiger prawns with rice (about £12); it overlooks a crocodile pool and the outline of Senegal can be seen in the distance. The Rainbow Beach Bar (rainbow.gm) in Sanyang in the south has a backpacker feel, and offers chicken wraps and fish curries for about £5; Julbrew beers are about £1. The Gaya Art Café (gaya-artcafe.com), close to Senegambia but removed from the main strip of nightclubs, has a selection of tapas including coconut-covered prawns with soy sauce, hoummos and calamari, plus seafood salads and steaks; three courses about £15.
Further information
The Gambia Tourist Board (visitthegambia.gm). The main season is from September to April, although tourist officials are keen to point out that during the rainy season (May to October) rains usually last for only an hour at a time and quickly clear away. Visitors should take antimalarial medication. Flights from London take six hours and there is no time difference.
Where to stay
Ngala Lodge (www.ngalalodge.nl) is an 18-room boutique with a main building and two wings, completed in 2008. Modern and African art are mixed and there is a pool on a secluded terrace. The hotel is on a red-rock cliff with steps down to a wooden deck on a private beach. The restaurant serves excellent tiger prawns, seared tuna, salads and dorado chicken (in a peanut sauce). B&B doubles are from £150.
Leo's Beach Hotel (leos.gm) is great value with B&B doubles from £91. It opened in January 2013. All the rooms have private balconies and the interior design would not look out of place in the pages of Wallpaper* magazine. There's a lounge with a Mungo Park theme.
The Sheraton (sheratongambiahotel.com) is the best for families, with a massive central pool and a children's pool, a long way from all the hustlers on the main street of Senegambia. It opened in 2007 and has 181 rooms; it's the only international brand hotel in the country. There's table tennis, a mini basketball court for children, a spa and a beach bar. B&B doubles are from £96.
The Kairaba (kairabahotel.com) can be found in Senegambia, but it is self-contained and it's possible to stay without experiencing the bustle in the centre of the resort. The grounds are pretty, with sweeping lawns, and there's a big main pool, with loungers. Rooms are comfortable and B&B doubles are from £115.
Mandina River Lodge (mandinalodges.com) is about an hour's drive from the coast along a tarmac road heading to the interior and then down bumpy dirt roads. There are nine lodges, each well separated from the other for privacy; three are floating lodges on the creek. The centrepoint is a snaking pool next to three thatched open-sided buildings where food is served. Half-board doubles are from £220.
Coco Ocean Resort & Spa (cocoocean.com) is the slickest hotel and where visiting politicians usually stay. The main pool is on three levels on an elaborate central terrace leading to a private beach. There's a good Thai restaurant and a swish spa (massages from about £30 an hour). B&B beach club doubles from about £260.
Sandele Eco Retreat (sandele.com) has the greenest credentials of all the country's hotels, with the owners pursuing a carbon neutral policy. It's far removed from the bustle of Senegambia and boat trips are organised to go on rivers close to Senegal. Rooms in the "lodge", with its plunge pools, are from £80 per person per night, while those in the guest rooms are from £60 per person per night.
First published in The Times, December 21 2013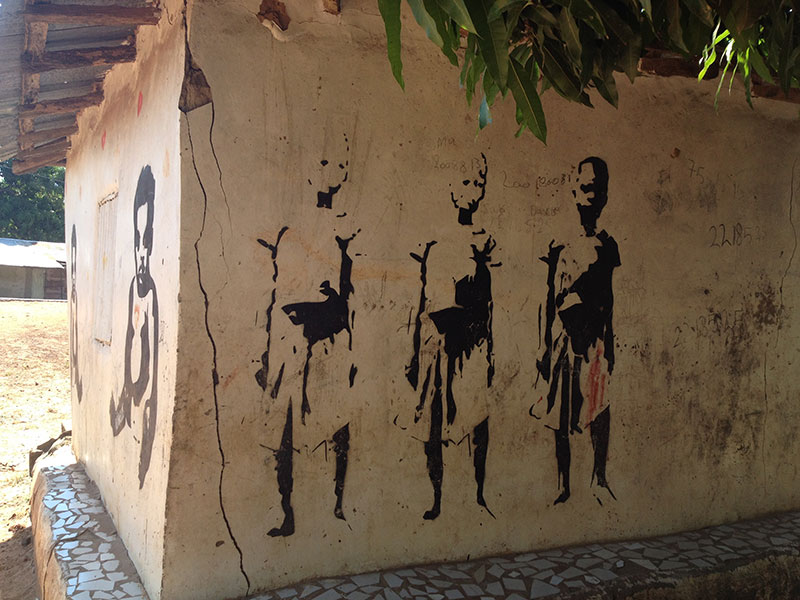 More street art in Kubuneh
The "Gambia dog" in Kubuneh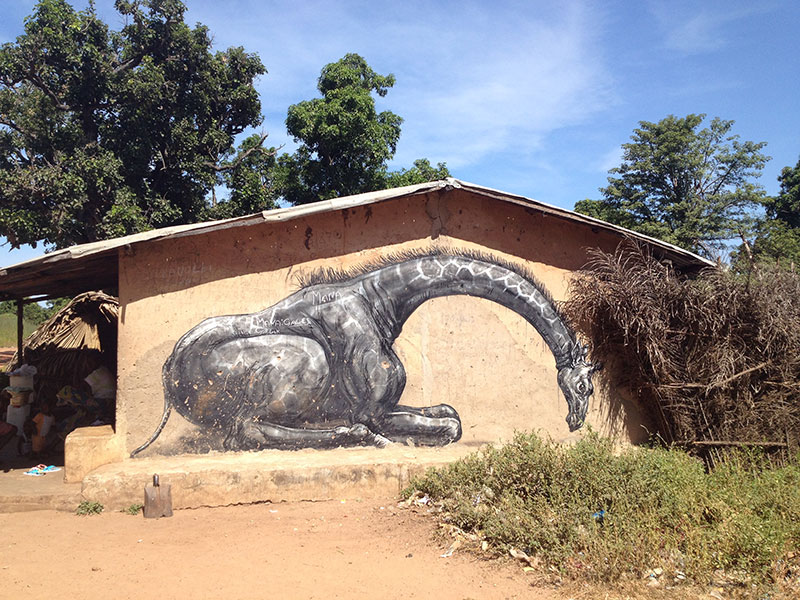 More street art in Kubuneh…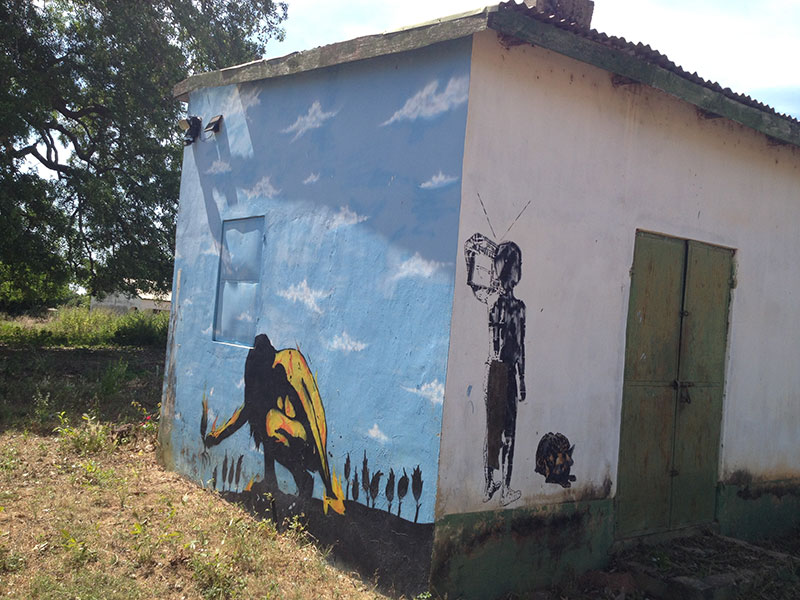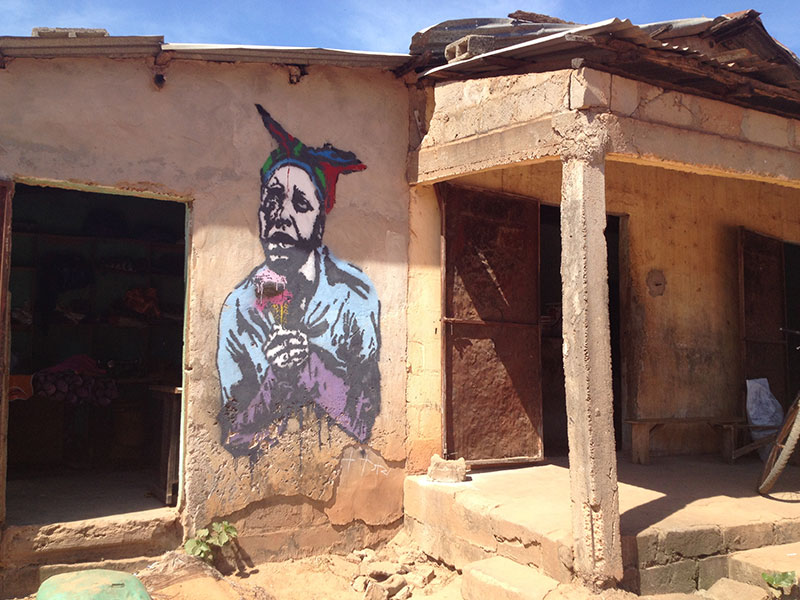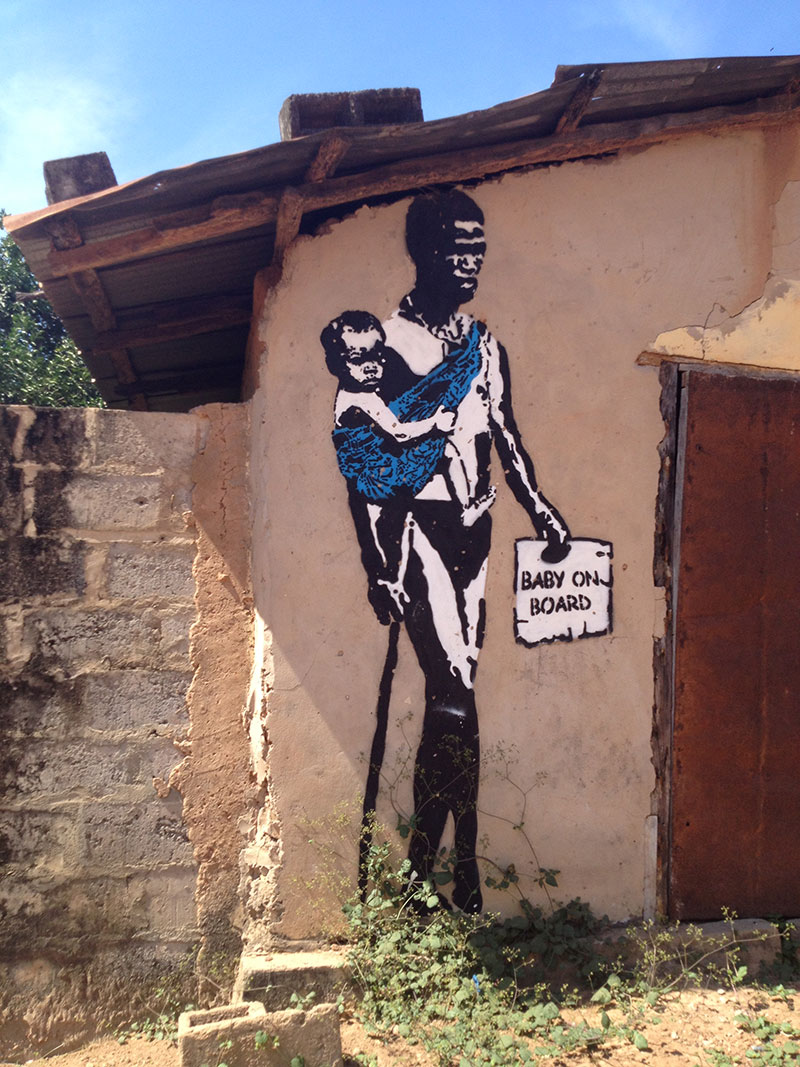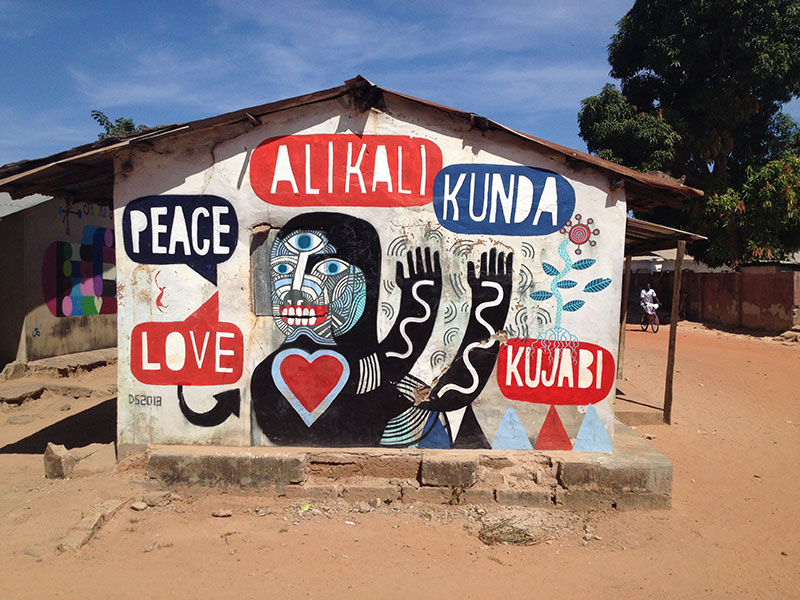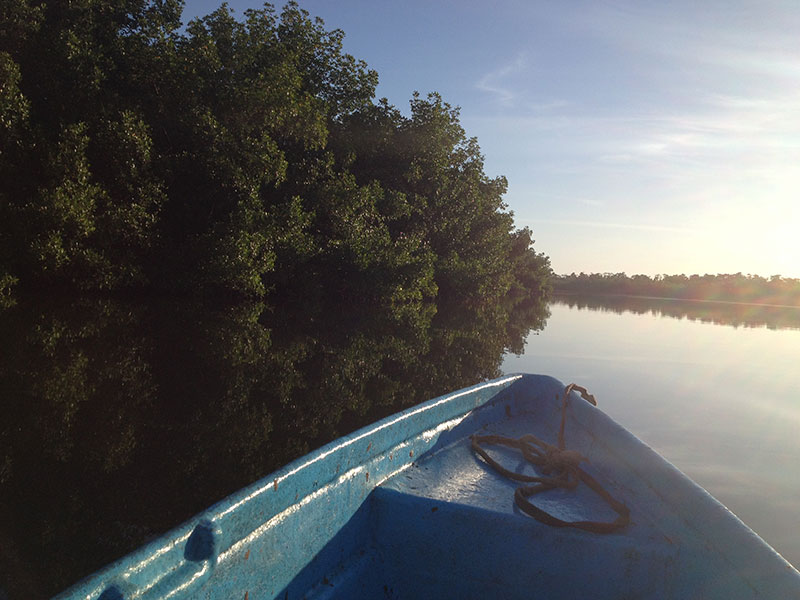 On a creek close to Mandina River Lodge