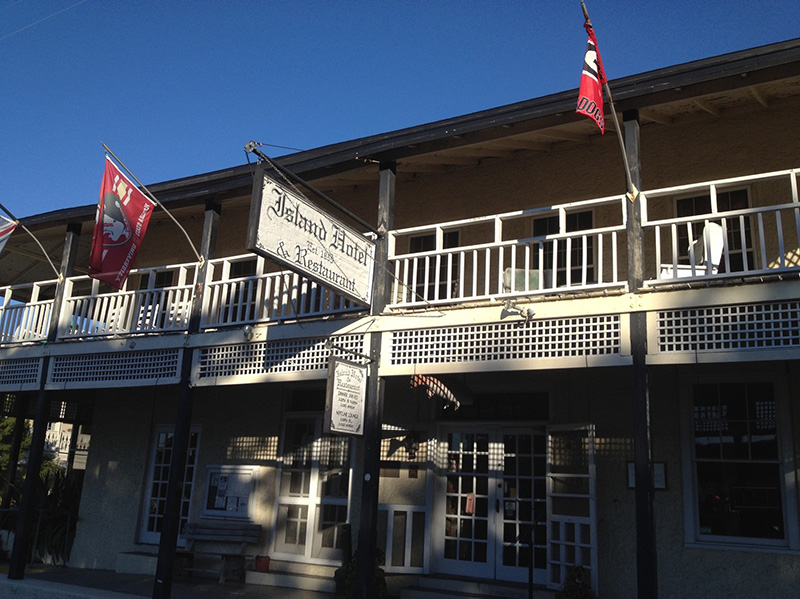 The Island Hotel, Cedar Key
On the way to the bridge to Cedar Key, I swerved to avoid a dead racoon. I was on a remote stretch of Route 24 with tall, spectral trees hanging with Spanish moss lining the road. Occasionally a pick-up truck with a gun-rack would pass in the opposite direction; the driver almost invariably bearded with a baseball cap, sometimes wearing camouflage hunting gear (reminding me of the film Deliverance).
Soft gold afternoon light filtered through the treetops. I came to a settlement with a clapboard Baptist church, a gun-shop ….. and not much else. Then the scenery opened out to the sea and soon a staccato sign by Cedar Key's bridge announced: "When Flooded. Turn Around. Don't Drown."
Just two hours north of Orlando's bustling theme parks and crowded souvenir shops, I had come to a remote part of the northwest coast of the Sunshine State, and it felt a million miles from Mickey Mouse.
Fortunately there were no signs of floods, so I pushed onwards, crossing a series of causeways linking small islands. These led to Cedar Key proper, and a little grid of streets of simple wooden houses with porches (and a fair few Stars and Stripes). A pelican swooped above, heading towards the rickety docks on stilts. I parked by a sloping whitewashed building with oyster shell and limestone walls and a two-tier wooden veranda on a quiet street near a run of little art galleries. I had reached my destination, the Island Hotel — one of the oldest places to stay in Florida, dating from 1859, and a far cry from all the Holiday Inns down south on Orlando's International Drive.
Cedar Key is a sleepy spot on Florida's Nature Coast, overlooking the Gulf of Mexico. It was lucky to miss out completely on the pollution caused by the Deepwater Horizon oil spill of 2010 (which damaged the coast about 200 miles away). Its cluster of islands is home to about 700 people including many artists, who have adopted the hideaway and created a bohemian community that mixes with the Deep South roots of the north of Florida to create a laid-back ambience that comes as a refreshing alternative to the hyped-up world of Florida's mass-market tourism.
There are a handful of cute B&Bs but the Island Hotel is the best place to stay, with its scuffed wood floors, old-fashioned restaurant with ceiling fans, grand piano in the lobby, fish-shaped lamps and marvellous mural of King Neptune in the bar (which has a bullet hole from wilder days). The ten bedrooms come with creaky floors and slatted windows; some overlooking the big front balcony's rocking chairs. It's rumoured that it was once a whorehouse, and President Grover Cleveland is believed to have stayed in the 1890s, when Cedar Key was in its heyday as a port for ships to and from Havana. Another famous visitor was the Scottish-born naturalist John Muir, who completed his 1,000-mile walk from Kentucky to the island in 1867.
"Cedar Key is for artists and romantics," said Stanley Bair, who runs the hotel with her husband Andy. "The artists love the light but there's the rural culture, too. You still get old-timers called 'crackers'. They used to herd cattle through the palmettos with small horses and dogs. They'd crack their whip to get the horses going — which is how they got their name. The small wooden houses round here are known as cracker houses."
The docks are at the centre of Cedar Key, where there's a stretch of down-to-earth seafood restaurants serving delicious oysters, clams and stone crabs. It's a working harbour and the clams farmed in nearby waters are famous across the US, and sent in great quantities to restaurants in Boston and Las Vegas. Prawns and scallops are another speciality. It's a seafood lover's dream and I can recommend the Pickled Pelican for its fried oysters and grouper, crab cakes and "bourbon shrimp". The latter are juicy prawns sauteed in a sauce of bourbon, honey, pecan and tomatoes.
Old-time boys and girls in jeans and checked shirts were having a get-together on my visit, drinking Key West Southernmost Wheat beer ($3.75 [£2.40] a bottle) — named after the more famous Floridian "key" at the southern tip of the state. Signs on the wall said "Time flies when you're having rum" and "Free beer ….. tomorrow." Meanwhile, at the fun Black Dog bar next door, folk were sampling the 50 different types of microbrewery ales, some of them sitting in quirky old barbershop chairs.
A small local museum in a park filled with cedar trees on a quiet spot on the two square mile island tells the local history including the Seminole Indian past and touches on the days when Captain Kidd visited, as well as the days of the Civil War, when the Confederates were defeated in 1864. A sign outside remembers John Muir's arrival three years later, of which he wrote:  "The traces of the war are not only apparent on the broken fields, mills and woods ruthlessly slaughtered, but also on the countenances of the people." He was aged 29 at the time and when he visited, the Island Hotel was a general store selling quinine, alligator and rattlesnake skins.
John Travolta, who lives in Ocala, about 70 miles inland to the east (in a house with enough land for his own airstrip), is a fan of the islands and many wildlife reserves, which cover almost 90,000 acres that are great for hiking and kayaking along the beautiful Suwannee River. After checking out the Shell Mound, just over the bridge to Cedar Key, where there's a mini mountain of oyster and clam shells built up hundreds of years ago by Native American inhabitants, I went to see Ocala.
I was heading for the Silver Springs theme park, passing yet more pick-up trucks, some with "No-bama" bumper stickers against President Obama, who does not always go down well in the Deep South (I also saw a billboard showing a picture of Obama bending down in front of a sheikh, attacking his petrol price policies). Famed for its crystal clear spring water, the river has attracted tourists since the 1860s and it might be said to be Florida's original theme park. It's a gentle, relaxing spot with rides on glass-bottomed boats that give views of little fish and currents of fresh spring water swirling up from below — the perfect antidote to the mad rushing about at so many of the big attractions down in Orlando.
Many films, including Moonraker and Tarzan, have used the area for underwater scenes as the water is so clear. A display describes the movie-making past and which stars have passed by including Gary Cooper, Rock Hudson and Jane Russell, who starred in a flick appropriately called Underwater! Families were relaxing, taking it easy, eating ice creams and going for strolls along the Silver River in the botanical gardens, where you can see more than 130 species of plants.
Ocala is largely residential and it's known far and wide for the adjacent Ocala National Forest — a massive subtropical forest covering 383,000 acres, established in 1908. Here I met James Buckner, a guide who took me to Juniper Springs. This was a gorgeous, oasis-like place in the forest where you can go for a dip in the wonderfully chilled water.
We stroll along a wooden walkway with claw marks on it from black bears. "They're never known to attack humans," reassured James, passing under magnolia trees and past thick fern and saw palmetto. James told me he loved it so much in Juniper Springs, he got married by the river, close to where three guys on kayaks were about to head off when we arrived.
Birds tweeted. Light fell in shards through the forest canopy. No one else was about, yet we were only 80 minutes' drive north of Orlando. He looked around and sighed: "Disney World is an artificial world. This is the real world." Anyone who wants a mini-break from Mickey, doesn't have to travel far.
Need to know
Where to stay
Tom Chesshyre was a guest of the Island Hotel on Cedar Key (00 1 352 543 5111, islandhotel-cedarkey.com), which has B&B doubles from $80 (£50). Mermaid's Landing (mermaidslanding.com), also on Cedar Key has cute self-catering cottages from $57 (£36).
Where to eat
Try out the superb grouper sandwiches in the bar at the Island Hotel, or the main restaurant serves more formal meals including fresh crabs, clams and scallops. The Pickled Pelican (pickledpelicanonline.com) on the docks is a great place to soak up an (unintimidating) flavour of the Deep South, with sandwiches, salads and chowders galore.
What to see
Cedar Key Museum State Park (floridastateparks.org/cedarkeymuseum), Ocala National Forest (fs.usda.gov/ocala), Nature Coast Trail State Park (visitnaturecoast.com). Entry to Silver Springs in Ocala is free (silversprings.com) but glass-bottom boat rides are $12.99 (£8.30) for adults and $9.99 (£6.35) for children.
Further information
Visit Florida (visitflorida.com), Cedar Key Area Chamber of Commerce (cedarkey.org).
First published in The Times, August 24 2013