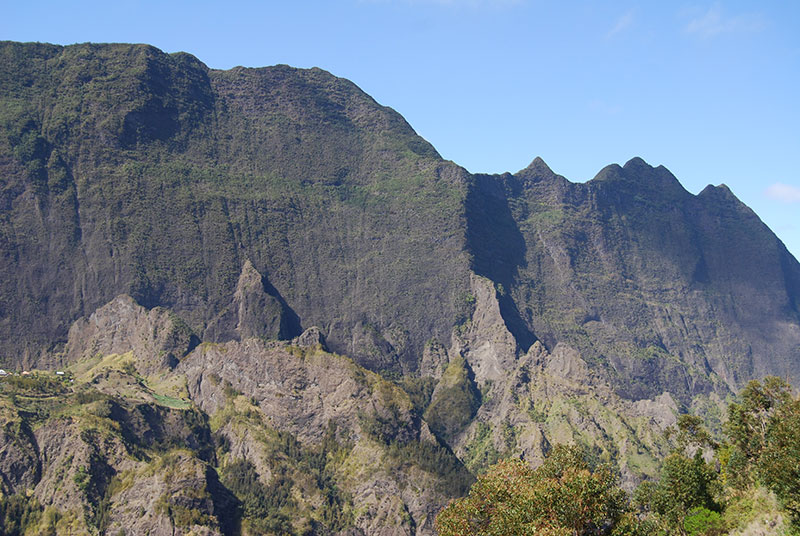 Dramatic scenery at Cirque de Cilaos (more pictures at end of article)
A traveller's tip for visitors to La Réunion: do not wear sunglasses or leave off your headlights when driving through single-lane tunnels high in its volcanic mountains.
It's not a good idea, as I learnt on the second day of my visit to this beautiful French-owned island, about 500 miles off Madagascar's east coast in the Indian Ocean. I was enjoying the dramatic mountain scenery while concentrating on the 400-plus hairpin turns on one of the world's twistiest roads when I casually ignored a sign saying "Allumez vos feux" (turn on your lights).
Not noticing the tunnel entrance ahead, I suddenly found myself creeping along a long dark corridor, unable to find the switch for my headlights after hastily whipping off my prescription sunglasses.
Peering through the darkness, I made nerve-rackingly slow progress towards the light at the end until, finally, I was out safely and continuing on my way to Cirque de Cilaos, the giant crater of an extinct volcano with a peaceful little town in its centre (more of which later).
A fly-drive week in La Réunion was an adventure I'll never forget — leaving a series of vivid images that makes this French département, technically part of the EU, a refreshing alternative to other Indian Ocean islands such as Mauritius, the Seychelles and the Maldives, with all their bland beach-resort hotels.
Even driving from the airport to the capital, St-Denis, along an ocean road, brought a surprise. Suddenly almost every car pulled to the kerb, passengers leaping out. I did the same. And there, not much more than a stone's throw from the shore, a glorious humpback whale leapt out of the sea, looking momentarily like a stone column, before crashing back into the water. The crowd of mainly locals stood entranced, taking snaps with mobile phones.
After my humpback experience, I soon found myself in vibrant St-Denis, which has a population of 130,000 (from a total of 827,000) and a very laid-back melting pot of cultures: French, Indian, Tamil, African and Chinese.
In a grid of colourful streets, with buildings painted in bright yellows, greens and reds, men in white robes strolled down rue du Maréchal Leclerc towards the mosque which, almost unbelievably, was in a tall building that had shops selling miniskirts and high-heeled shoes at its base.
Guys in Lacoste tracksuits and baseball caps lolled on corners by stalls selling fresh orange juice. Young women tottered past in tight jeans and miniskirts, heading towards a covered market stacked with great piles of tangerines, tomatoes, lettuce and sweet peppers, and metal cages full of ducks and chickens. One chicken was squashing itself against the metal. "Eh! Eh!" the woman selling them cried comically, beating the cage with a broom.
Farther on I passed old colonial buildings with ornate stuccoed gables; some dating back centuries. France took possession of the island in 1642, initially naming it Île Bourbon after the royal house. This was changed to La Réunion after the Revolution, to commemorate the union of Marseilles revolutionaries with the National Guard in Paris.
St-Denis is a vibrant, happy city, a good first port of call before a visitor heads on to Boucan Canot, an hour south. This beach resort is unlike any I have visited. It is described locally as the "other French Riviera". Glamorous women and local playboys — posing, but not haughtily as on mainland France — mixed with families having picnics and the mainly French tourists; hardly any Brits visit the island. The beach is short with rough sand and a handful of cafés, bars and restaurants.
It was here, at the Bambou Bar, that I first tried cari, the local creole dish. Cari is wonderful and, for €14 (it was odd paying in euros so far south), I was tucking into a huge curry-like tuna dish, with white rice in a separate bowl, and other little bowls filled with rougail (a hot sauce with sliced carrot and tomato), pumpkin stew, lentils in a green sauce, red beans in gravy and finely chopped boiled cabbage with ginger. You can also have chicken versions; equally delicious, as I later found.
Well fed, I headed onwards to discover the "cirques". There are three main "cirques " in La Réunion, extinct volcanoes that were once the favourite hideaways for runaway slaves: Cirque de Cilaos, Cirque de Salazie and Cirque de Mafate.
The sleepy town of Cilaos is about 1,200m above sea level and is surrounded by jagged mountains with peaks soaring as high as 3,070m. It is a favourite place for hikers and I set off from behind its elegant white church, following steep boulder-strewn tracks surrounded by thick vegetation.
This led me, after an hour, up to La Roche Merveilleuse, a viewing point on a huge rock. And what a view: the caldera of the volcano spreading for miles around, clad in emerald foliage against a cobalt blue sky. The tiny settlement below looked toy-like on its hilly slopes amid the dramatic peaks. For a moment or so it felt as though I was visiting a living Machu Picchu. I also went on hikes in Salazie and Mafate, both captivating as well, especially Mafate, with its hairy walkway at the top of a cliff, but Cilaos was best (even if the drive up was so tricky).
The highlight of La Réunion was still to come. After an overnight stay in the lively coastal town of St Pierre, where the steep sloping streets reminded me of San Francisco, I had another long, twisty drive to Piton de la Fournaise — one of the world's most active volcanoes. It's also a tourist attraction.
The scenery on the way up turned from lush green hills dotted with brown cattle to vast glacial canyons — moon-like surfaces where only the hardiest plants survive — and dusty plains filled with red and black volcanic ash. Clouds swept over peaks and across the road in fast-moving swirls. And at the top, at 2,360m, I stood at the edge of the cloud-white crater, imagining the fiery world below. It was as though I had reached the edge of the Earth — no matter that I couldn't see smoke or flames below, though luckier visitors often do (and it's all perfectly safe).
In a week on the island I travelled 500km, finally ending up back at the airport after visiting the sugar cane plantations and black-rock beaches of the east coast. Forget the Maldives; forget Mauritius. This is the Indian Ocean island with real character, excitement … and a lot of very bendy roads.
How to do La Réunion
Where to stay
La Réunion is not a haven of five-star international hotel chains of the Four Seasons, Aman, or Shangri-La variety. However, there are decent three and four-star properties, all featured by Rainbow Tours (020-7226 1004, rainbowtours.co.uk). Among the best are:
Hotel Bellepierre (hotel-bellepierre.com, doubles from €144 a night) on a hill overlooking St-Denis, with neat rooms and terrific views across the colonial rooftops and the Indian Ocean.
Hotel Boucan Canot (boucancanot.com, from €200) has a stunning position, right by the sea in Boucan Canot, plus charming rooms and a decent pool.
Hotel Saint Alexis (en.hotelsaintalexis.com, from €160), is at one end of the beach at Boucan Canot, with a huge pool, stylish rooms and a calm atmosphere.
Villa Belle (villabelle.e-monsite.com, from €175) is a boutique B&B with very cool suites in St Pierre — plus a great pool in its lush gardens.
The Diana Dea Lodge & Spa (diana-dea-lodge.re, from €87) is the most chic new hotel on the island, tucked away on a hill overlooking St Anne on the east coast; the island's best bargain.
Grand Hôtel du Lagon (020-7348 4880, naiade.com, from €245) is the biggest hotel on La Réunion with a huge pool, designer rooms and a good creole restaurant in St Gilles les Baines on the west coast.
Where to eat
There are great seafood restaurants as well as places serving cari, the local dish.
Le Cap Méchant d'Abord (00262 917199, ville-saintpierre.fr) on Boulevard Hubert Delisle on the waterfront in St Pierre is particularly good for creole dishes with a wide selection of French wines.
Le Bambou Bar (lebamboubar.com), in the heart of the promenade in Boucan Canot, is great for caris.
Meals in both restaurants came to about €25 for a starter, main dish and wine. In St-Denis, there are all sorts of stalls selling fried chicken and sandwiches filled with a sloppy pork and sweet pepper stew — very tasty and about €5. Across the island there are also European-style supermarkets (including a Carrefour) and grocery shops. Prices are reasonable. A decent bottle of wine from a supermarket costs about €6.
When to go
The peak season is October to December, when many French visit, but you can go at any time. The summer season is December to March (average temperature 26C), the winter is April to November (average 20C). The sea temperature is a stable 23C all year round. It can get cold in the cirques and at the top of the volcano, so take warm clothing; hiking boots are recommended.
Health
I was bitten once by mosquitoes during my stay in St Pierre. I didn't see any other mosquitoes, but it is best to take a spray. Anti-malarial tablets are not required. In 2005 and 2006 La Réunion was struck by a mosquito-spread disease called chikungunya; it has been eradicated.
More information
Ile de La Réunion Tourisme (reunion.fr); Mauritius, Reunion and Seychelles (Lonely Planet, £16.99).
Need to know
Getting there
Tom Chesshyre was a guest of Rainbow Tours (020-7226 1004, rainbowtours.co.uk), which offers an eight-night trip from £2,350pp with a night in St-Denis, three nights in Boucan Canot, one night in Cilaos, one in St Pierre, one in La Plaine des Palmistes (close to the volcano), and one in St Anne on the east coast. International flights and car hire are included. Air France (0871 6633777, airfrance.co.uk) has returns from London to La Réunion from £958.
First published in The Times, October 25 2013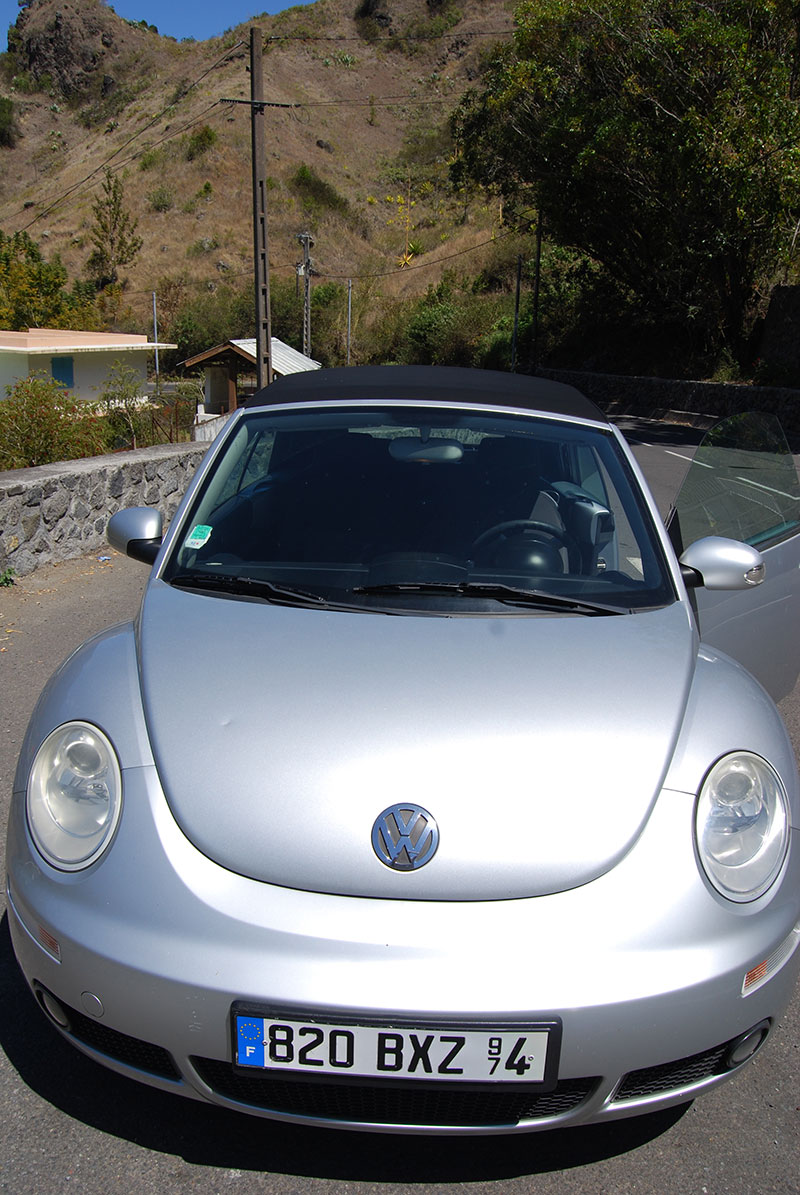 My hire car in La Reunion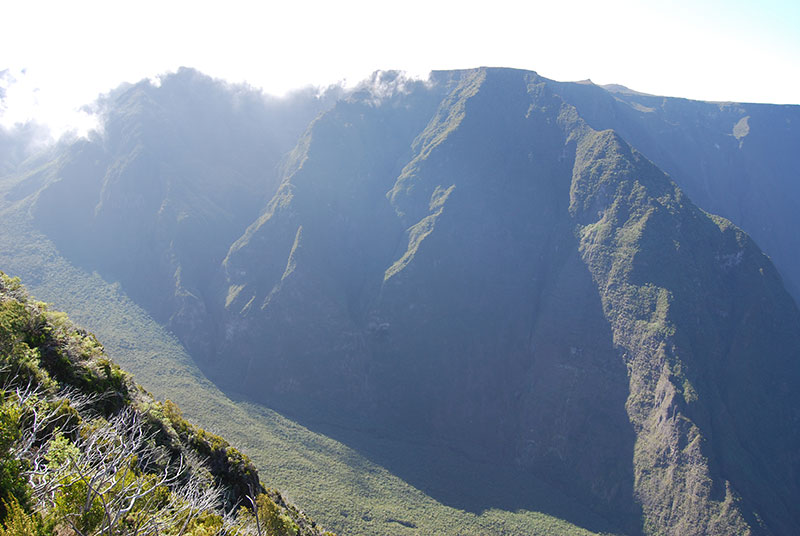 Typical view from the roadside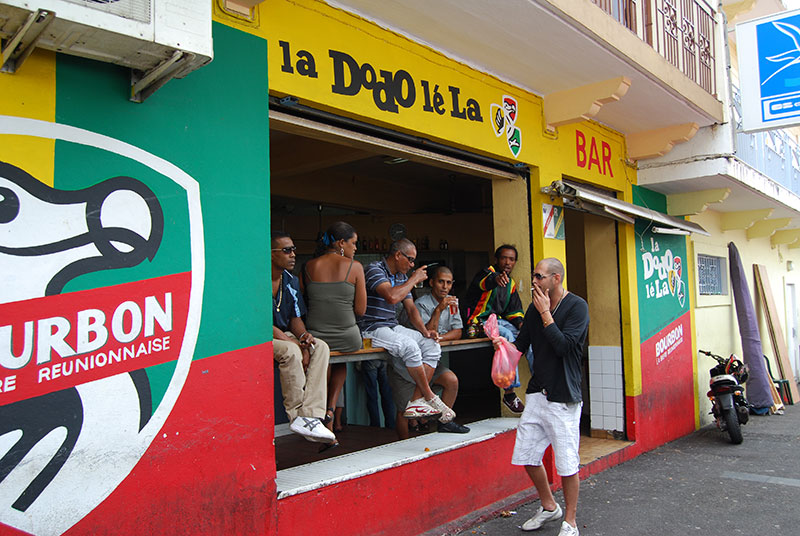 Bar in St-Denis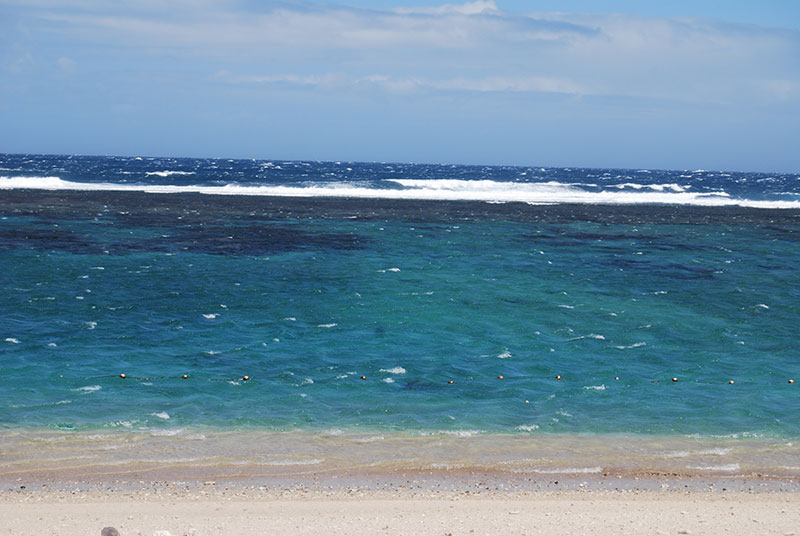 Beach at Boucan Canot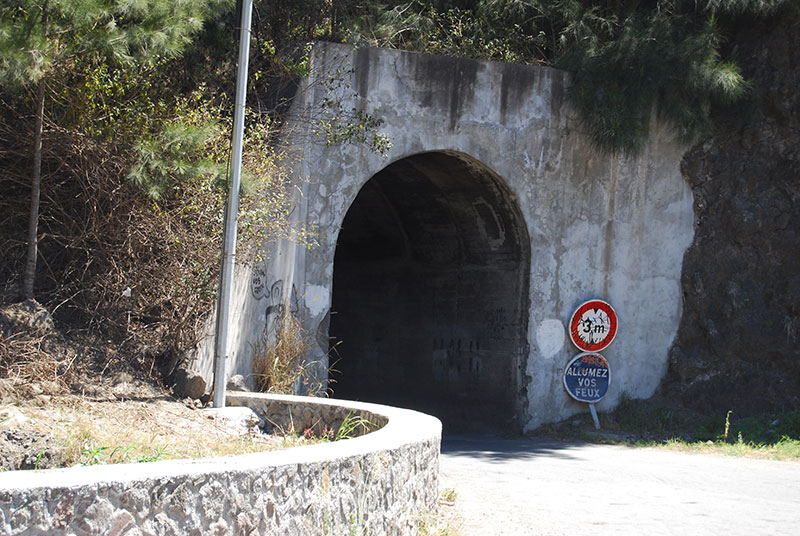 One of the tunnels to watch out for on a driving trip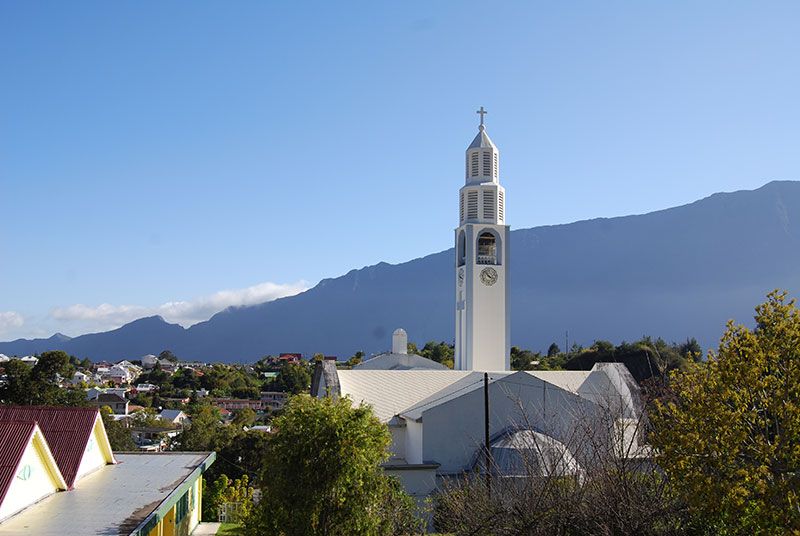 Church at Cirque de Cilaos