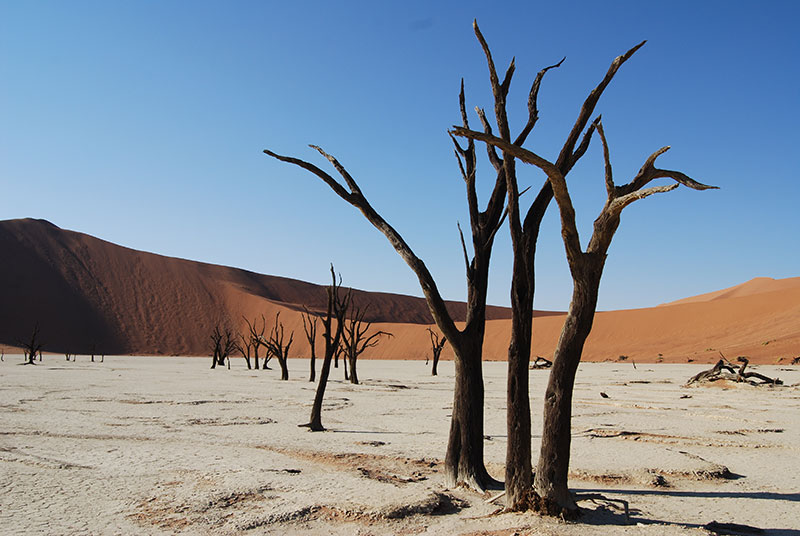 Namib Naukluft National Park (more pictures at end of the article)
I've been on the road through the Namib Desert for two hours after picking up my Land Rover from a depot in Windhoek, the capital of Namibia, and I have not seen another vehicle or even another soul (though I've stopped to take pictures of a troop of cute black-faced monkeys sitting on a picket fence).
The landscape seems to stretch for ever under a royal-blue sky. It is arid and hot — incredibly hot, over 40C (104F). The air-conditioning in the Land Rover does not seem to make a huge difference, so I open the windows to let in a rush of air. Soon, I am covered in a thin film of white dust from the road, my hair turning grey. It is totally silent.
Little trees with spiky leaves spread out into the distance, looking like strange alien beings (if you squint your eyes). I am soaked in sweat and have been drinking lots of water from bottles kept cool in a fridge in the boot. I am also, I realise as a couple of ostrich scoot across the road in the heat haze of the horizon, feeling very happy indeed.
Namibia seems to do that to you — and it is its sheer size, vast emptiness and amazing beauty, as well as the sense of exploration you get on a fly-drive, that seems to do the trick.
I am on an eight-day DIY safari, heading for the seaside resort of Swakopmund after crossing the desert, then camping in the desert, before heading to a lodge to see the spectacular rose-red sand dunes of the Namib Naukluft National Park, which is twice the size of Switzerland — everything in Namibia is huge. I end up driving 855 miles (1,375km) in a week.
The journey to the old German colonial town of Swakopmund — which features in a remake of the 1960s cult spy fiction series The Prisoner (originally shot in Portmeirion, North Wales, and shown on ITV next Saturday) — takes six hours. It leads through ochre canyons, pink-rocked gorges and wide-open, dusty planes that spread out into the distance for ever. The sheer vastness of the scenery is hard to take in. It is so big you wonder whether the gravel road will ever end.
I pass rusting colonial buildings (abandoned farms), a cowboy (the first human being I see) with an enormous herd of white goats, big caramel coloured cattle, and lots and lots of sand. After a while, a pick-up truck passes in the opposite direction — the driver nods and waves, as I soon find everyone does (isolation makes people friendly). I drive through his trail of dust. Namibia is definitely the dustiest place I have visited, as well as one of the most scarcely populated. There are 2.1 million people, which works out at 2.2 people per square kilometre.
Within a few hours of my holiday, I already realise that this is going to be a trip of a lifetime. And then I come to Swakopmund. Mine is the only car being driven along wide sandy avenues flanked by pastel buildings. It feels almost psychedelic and otherworldly. After passing a restaurant located inside an old tug boat, painted rusty red, peach and apple green and elevated on top of a building, I find my hotel, The Stiltz.
I am on Namibia's Skeleton Coast, so named as it is extremely arid and was considered a place to avoid by early explorers — and I am staying in a pod-like building perched on telephone poles. It has terrific views of dunes that ripple for hundreds of miles to the south. I park the Land Rover, drop off my bag and explore the town by foot, soon finding Sam Nujoma Avenue, the main street. Namibia, which gained independence from South Africa 20 years ago, is mostly a safe country, though it's best not to walk about much at night.
Sam Nujoma is a blaze of pinks, oranges and yellows, with a building on a corner with a mini minaret in green, yellow and red. It is colourful and cheerful, with a laid-back feel and nice cafes to chill out in. "Caffeine isn't a drug, it's a vitamin," says the motto at one, where I read a copy of The Namibian newspaper, which tells me that a contingent of South Koreans is visiting the country to buy uranium to use in nuclear power stations (uranium mining is big business). And there are people! Quite a few of them, tourists and locals aplenty; the population is about 36,000, though where they all are half the time, I don't know.
Inside the tourist information office, Brigitte, the attendant, tells me she hopes that the new filming of The Prisoner will attract more visitors. "We want to put Namibia on the international map," she declares. Then she says that there has been an influx of visitors recently after Brad Pitt and Angelina Jolie visited in 2006, when Jolie gave birth to their baby Shiloh at a private clinic.
Next day I visit the dunes that I can see from my hotel. The best way is a quad-bike tour, and on mine I am amazed at how far we go. My guide, Michael, points at a jackal and shows me sidewinder snake tracks. Up in the dunes, which formed five million years ago and stretch 1,240 miles from South Africa through Namibia to Angola, it feels like a different world. The sands seem to slither onwards in an eternity of curves. It is a surreal spot.
Then I head for a night at a campsite in middle of the Namib Desert. There are no employees and no other campers, just a few guinea fowl that take to following me around. I light a fire, cook some sausages, open a bottle of white wine, and read Wolf Hall under the brilliant stars of the Milky Way, feeling as if the world (at least this part of it) belongs to me. It is a place for contemplation, especially if travelling alone, like me. I fall asleep in the neat tent that is attached to the Land Rover's roof, and wake to a cool, amazingly quiet dawn.
I drive onwards for many dusty miles, stopping for fuel in the petrol station town of Solitaire. There I eat a slice of delicious apple pie and drink a coffee under an acacia tree before reaching the remote Kulala Desert Lodge, which overlooks a dry river bed. The next morning I am taken to the Namib Naukluft National Park. After climbing a 130m (426ft) dune at dawn (spectacular), I visit a dried out lake with a shiny white surface and the skeletal remains of 600-year-old trees, all framed by a huge red dune, nicknamed Big Daddy.
This is truly something out of Salvador Dalí; Nature's own version. Namibia is, I can say with certainty, one of the most unusual and stunning places I have visited. And the way to go is to take to the roads yourself.
Getting there
Safari Drive (01488 71140, www.safaridrive.com) offers 12-night trips, six camping and six nights in lodges, driving a Land Rover from £2,090pp. Or three nights in lodges and ten camping from £1,460pp. Both prices exclude flights, which are about £800pp, but include a seal and dolphin-watching boat trip, and quad-biking in the dunes. Accommodation in Swakopmund is at The Stiltz, and the Kulala Desert Lodge in Namib Naukluft National Park.
Driving tips
Take lots of water
Have back-up cash for remote petrol stations that may not accept cards. Do not speed — bumps can cause vehicles to overturn.
Keep lights on in dusty areas so you remain visible to other vehicles
Reading
Namibia Handbook by Lizzie Williams (Footprint, £14.99) — thorough, with a good section on Swakopmund and clear maps
Further information
The Namibian Tourism Board (namibiatourism.com.na)
TV series
The Prisoner begins on ITV at 9pm, from April 17 and will run for six weeks
The Prisoner's remake gets an African flavour
After climbing dramatic dunes and finding himself in a town that looks as if it belongs in a psychedelic dream — multicoloured houses, giant avenues and odd bubble-style taxis — the main character in a new version of The Prisoner, the 1960s cult television series, out next week, looks haunted. "I don't know how I got here," he declares, as he looks around The Village, where he is trapped in a strange society where everyone is known by their number.
Although you think this must be a film set, Jim Caviezel, who plays a secret agent named Number Six, is on the run in the real-life Namibian coastal town of Swakopmund — a far cry from the original setting in the quirky resort of Portmeirion in North Wales.
You can recognise much of the town after seeing the programme. Near my hotel there are the peculiar, pink A-shaped houses that Number Six calls home. There are 50 of them and they make a strange sight. They are surrounded by bushes spouting purple flowers and there was not a soul in sight as I wandered about.
In the background, there were terrific views of the dunes that Number Six finds himself crossing while trying to work out what he is doing there and following the instructions of the odd community's leader, played by Sir Ian McKellen. Walking up a hill to the centre of town, I passed many of the multicoloured houses that the first German settlers built (with elaborate stucco flourishes and long iron balustrade balconies), and which also act as a backdrop to many of the TV shots.
At the top, I came to the ornate, yellow Swakopmund Hotel, which figures large in the new, six-part series. This has a lovely courtyard with a pool, and I learnt from a receptionist that the main building was once the town's railway station.
Further along, down by a beach, there were rows of multicoloured public benches and palm trees with arts and crafts stalls spread out in the shade. This section features frequently in the new TV show, and it is where Number Six often goes to a caf? to ponder his fate.
The programme-makers definitely picked the right location for the strange series: Swakopmund is delightfully odd.
First published in The Times, April 10 2010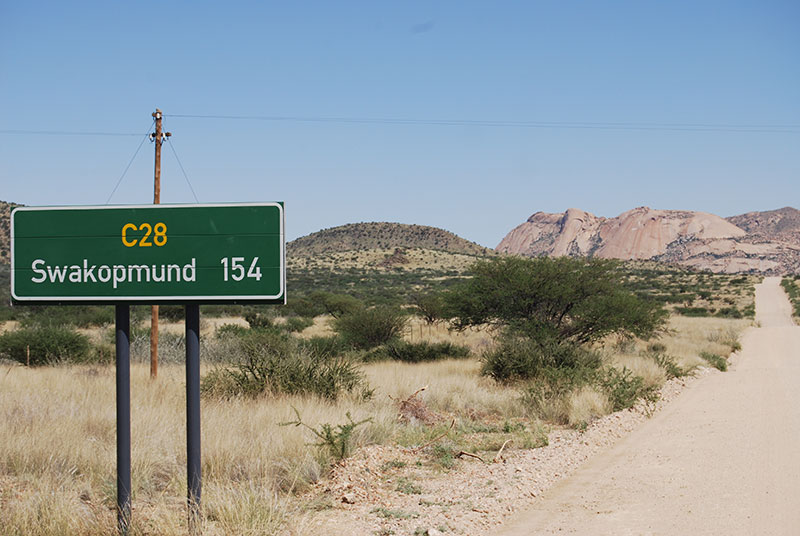 On the dusty road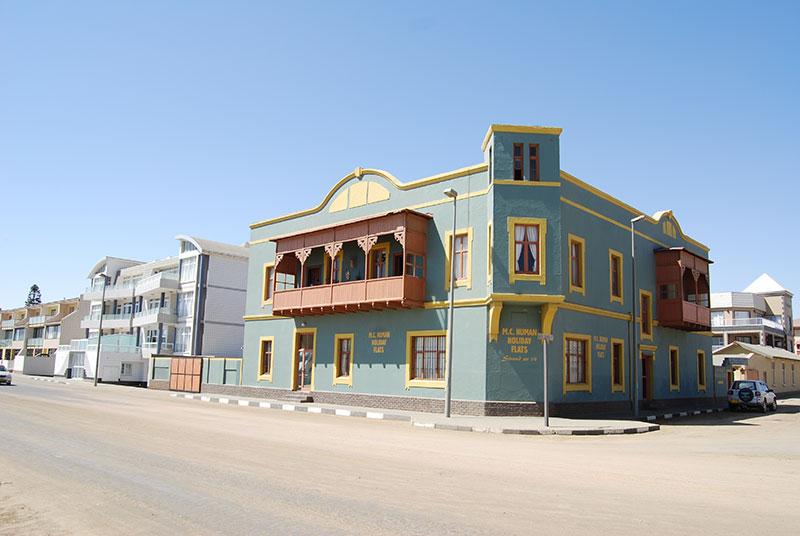 Swakopmund's German colonial era architecture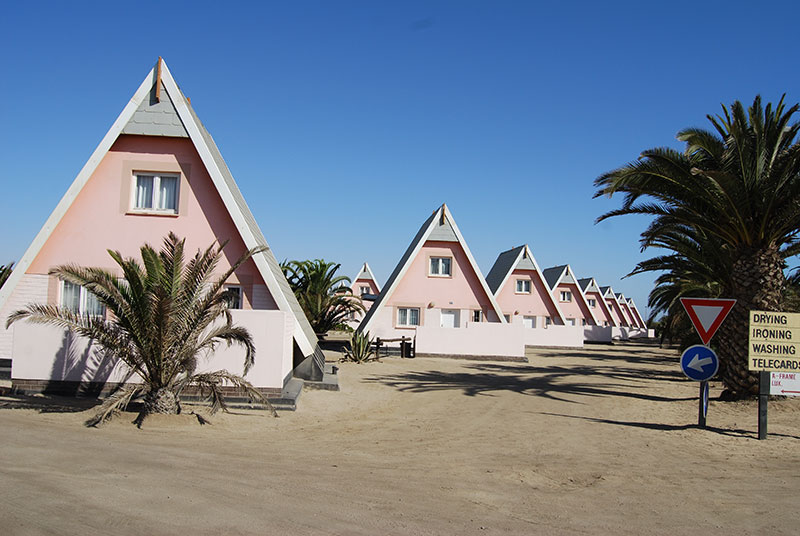 Unusual holiday camp in Swakopmund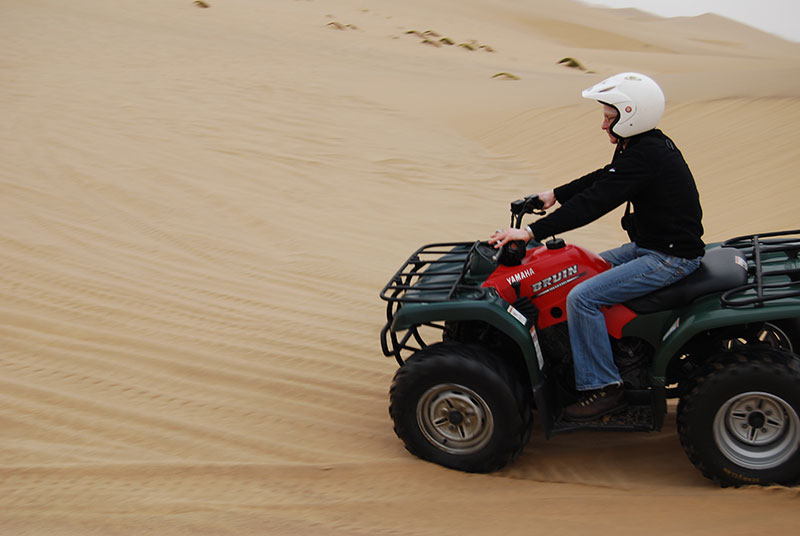 Dune riding near Swakopmund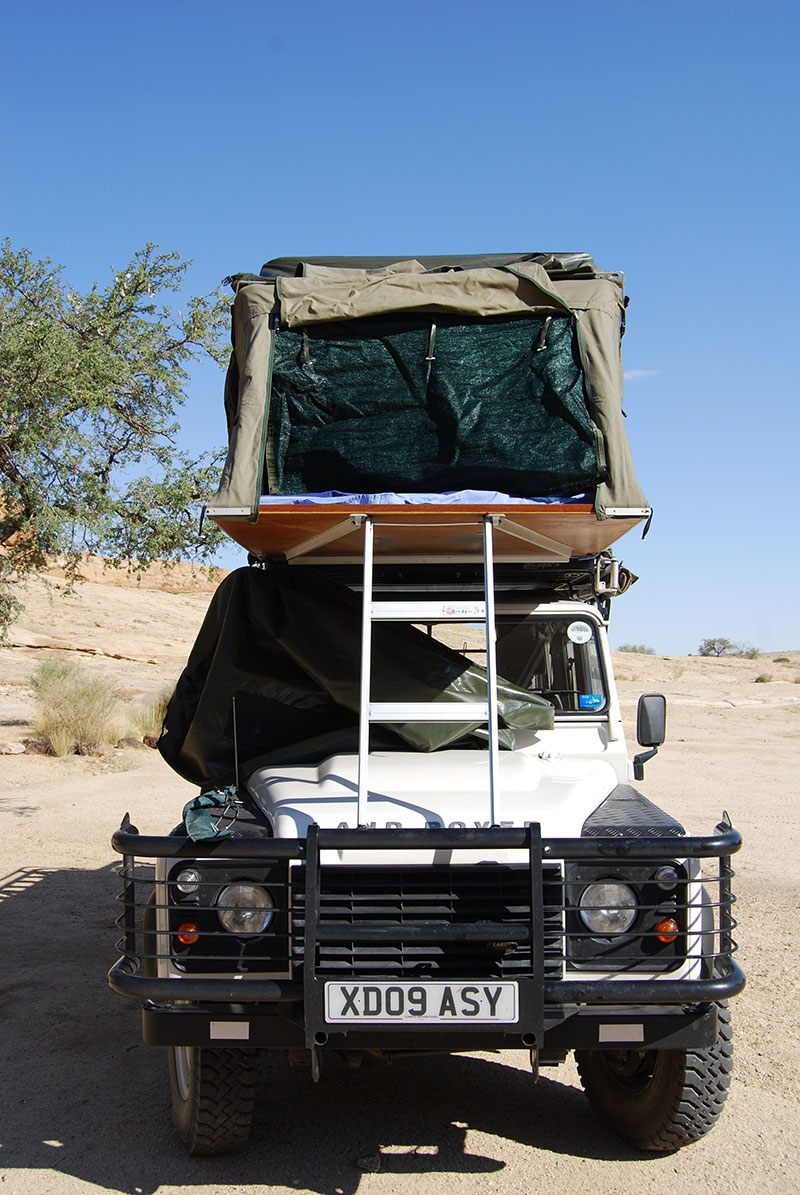 Land Rover with tent on roof up in Namib Desert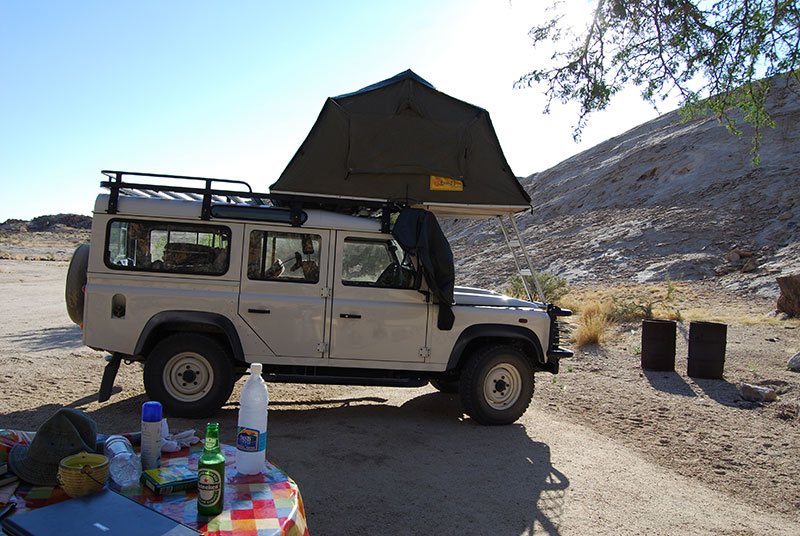 Campsite in Namib Desert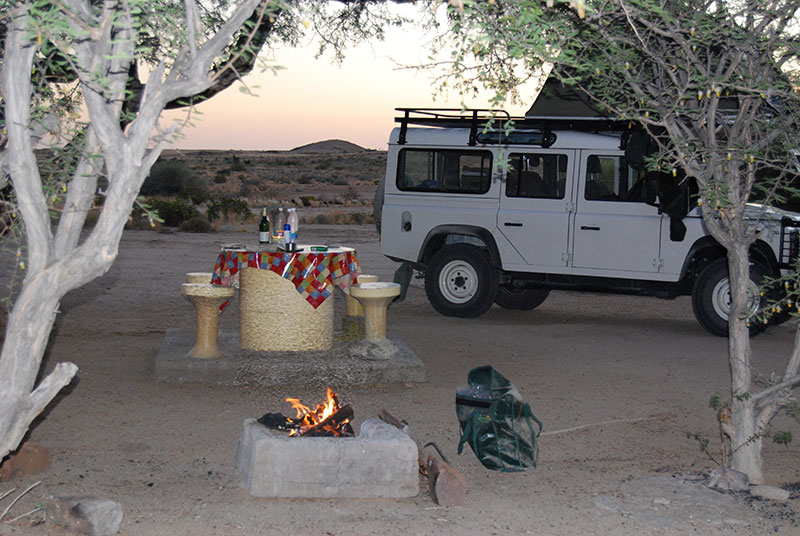 Campsite in Namib Desert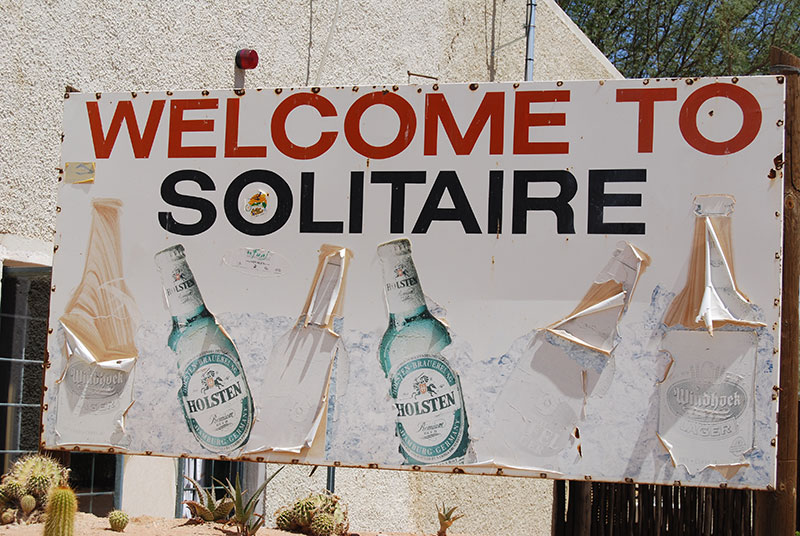 Town of Solitaire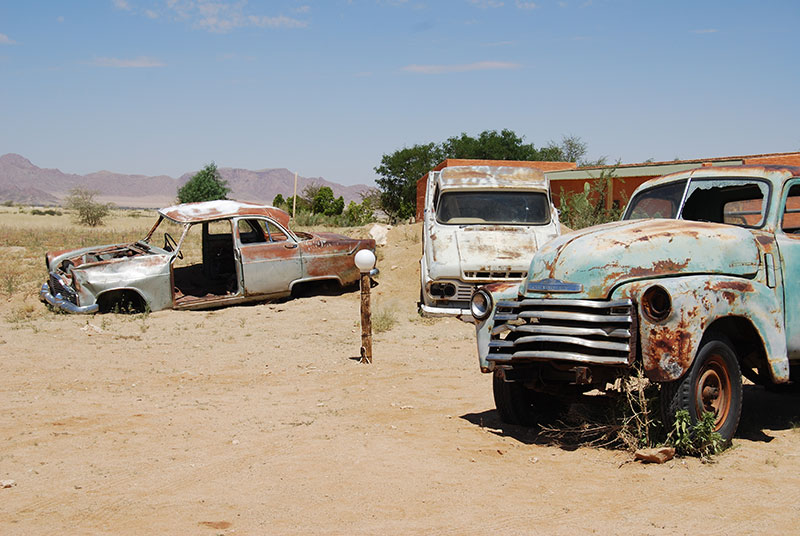 Cars in Solitaire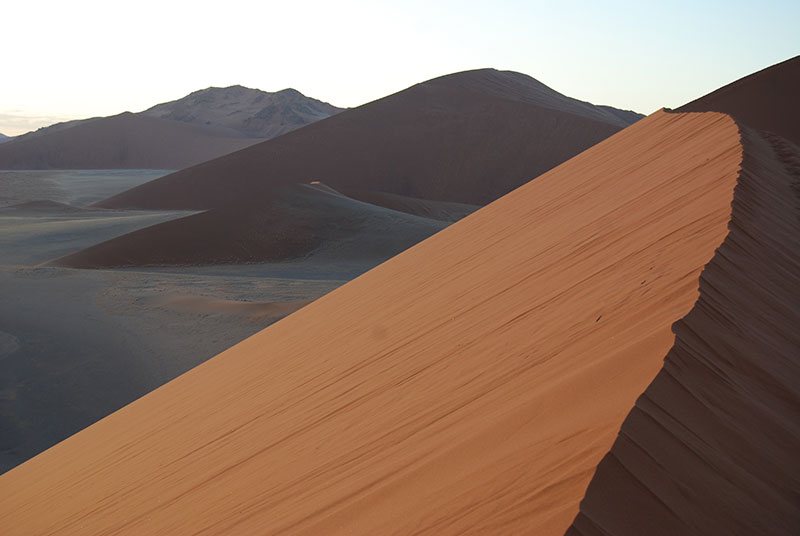 The Namib Naukluft National Park with its 130m (426ft) dune at dawn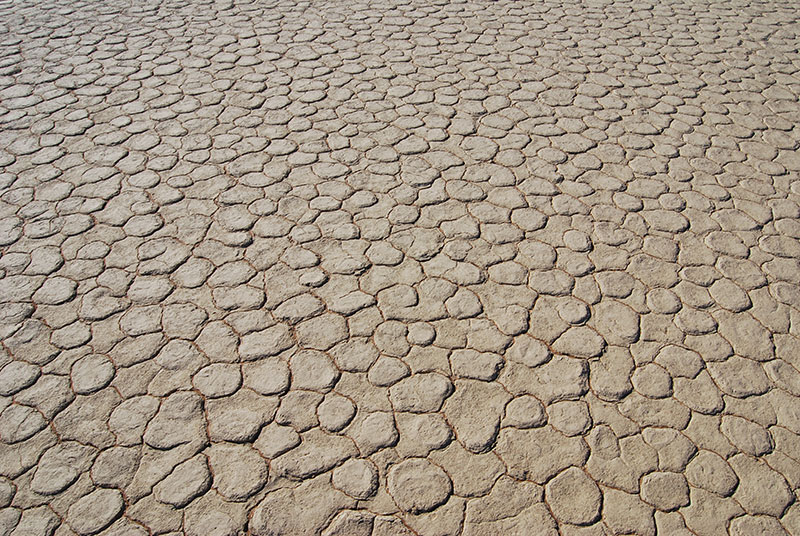 Parched landscape at dried out lake